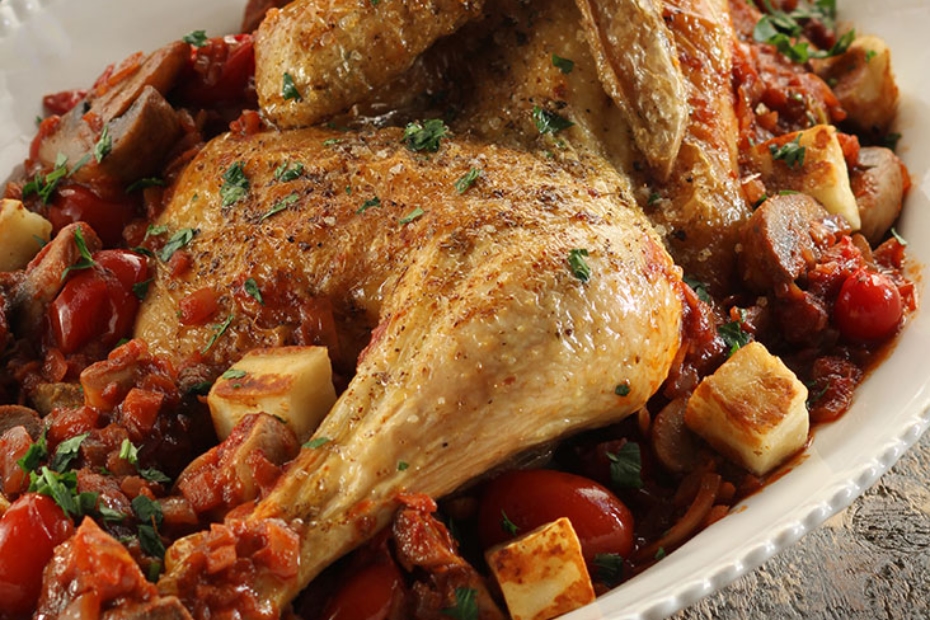 Greek Hunter's Chicken with Seared Haloumi
---
Here's a Greek version of chicken cacciatore, or "tou kinigou" -- the hunter's chicken. A rich, hearty and thick tomato sauce bathes this easy chicken dish, mushrooms stud it but the best of all is the end: cubes of seared haloumi cheese tossed in for good measure. To find the Greek olive oil, Greek balsamic and other Greek products called for in this chicken recipe, visit my online store
here.
Ingredients
1

chicken

cut in half lengthwise and trimmed

Salt

pepper to taste

1

large onion

finely chopped

1

medium carrot

peeled and finely chopped

4

garlic cloves

minced

2

cups

whole teardrop or cherry tomatoes

stems trimmed

3

cups

button mushrooms

trimmed and halved

1 14-

oz.

can good quality chopped tomatoes

½

cup

dry white wine

2

bay leaves

1

tablespoon

dried oregano

2

tablespoons

Greek balsamic vinegar

5

ounces

haloumi cheese

3

tablespoons

chopped fresh parsley for garnish
Instructions
Preheat the oven to 375F / 180C.

Flatten each of the two chicken halves with your hands, pressing on the skin side.

In a large, wide pot heat 3 tablespoons of the olive oil over medium-high flame and carefully place the first chicken half inside, skin-side down. Sear until golden brown and turn carefully with kitchen tongs to brow lightly on the other side. Set aside and repeat with remaining half chicken. Remove from the pan and keep both pieces covered.

Drain out all but 2 tablespoons of fat in the pan. Over medium heat, cook the chopped onion and carrot until softened, about 8 minutes. Add the garlic and stir for a minute. Add the whole tomatoes and shake around in the pan for a few minutes. Add the mushrooms and gently push around inside the pan, to coat with oil and soften slightly. Season lightly with salt and pepper.

Next, pour in the canned tomatoes. Raise heat and add the wine. As soon as the alcohol steams off, lower heat, add the oregano and bay leaf and cook the sauce, uncovered, for about 10 minutes for the flavors to meld and the sauce to thicken slightly.

Place the chicken halves in a baking dish large enough to hold them in one layer and season generously on both sides with salt and pepper. Spoon the sauce all around and a little on top. Cover the chicken with parchment and then aluminum foil and roast for 45 minutes, or until cooked through and tender.

While the chicken is roasting, cut the haloumi into 3/4-inch (1 1/2-cm_ cubes. Ten minutes before removing chicken from oven, heat a small, nonstick frying pan over medium-high heat and sear the haloumi cubes until lightly browned on all sides. Remove and gently toss the cubes into the sauce. Cook the chicken a few more minutes, remove and serve hot, sprinkled with fresh parsley.
Notes
Try one of the many delicious red wines that would pair beautifully with this dish and read about them here.Some of my favorites are from Monemvassia.