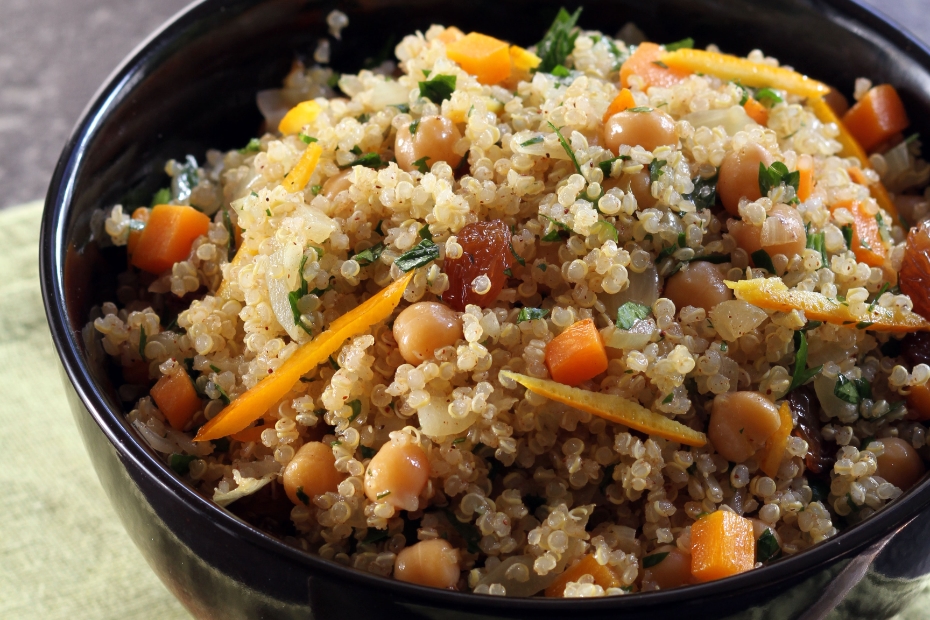 Jewelled Quinoa w/ Chick Peas, Orange, Greek Raisins & Olive Oil
---
I fell in love with jewelled rice, a Persian classic, since first tasting it many years ago. I have adapted it here so that quinoa is the starch. You can find Greek olive oil and other carefully curated Greek artisan products at my online food store,
here.
Ingredients
2

medium carrots

peeled and diced

1

red onion

diced

1

garlic clove

diced

1

small fennel bulb

diced

1

scant teaspoon cumin

1/2

teaspoon

cinnamon

1

star anise

1

cup

quinoa

cooked according to package directions

Peel of 1 orange

cut into 1-inch / 2.5-cm strips, then julienned

2

tablespoons

sugar

2

cups

cooked chickpeas

½

cup

golden raisins

½

cup

chopped fresh parsley

Salt

pepper to taste
Instructions
Heat 2 tablespoons olive oil in a medium frying pan over medium heat and cook the carrots, fennel and onion, covered, until soft and glistening, about 8 minutes. Stir in the spices and cook all together for a minute. Add the garlic and cook, stirring, for a minute. Remove from heat. Remove and discard the star anise.

Cook the quinoa according to package directions. Alternatively, place it in a pot with ample cold water and bring to a simmer. Cook for 15 minutes, then drain. Fluff with a fork.

While the quinoa and onion-carrot mixture are cooking, prepare the orange zest. Bring a cup of water in a small pot to a boil and blanch the peel. Drain and repeat two more times, to de-bitter. Then, place the sugar and ½ cup of water in the small pot. Bring to a simmer and add the julienned, blanched orange zest. Cook for 2 – 3 minutes, then drain.

In a mixing bowl, combine the cooked (and drained) quinoa, onion-carrot-fennel mixture, cooked chick peas, raisins, orange zest, parsley and remaining olive oil. Season to taste with salt and pepper. Serve, war or at room temperature. It's delicious with a little Greek yogurt on the side, too.
Love vegetables? Want to learn more great plant-based Mediterranean dishes? Enroll in my online  class "Baked Vegetable Classics!"