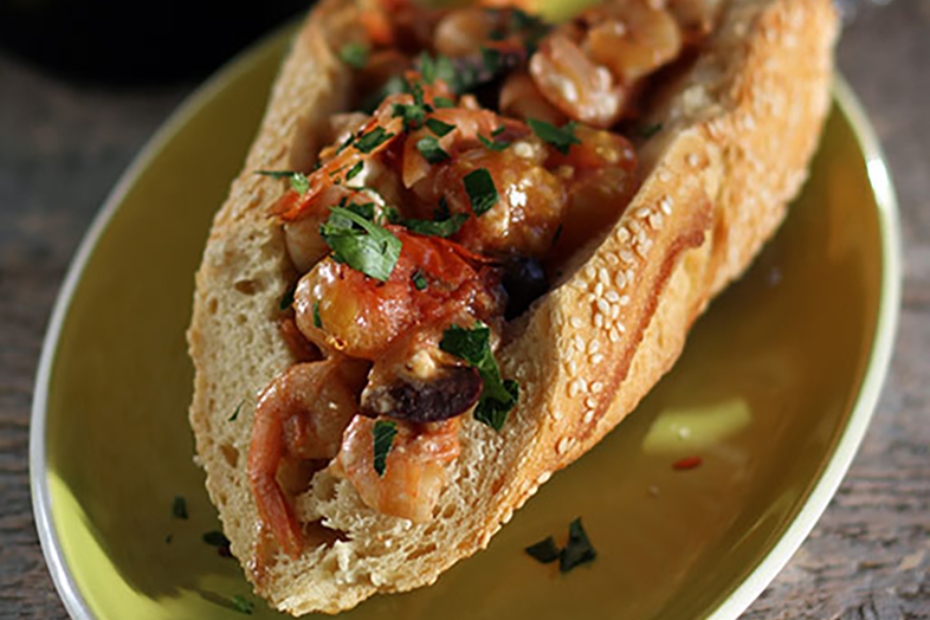 Shrimp Saganaki Greek Hero Sandwich
---
A Greek recipe to match the much-loved lobster roll? Oh yes! And it's for a Greek hero... filled with shrimp saganaki!
To find some of the artisinal Greek products you'll need to make this, visit my online shop here, where you'll discover a host of lovingly curated Greek ingredients.
Ingredients
Shrimp Saganaki Greek Hero Sandwich

¼

cup

Greek extra virgin Greek olive oil

1

red onion

finely chopped

2

scallions

finely chopped

1

garlic clove

minced

1

cup

finely chopped tomatoes

preferably fresh but canned (and drained) are fine, too

2

tablespoons

ouzo

1

star anise

1

teaspoon

mustard

2

cups

small

preferably fresh, shrimp, peeled, deveined, heads and tails removed

2

tablespoons

chopped Kalamata olives

2/3

cup

crumbled Greek feta

Salt

pepper to taste

½

teaspoon

lemon zest

Red pepper flakes

to taste, optional

2

tablespoons

finely chopped fresh parsley

2

sourdough or whole grain hero rolls

2 pieces of baguette, 5 – 6 inches (10 – 14 cm) long, or any other bread or pita-type wrap of choice
Instructions
Heat 2 tablespoons of the olive oil in a large deep skillet or heavy shallow, wide pot over medium heat. Sauté the onions and scallions in the oil until soft and glistening, about 8 minutes, stirring. Add the garlic and stir to soften, about 5 minutes.

Add the tomatoes, ouzo, star anise, and mustard. Stir to combine. Cook until the alcohol in the ouzo has burned off and most of the liquid let off from the tomatoes has evaporated, about 6 – 8 minutes.

Add the shrimp, raise the heat a bit and cook until the shrimp are bright pink and cooked, about 3 – 4 minutes. Add the olives and feta and cook all together for about a minute, or until the feta just begins to melt. Season to taste with salt, pepper, lemon zest, and hot pepper flakes and stir in the parsley. Remove the star anise.

Place a heavy skillet or griddle over medium-high heat on top of the stove. Brush the bread of your choice with the remaining olive oil and briefly warm on the open-faced side in the hot skillet. Fill each piece of bread with half the shrimp saganaki mixture and serve.