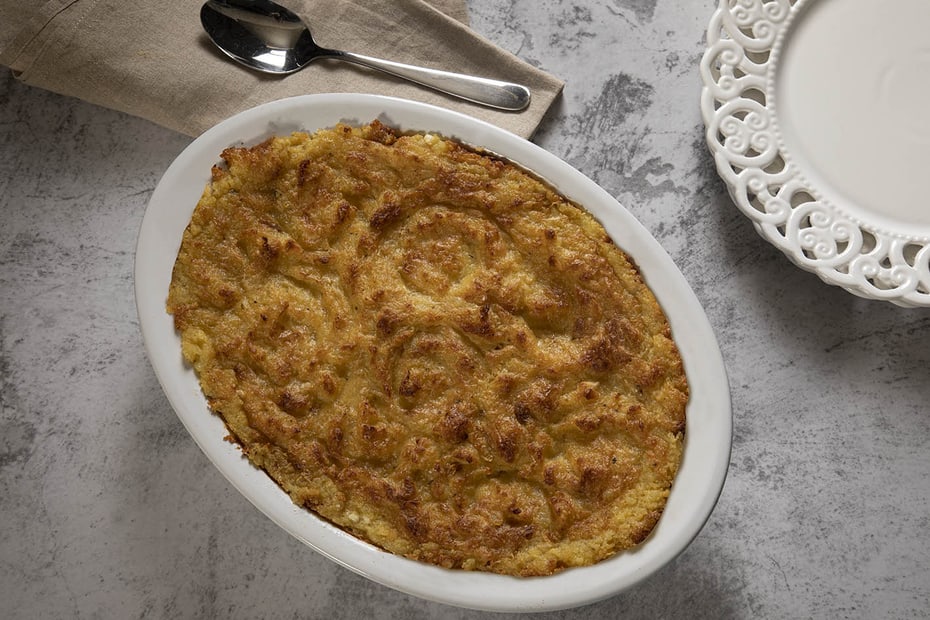 Baked Feta-Yogurt Mashed Potatoes
---
I don't know about you, but for me, mashed potatoes are one of the biggest sources of stress on Thanksgiving Day. You've got to make them fresh and serve them hot in order for them to be the absolute best. I've come to love my Greek recipe for baking them, which enables me to make the mash a day ahead and bake it stress-free a few hours before sitting down to enjoy our family meal. The real secret is the addition of dried Greek herbs from the Taygetus mountains, incredibly intense!
Instructions
Place potatoes in a large pot and pour in enough cold water to cover by 2 inches. Season generously with Greek sea salt. Bring to a boil over medium-high. Reduce heat and simmer until a paring knife slides through the potatoes very easily, 25–35 minutes. Drain and let cool slightly.

Preheat oven to 425°F. Whisk egg yolks, garlic, crumbled feta, cream, yogurt, olive oil, butter, herbs, and peppercorns in a large bowl. Season to taste with salt.

Peel potatoes and either mash them by hand (they'll be a little lumpier this way) or pass them through a ricer or a food mill directly into bowl with egg mixture. Fold in gently (be careful not to over-mix lest they get gummy).

Transfer to a 3-quart baking dish and decoratively swirl the surface. Bake, rotating once, until golden brown and slightly puffed, 30–40 minutes.
Notes
Dish can be assembled 1 day ahead. Cover and chill. Increase bake time by 5–10 minutes.