Greek Wines for Thanksgiving
Guest blog
By Johnny Livanos
In my family, Thanksgiving is a time where the Greek and Italian cultures converge perfectly with my American upbringing into a smorgasbord of delicious foods, amazing wines, and endless amounts of laughter and storytelling, and a bit of drama, too. Our holiday feast is full of dishes quite like Diane's recipes, with American Thanksgiving traditional recipes re-mixed with Greek flair. To keep everyone sane and the festivities flowing, it's important to pop open some tasty wines to go with the evening. Greece is a country that produces a diverse array of wines that are designed by nature to pair well with food.
In this post, I will outline some of my favorite wines from my motherland that are perfect accompaniments to a Thanksgiving dinner. Whether you are catering a big fat Greek Thanksgiving feast for your family, or having an intimate dinner with some loved ones, savor the moment with some delicious wines of Greece. Hors D 'Oeuvres Nothing gets the party started like a glass of bubbles. If you're family is anything like mine, there is always a selection of nibbles and meze to munch on before the main event. Try opening a bottle of 2017 Akakies Xinomavro Sparkling Rose from Kir-Yianni Estate to share with your guests. This wine is a beautiful rosé and a fun expression of the classic xinomavro grape. It's dry, fresh, and full of fruit notes – plus it's overabundance of bubbles will wake everyone up! First Course Its time to bring out the salads to make everyone feel at least moderately healthy before getting stuffed on stuffing.
We always have a nice salad once we sit down for dinner, and an elegant Greek white wine, such as the 2018 Alpha Estate Malagouzia will do the trick. Malagouzia is one of my favorite for a group setting because it the perfect chameleon wine – no matter what kind of white wine drinker you have in the group, this wine has something they will like! Alpha Estate's Malagouzia has some wonderful vibrant aromatics and also maintains a round and robust mouthfeel. When you have a group of Sauvignon Blanc drinkers split with Chardonnay lovers, Malagouzia is a wine I love to serve that makes both sides happy. Main Event Now it's the time we've all been waiting for.
Time to bring on the Turkey! Whether you love dark meat or prefer the white meat, we all know that the best part of the main course is the accoutrements: stuffing, mashed potatoes, cranberry relish! This calls for a versatile red wine that is bold yet nuanced and can pair with the variety of flavors on the table. I recommend the 2016 Liatiko Amphora from Douloufakis Winery on the island of Crete. Liatiko wines tend to be medium bodied yet bold and rich with ripe red fruit and baking spices. This organic wine is also aged in clay amphorae, a traditional practice that adds a great deal of complexity to the wine.
Dessert Now there is never room for dessert on Thanksgiving, but we somehow manage to make room. A good digestif will do the trick! If you like a little nip after dinner, but aren't into the bitterness of an amaro, try some Mastiha. Mastiha is a liqueur derived from a unique tree sap resin that grows only on the 24 southern villages on the island of Chios. The resin is an ancient superfood full of digestive aid properties and a flavor profile reminiscent of pine needles and cucumbers. Look for popular brands such as Verino or Skinos, and serve it chilled.
Where to Find Greek wines
To find out where you can buy the above-mentioned Greek wines in your area, contact the regional distributors, here. 
Who is Johnny?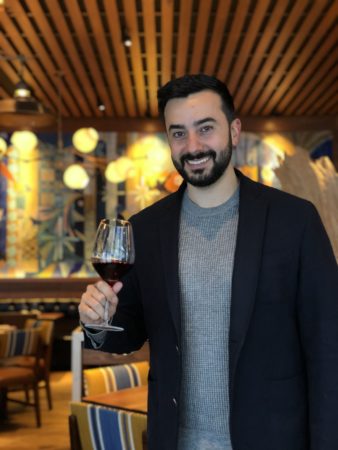 Johnny Livanos is a 3rd generation Greek-American and ambassador of Greek Wine and Spirits.  Johnny studied hospitality at Cornell University's Hotel School and went on to get his hands dirty at the Culinary Institute of America in Napa Valley.  After working for several esteemed restaurant companies such as Jose Andres' Think Food Group and Danny Meyer's Union Square Hospitality Group, Johnny opened up Ousia with his family on W 57th Street in NYC.  A lover of all things Greek, Johnny has shifted his focus to promoting Greek Wine and Spirits and is the founder of Stray Dog Wild Gin, Greece's original Wild Gin!