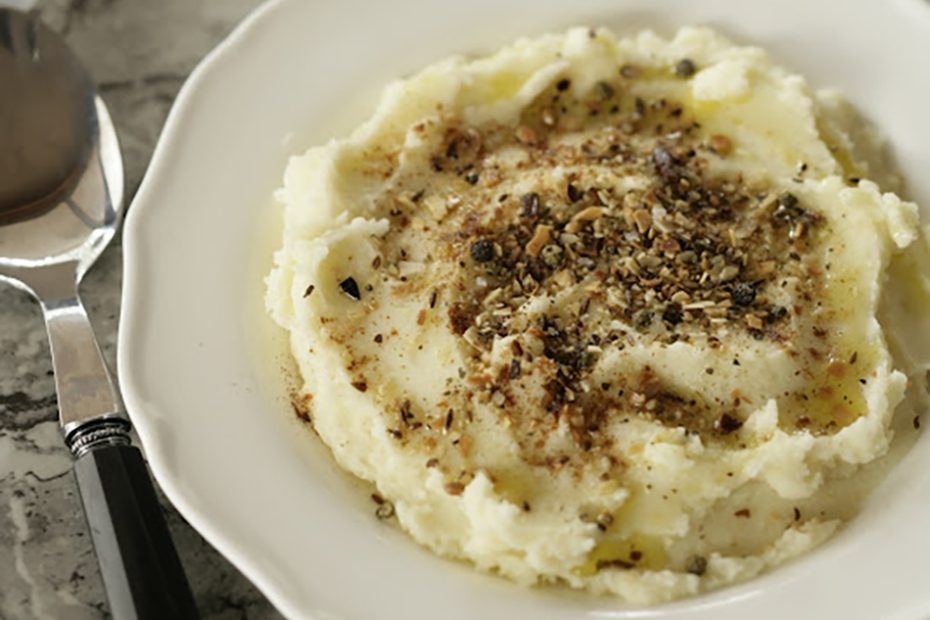 Giant Bean Skordalia with Crunchy, Spicy Nuts
---
Giant beans, which are similar to butter beans, are usually made into luscious baked and braised dishes. But sometimes, giant beans are used to make skordalia, the garlic and starch puree that is a classic Greek meze and spread. I took the idea of a giant bean skordalia and the practice of sometimes mashing the starch (typically bread or potatoes) with nuts. Some skordalia recipes, particularly from Northern Greece, do, in fact. call for nuts such as walnuts or almonds. Here, the nuts provide crunch and spice, a nice counter balance to the creamy texture of the puree. This is a great meze. To find authentic Greek giant beans and many of the other ingredients to make this delicious dish, go to my online store
here
.
Ingredients
2

cups

Greek giant beans or butter beans

soaked overnight or for 8 hours, or 4 cups good quality, preferably organic, canned butter beans, rinsed and drained

2

bay leaves

2

cloves

garlic

2/3-1

cup

extra virgin greek olive oil

1-2

tbsp.

lemon juice

½

cup

blanched almonds

coarsely chopped

½

tsp

green peppercorns

½

tsp

cumin seed

½

tsp.

fennel seeds

½

tsp.

sunflower seens

½

tsp.

coriander seeds

½

tsp.

sesame seeds

½

tsp.

black sesame or nigella

½

tsp.

red pepper flakes

½

tsp.

black peppercorns
Instructions
Drain the raw, soaked beans from the water and place in a pot with the bay leaves and enough fresh water to come about 2 ½ inc. / 6 ½ cm above the beans. Bring to a boil, reduce heat and simmer, skimming off the foam from time to time. Boil for about 2 hours, or until very tender. Remove, drain and reserve a cup of the cooking liquid.

If using canned beans, drain and place in a pot with fresh water and bay leaves. Boil for 15 minutes, until very tender. Drain as above.

While the beans are boiling, lightly toast the almonds until browned. Add the spices and toast all together for 2-3 minutes, stirring or shaking the skillet back and forth. Remove from heat and let cool. In a spice grinder or with a mortar and pestle, grind the nuts and spices to a coarse meal. Season to taste with salt.

Transfer the cooked, drained beans to the bowl of a food processor and add the garlic. Pulse to puree, adding enough of the olive oil and lemon juice to make a smooth puree. Season with salt and pepper. Set aside, covered, until ready to serve.