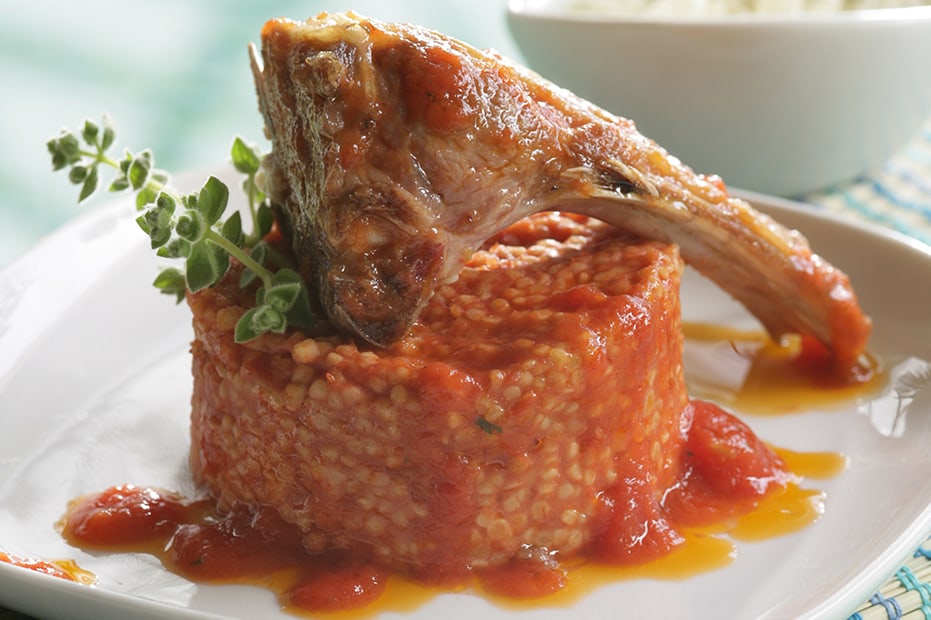 Braised Lamb Chops with Smoked Greek Sea Salt & Trahanoto
---
This Greek recipe for lamb chops is one countless Greek lamb dishes across the country. Its modern presentation belies the fact that it is  made with the most traditional Greek ingredients, including the ancient grain product trahana.
Ingredients
12 4-

ounce

lamb chops or "T-bone" lamb chops

2

cups

white wine

½

cup

8 tablespoons extra virgin Greek olive oil, plus more for drizzling

1

tablespoon

Dijon mustard

2

tablespoons

petimezi

divided

6

garlic cloves

crushed and divided

2

red onions

finely chopped, divided

Smoked Greek sea salt

to taste

Freshly ground black pepper to taste

1

tablespoon

Greek dried wild oregano

plus more to taste

3

bay leaves

4

fresh rosemary sprigs

1

tablespoon

dried Greek wild thyme

2

cups

chopped or whole canned plum tomatoes

1

cup

sour trahana

4

cups

hot water or chicken or vegetable stock

or more, as needed

Fresh oregano sprigs for garnish
Instructions
In a stainless steel or glass mixing bowl, whisk together ½ cup of the wine, 2 tablespoons of the olive oil, the mustard, half the petimezi, and half the garlic. Marinate the chops in this mixture for 30 minutes or up to 3 hours, covered and refrigerated.

Remove and let stand at room temperature for 20 minutes. Set the marinade aside.

Preheat the oven to 350F/170C.

Heat 2 tablespoons of the olive oil in a large nonstick frying pan. Remove the chops from the marinade, season with salt and pepper, and sear them in the hot pan, turning once with kitchen tongs, to brown on both sides. Remove and transfer to a baking pan, placing the chops in a single layer.

Whisk the remaining wine, 2 more tablespoons of olive oil, rest of the garlic, half the onions, herbs, remaining petimezi, and ½ the tomatoes into the existing marinade. Season with smoked sea salt and pepper. Pour this mixture over the lamb chops in the baking pan. Cover the pan with parchment paper then seal with aluminum foil. Bake for about an hour, or until the chops are tender.

About 20 – 25 minutes before removing the chops and serving, make the trahanoto: Heat remaining two tablespoons of olive oil in a wide pot and cook the remaining onion until very soft and lightly browned. Add the trahana and stir to coat in the oil. Add the tomatoes and sea salt and pepper to taste, then pour 4 cups water or vegetable or chicken stock. Bring to a boil, reduce heat to low, and simmer covered until the trahana is creamy, about 15 minutes. Add more liquid as needed during cooking to keep the trahana creamy. Adjust seasoning at the end with additional salt and pepper.

Using a ring mold, shape the trahana onto each of six serving plates. Place two chops over each trahana mound and garnish with fresh oregano and a drizzling of olive oil. Serve warm.