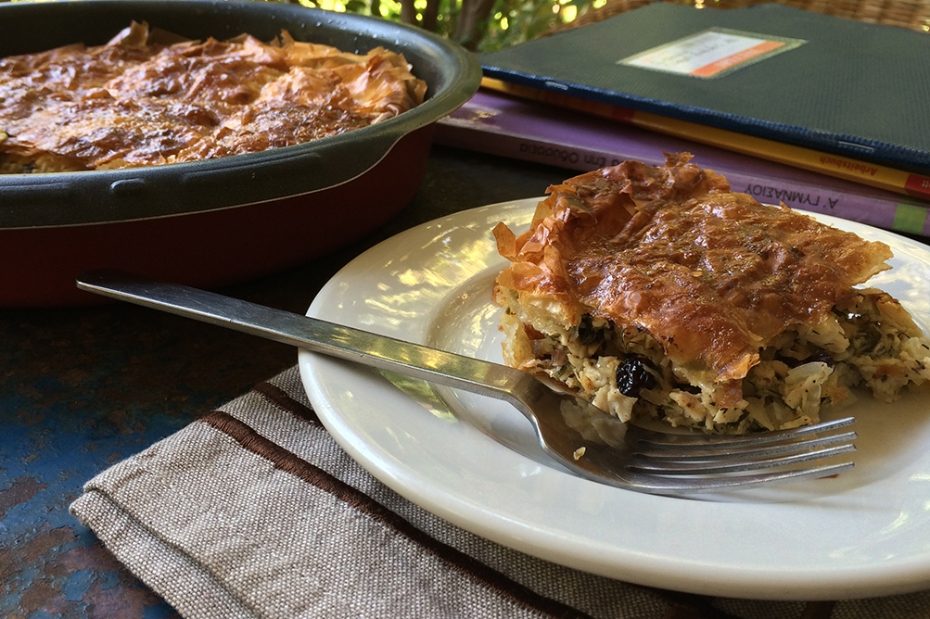 Chicken Pie with Raisins and Onions / Kotopita
---
Savory chicken filo pies are a common dish on mainland Greece. This recipe comes from Thessaly.
Ingredients
1

chicken 1½ kilos

3.3lbs approx.

¾ -1

cup

extra virgin Greek olive oil

5

medium sized onions

finely chopped

3

large eggs

lightly beaten

½

cup

golden raisins

2

tsp.

ground cinnamon

500

g

17.6oz commercial filo pastry, defrosted and at room temperature
Instructions
Poach the chicken in salted water for about one hour, skimming the foam off the surface of the water as it cooks. Remove the chicken, discard skin, debone, and shred or coarsely chop the meat.

Heat ¼ cup olive oil in a large heavy frying pan over medium heat and sauté the onions, stirring constantly until they wilt, approx. 7 minutes. Add the meat to the pan and cook together on low heat for 10-12 minutes. Remove from the heat and let cool. Mix in the eggs, raisins, cinnamon, salt and pepper.

Preheat the oven to 190°C and brush a small round dish of 35cm (13-inch) or 38cm (14.5-inch) with olive oil. You may also use a rectangular pan, 30x45cm (12×18-inches) and 5cm (2-inch) depth.

Place the filo sheets in front of you. Place 7 sheets, one at a time, on the bottom of the baking dish, brushing each with olive oil as you layer them. Layer them in such a way so that the excess filo hangs evenly over the rim of the pan. Spread the filling over the filo. Cover with the remaining 4 sheets, brushing each with olive oil.

Bring the top and bottom overhanging filo sheets together and roll inwards to form a decorative rim. Sprinkle the surface with a little water and score into serving pieces. Bake until golden brown, approx. 50 minutes to 1 hour. Remove from the oven, let cool slightly and serve.
Love chicken? Check out my online class "Wing It! – Great Mediterranean Chicken!"
Love savory pies and phyllo specialties? Sign up for my online class "Fearless Phyllo – Homemade!" to learn the secrets of making great, easy pies at home!