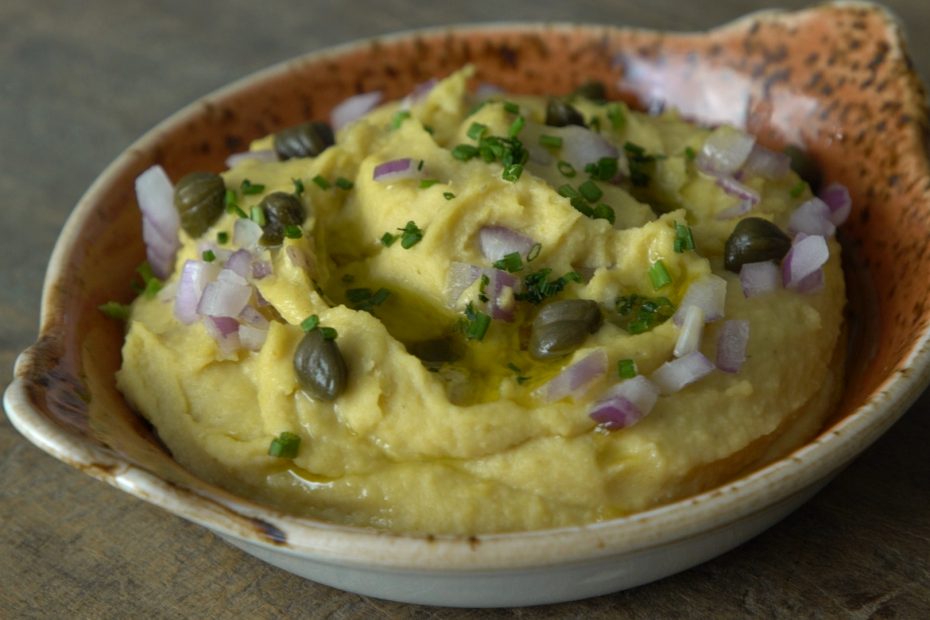 Fava garnished with Capers and Onions
---
Fava, this simple puree of yellow split peas made velvety with a copious amount of great Greek olive oil, and tangy with a spritz of lemon, is one of the great meze dishes of Greek cuisine. To find some of the artisinal Greek products you'll need to make this, visit my online shop
here
, where you'll discover a host of lovingly curated Greek ingredients.
Instructions
Saute the onion in ½ cup olive oil in a wide pot over medium heat. Add the yellow split peas and toss to coat in the oil. Add the bay leaves, salt and pepper and enough water to cover by 1 inch. Simmer, adding small quantities of water as needed, until the yellow split peas disintegrate and are like chunky mashed potatoes. The total quantity of water absorbed by the split peas can be anywhere between 8 to 12 cups.

Remove and puree using an immersion blender, adding salt, lemon juice and olive oil in alternating streams until the mixture is very smooth.

Garnish with capers, raw red onion and even more olive oil!