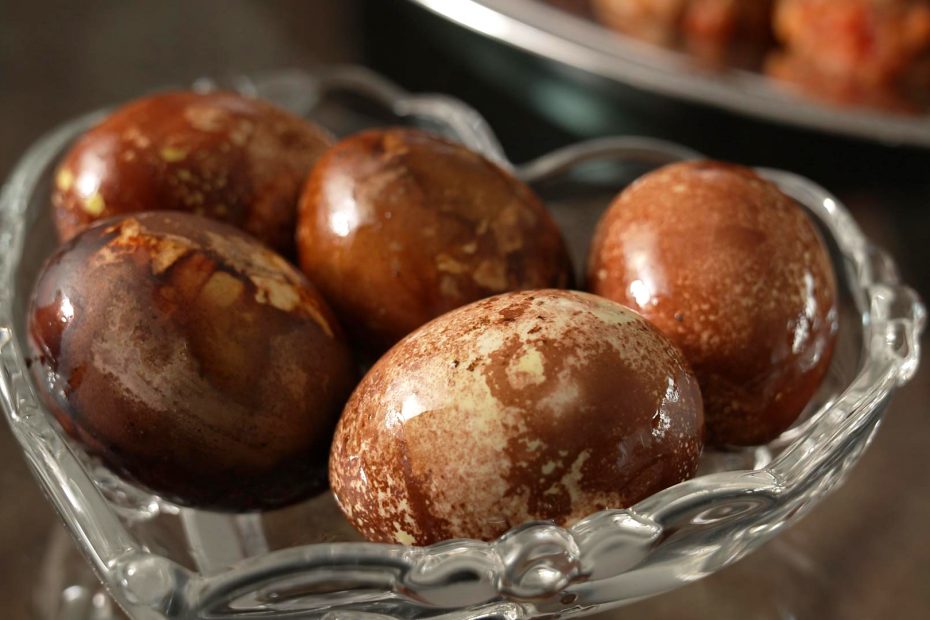 Huevos Haminados
---
Huevos Haminados – slow-cooked eggs in onion skins – is one of the most storied Sephardic recipes from Thessaloniki. These eggs are cooked for hours over onion skins and with Greek coffee and a few other ingredients so that they acquire a deep brown color. This is by far one of the great, traditional recipes of the Sephardic community of Thessaloniki, and speaks directly to its Spanish roots.
Ingredients
6

cups

of onion skins

12

Eggs

2

Tbsp

Greek Coffee

finely ground

1/3

cup

red Vinegar
Instructions
Place a third of the onion skins in a layer on the bottom of a large, wide pot or pressure cooker. Add half the eggs, spaced widely apart. Next, cover with another third of the onion skins and the remaining eggs. Top with a final layer of onion skins.

Warm water and dissolve coffee in water in a small bowl. Pour the coffee into the pot.

Add olive oil, pepper, sea salt, and vinegar to pot.

Add enough water to cover the contents of the pot.

Secure the lid of the pressure cooker closed and place on the burner over low heat. Cook the eggs for two hours. You may also do this in a regular pot, in which case the eggs will need to be simmered, covered, for five hours, and you'll need to keep an eye on the water content. Check the color of the eggs to confirm that they're done. They should be deep brown.