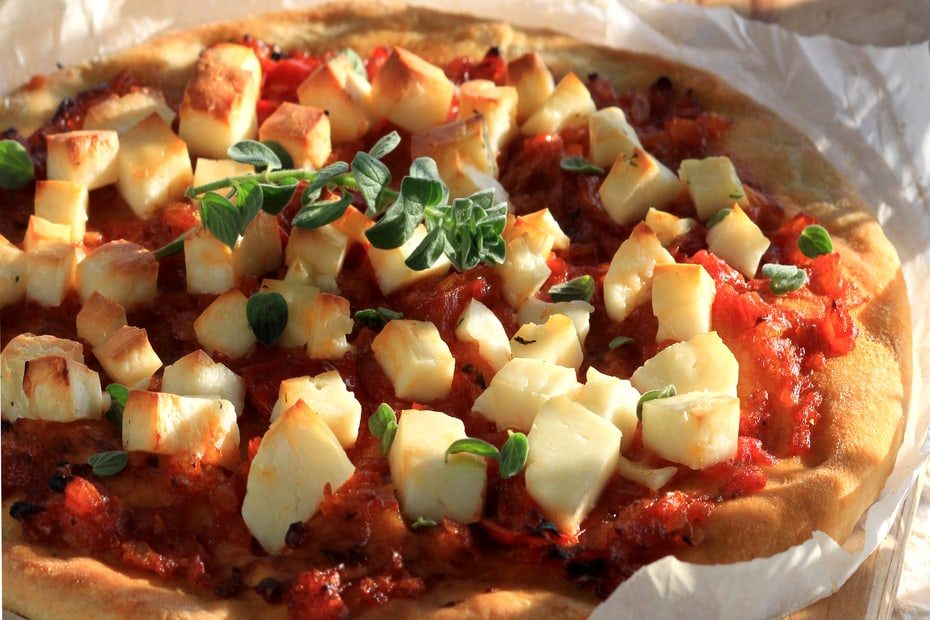 Deep-dish Santorini Pizza - Fava Crust, Santorini Tomatoes, Halloumi & Herbs
---
It's fun for me to take very traditional, ancient ingredients and to rethink them for a modern cook. Here, fava, the humble yellow split pea that has sustained Santorini's islanders for eons, is turned onto the crust for a delicious, easy vegetarian pizza.
Recipe developed for campaign "Santorini Volcanic Terroir" www.santorinivolcanicterroir.eu 
Ingredients
For Crust:
1

cup

cooked

pureed Santorini fava (see recipe for fava sausages)

1/2

cup

all-purpose flour

or more as needed

1 ½

cups

halloumi cut into ½-inch cubes

Fresh oregano or basil leaves for garnish
Instructions
Heat the olive oil in a large skillet or saucepan and cook the onions over medium heat until lightly browned, about 12 minutes. Stir the garlic into the onions. Add the tomatoes. Season with salt and simmer for 15 – 20 minutes to thicken slightly. Add the tomato paste and oregano and cook for five more minutes. Set aside to cool.

Make the crust: Preheat the oven to 360F/180C. Line a deep pie dish or tart pan with or without removable bottom with parchment paper. Brush the paper and sides of the pan with olive oil.

Combine the fava, flour and salt well, to form a smooth mass and press this into the bottom and up the sides of the pie dish. Bake for 10 minutes in the center of the oven. Remove and cool slightly.

Spread the tomato sauce over the fava crust. Dot with halloumi cubes and either fresh oregano or basil and bake for about 30 minutes, or until the crust is set, the sauce thick, and the cheese melted. Remove and serve.
Notes
Makes 1 pizza, 10- or 12-inches in diameter