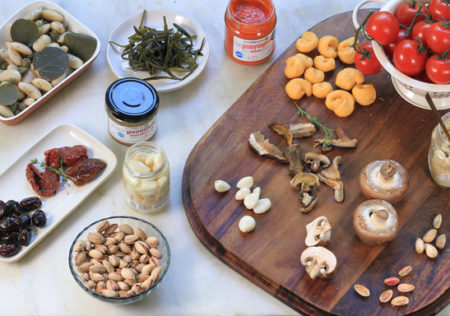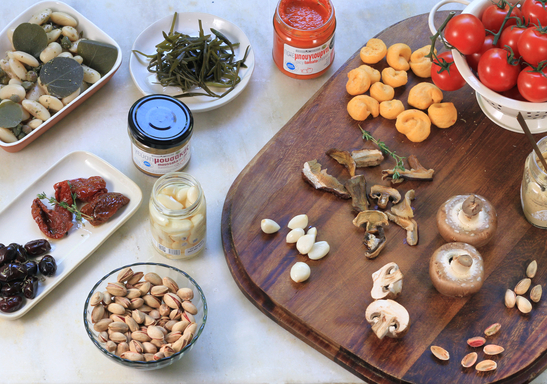 Small plates of vibrant food meant to savor and share…that is the basic definition of mezedes (pl.) A meze spread is not meant to be a meal, but a nosh, a communal, convivial landscape of varied dishes perfect for grazing. Variety is always the key: A traditional meze table should be a collection of dishes that vary in texture, flavors, colors, temperatures and types of food. From creamy dips to crisp phyllo or crunchy rusks, from olives and other pickled treats to rich cheeses, fried and baked things, seafood and bits of meat, the meze experience should have a little bit of everything.
But variety begs the question: What do drink with so many seemingly disparate flavors, textures and types of food? Mezedes are meant to be served with alcohol, typically wine or headier spirits such as ouzo, tsipouro or raki (the latter two grape distillates).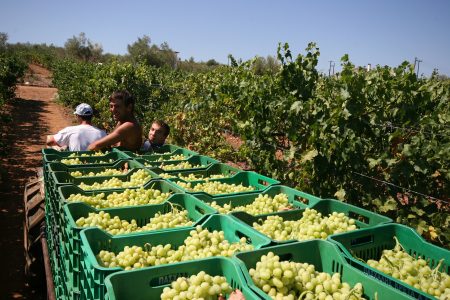 My focus in this blog is on wine and how to pair it with a range of different mezedes. There are over 300 indigenous grape varietals in Greece and two major trends in Greek wine making: Some wines are made exclusively with noble, indigenous Greek varietals and others are blends of Greek and international grapes. The majority, whether blends or not, are meant to be drunk with robust Greek cuisine, so they make natural partners for mezedes.
Two major Greek red varietals are the Xinomavro from Naoussa and other parts of N. Greece, and the Aghiorgitiko, from Nemea in the Peloponnese. A good xinomavro will have an intriguing nose, redolent of black olive, anise, leather, tobacco, oregano, rosemary and thyme. It's a good wine for spicy meat dishes, for example. The Aghiorgitiko is lighter and softer as a general rule, with hints of raspberries and other fruits. These are good wines to matchup with eggplant and aromatic meat dishes.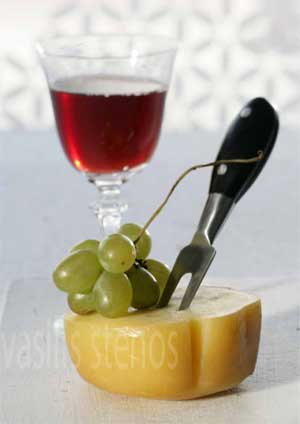 Greece produces more white wines than red and here, too, single varietals and blends are equally savored. In general, most Greek whites end to be acidic and citrusy and go well with almost all manner of fish and seafood. The two main white varietals are Moschofilero, which is produced in Mandineia in the central Peloponnese and is quite aromatic; and Assyrtico, mainly from Santorini. Assyrtico is known for its intense minerality thanks to the volcanic soil in which it grows in Santorini. Most Assyrtikos are dry with beautiful acidity. It's a great match for spinach and cheese combinations, seafood, of course, and much more.
This is but a drop in the wine barrel as far as Greek wine and food pairings go. There is much to commend when it comes to Greek wine, and one great way to get started knowing them is to sip them with friends around a grazing table of small, vibrant plates…meant to be shared.