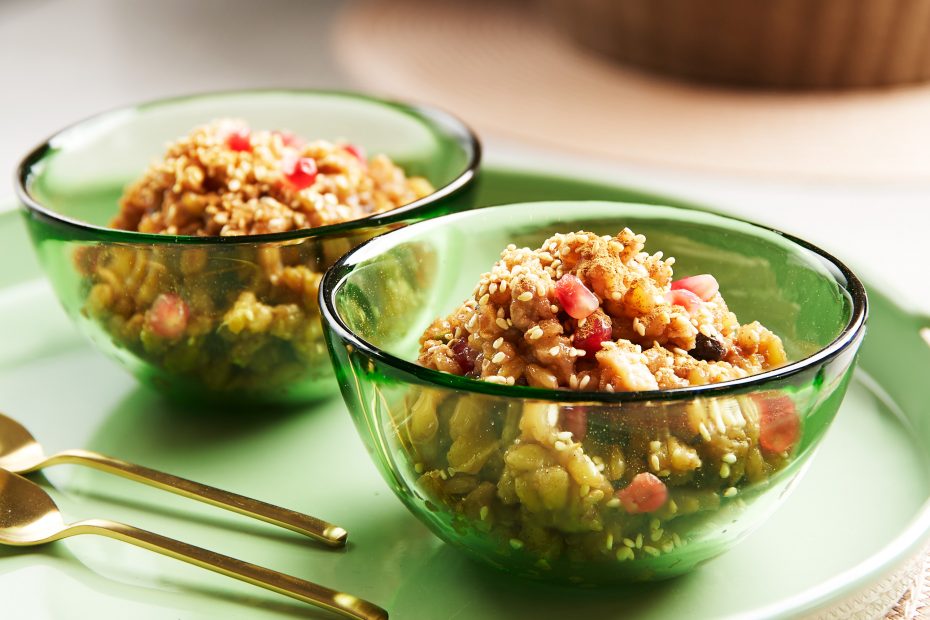 Varvara - Wheatberries Pudding
---
Varvara, a thick, creamy, super healthy wheat pudding is an ancient Greek recipe. There are many wheat-based sweets and desserts in the Greek regional kitchen, and like this one, they typically call for warm spices like cinnamon and often call for dried fruits such as raisins and figs. If you like comforting sugar-free but natural desserts with a healthy spin, you'll love this Greek Varvara from the Everyday Superfoods episode of My GreekTable season 4!
Ingredients
1

cup

250 g wheatberries

2

Tbsp

petimezi

2

Tbsp

raisins

1

tsp

cinnamon powder

Zest from 1 orange

2

Tbsp

walnuts

2

Tbsp

Aegina pistachios

1

Tbsp

cornstarch

dissolved in 3 Tbsp of water

Toppings

½

tablespoons

sesame seeds

toasted

½

cup

pomegranate seeds

½

teaspoon

of cinnamon
Instructions
Bring water in a saucepan to boil and add the wheat.

Reduce the heat to low and stir in the petimezi, raisins, cinnamon and orange zest.

Meanwhile, finely chop the dried figs and coarsely chop the walnuts and the Aegina pistachios. Cook over low heart for 15 minutes or so, until the wheat is soft.

Add the cornstarch dissolved in 3 tablespoons of water to the simmering wheat and stir until it is dissolved and the mixture starts to thicken. Cook over low heart for about 5 more minutes. The dish is ready when the wheat is soft and the mixture dense and creamy like thick oatmeal.

Remove from the heat and serve in individual bowls. Garnish pomegranate seeds, sesame seeds and more cinnamon -if desired, and serve. Serve warm.