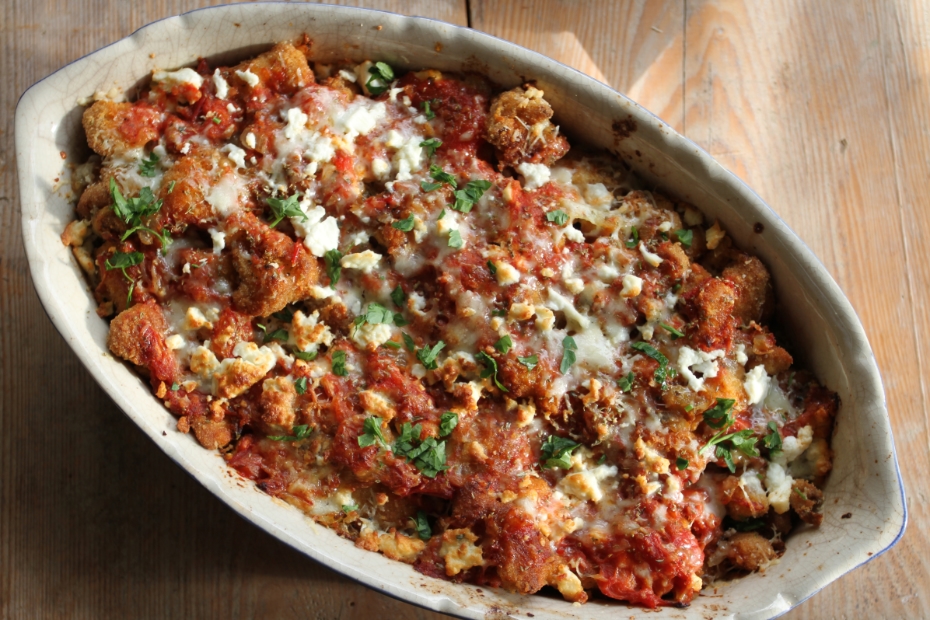 Cauliflower Baked with Three Greek Cheeses
---
Cauliflower is an often maligned vegetable in Greek homes. Too many people have memories of over-boiled cauliflower drizzled with nothing but olive oil and lemon juice. Here, I take a cue from a classic summer dish, eggplant baked with cheesse (melitzanes me tyri), and use seasonal, wintry cauliflower instead. My 14-year-old carnivore devoured it! To find some of the artisinal Greek products you'll need to make this, visit my online shop
here
, where you'll discover a host of lovingly curated Greek ingredients.
Ingredients
1

large cauliflower head

trimmed and cut into florets

2

cups

all-purpose flour

Salt

pepper to taste

3

large eggs

1 ½

cups

plain dried breadcrumbs

2/3

cup

extra virgin Greek olive oil

1

large onion

finely chopped

3

garlic cloves

minced

2 ½

cups

basic tomato sauce or canned chopped tomatoes

Pinch

of cinnamon

1

teaspoon

Greek dried oregano

1

cup

crumbled Greek feta

1

cup

Greek anthotyro or ricotta

drained

1 ½

cups

grated graviera

kefalograviera or kefalotyri cheese or any hard, piquant sheep's milk cheese

1/3

cup

chopped fresh flat-leaf parsley
Instructions
Cut the florets so that they are all about the same size. Preheat the oven to 375F. Line a baking tray with parchment paper and drizzle generously with olive oil.

Place the flour in a wide, shallow bowl and season with salt and pepper. Whisk the eggs with 2/3 cup water and place in a medium bowl. Spread the breadcrumbs onto a shallow bowl or plate.

Toss the florets, a handful or two at a time, in the seasoned flour, then dip a few pieces at a time into the eggs. From there, roll in the breadcrumbs. Place the florets on the baking tray. Continue until all the florets are floured, egg-dipped and rolled in breadcrumbs. Place snugly in one layer on the baking tray and drizzle with 2 tablespoons or more, to taste, of olive oil. Bake for about 20 minutes, turning once, to lightly brown them on all sides. Remove and let cool.

While the cauliflower is crisping in the oven, heat the remaining olive oil in a medium frying pan over medium heat and sauté the onion until wilted and glistening, about 8 minutes. Add the garlic and cook, stirring, for a minute to soften. If using canned tomatoes, add them to the frying pan, season to taste with salt and pepper and simmer until thickened. If using prepared basic tomato sauce (I, for example, make my own in the summer and put it up in jars to have all winter long), simply warm it in a small pot.

Assemble the cauliflower and three cheese casserole: Spread 3 – 4 tablespoons of tomato sauce on the bottom on a large ovenproof glass or ceramic casserole dish. Drizzle some olive oil on the bottom as well, if desired. Place a layer of the breaded, baked cauliflower over the tomato sauce. Spoon over about a third of the sauce, or, if using prepared sauce, a third of the onion-garlic mixture then a third of the basic sauce. Sprinkle with a pinch of cinnamon and some of the oregano. Dot the surface with a third of the cheeses. Repeat two more times, to get three layers of cauliflower, finishing with the remaining tomato sauce, cinnamon, oregano, and cheeses.

Cover with parchment and aluminum foil or with the casserole's own top and bake for about 25 to 30 minutes, or until the cheeses melt, the sauce is bubbling, and the cauliflower tender. Remove, sprinkle with parsley, cool slightly and serve.
Want to learn more easy, healthy Mediterranean diet recipes? Sign up for my online course "Mastering the Mediterranean!"
Love vegetables? Want to learn more great plant-based Mediterranean dishes? Enroll in my online  class "Baked Vegetable Classics!"