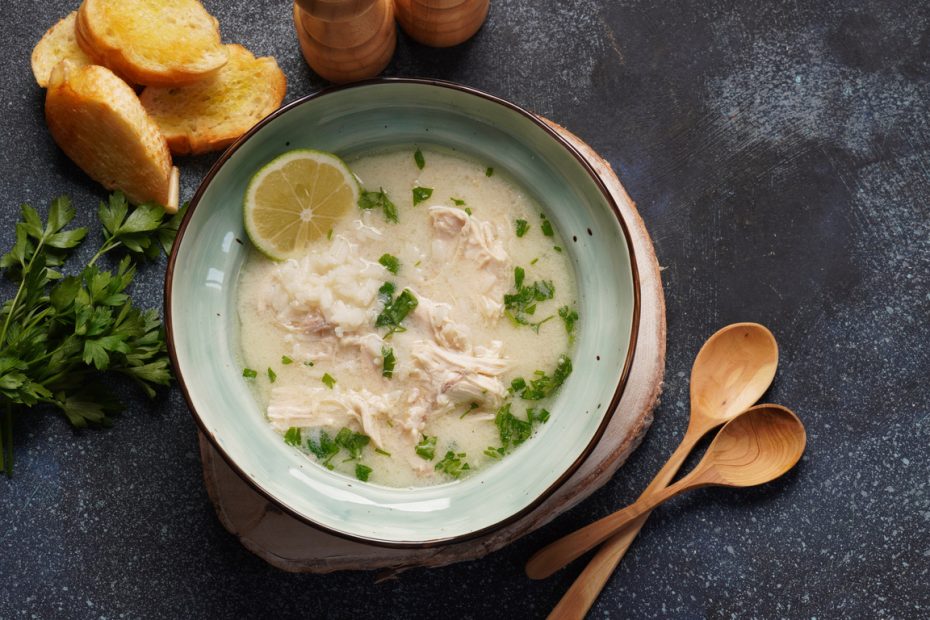 Easy Avgolemono Soup (Greek Lemony Chicken Soup)
---
This is Greek recipe is me revisiting my mom's Avgolemono soup – Greek Lemony Chicken Soup – recipe. It's still a family favorite. I've added a few tricks of my own to it over the years, though! Greek Avgolemono, the egg-lemon mixture that is whisked with broth to make soups and sauces, may be used in chicken soups, fish soups and a few ultimate comforts like the Greek recipe for Youvarlakia, meat-rice balls cooked in avgolemonoIt's also used in a few classic Greek recipes for plant-based main courses.
WATCH me make another delicious avgolemono soup with saffron and sparkling wine, HERE!
Ingredients
3

tablespoons

extra virgin Greek olive oil

1

large carrot

peeled and diced, optional

3

quarts

chicken broth or stock*

3

cups

cooked

shredded chicken (no skins)

Salt and white pepper

2/3

cup

medium grain rice

orzo, or trahana

Fresh strained juice of 1 1/2 lemons

4

large eggs

separated

Fresh parsley for garnish
Instructions
Heat the olive oil in a large soup pot over medium heat and add the carrot. Stir until softened, about 7 minutes. Stir in the shredded chicken and the rice and turn to coat in the oil.

Add the broth and bring to a boil.

Next, add whichever grain you prefer (rice, trahana or orzo) and simmer for about 15 minutes, or until the grains are tender.

Make the avgolemono: Place the egg whites in a metal bowl, if using a hand-held whisk, or in the bowl of a stand mixer outfitted with a whisk attachment. Whip at medium speed and then at a slightly higher speed, until a stiff meringue forms. In a separate, metal bowl, with a clean whisk, whisk the yolks until creamy and while whisking add the lemon juice in a slow, steady stream until thick and creamy. Using a rubber spatula, fold the meringue into the yolks thoroughly. Take a ladleful of the soup broth, careful not to catch any rice, trahana or pasta, and add it to the egg-lemon mixture in a very slow but steady stream, whisking vigorously all the while. Repeat with a second ladleful. Continue adding hot broth to the egg-lemon mixture until about half the pot juices are worked into the egg-lemon mixture, tempering it. Quickly pour this mixture into the pot, tilt so that it is evenly distributed, taste for salt and pepper or additional lemon juice, and serve, garnished with parsley sprigs.
Love chicken? Check out my online class "Wing It! – Great Mediterranean Chicken!"
Want to learn more easy, healthy Mediterranean diet recipes? Sign up for my online course "Mastering the Mediterranean!"
Love soup? Check out my online class "Comfort in a Soup Bowl!" 
Notes
You can find very good quality chicken broth at good supermarkets, but you can also make your own by simmering a whole chicken (remove the gizzards!) in 4 quarts f water with 4 - 5 chopped celery stalks, 3 carrots, 1 leek and 1 large onion. Season with a little salt as the liquid starts to simmer and boil gently until the meat on the chicken is literally falling off the bone. Remove, cool and shred the chicken; strain out the solids, and use the liquid as the base for the avgolemono soup.