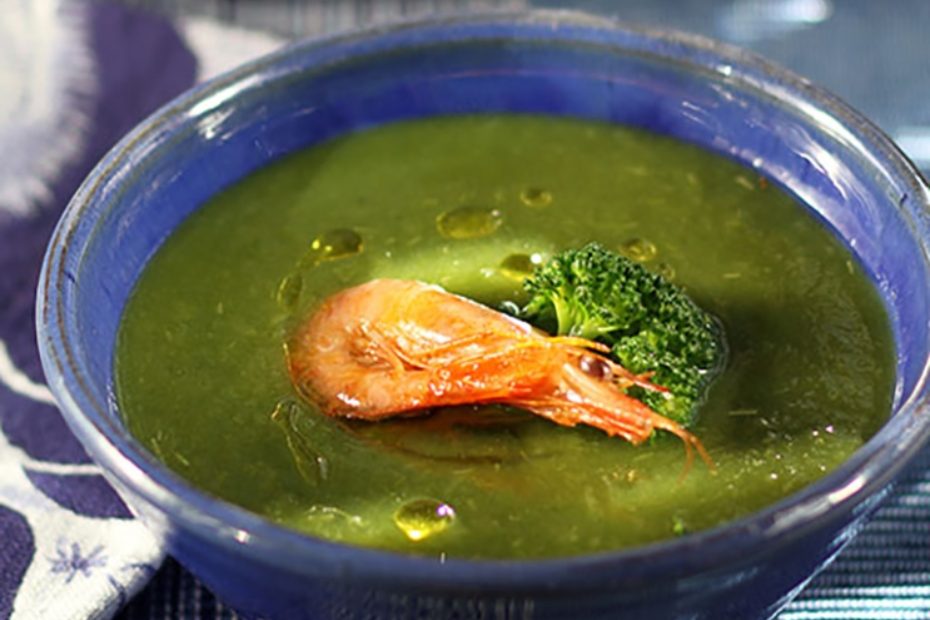 Broccoli Shrimp Bisque with Greek Olive Oil
---
A great soup for lunch, brunch, or dinner! It's easy, elegant and nutritious. To find some of the artisinal Greek products you'll need to make this, visit my online shop
here
, where you'll discover a host of lovingly curated Greek ingredients.
Ingredients
1

pound

/ 450g raw fresh shrimp in their shells

2

large red onions

chopped and divided

2

leeks

trimmed, chopped and divided

3

garlic cloves

finely chopped, divided

1

large fennel bulb

chopped and divided

1 2-

inch

knob of ginger

peeled and finely chopped

1

large head of broccoli

trimmed and chopped (stalk, too)

150

ml

dry white wine

1/3

cup

ouzo

Juice of 1 small lemon

or to taste

To serve

8

fresh shrimp

shelled, but tail tips left on

8

small broccoli florets

Vrisi 36 Bold extra virgin Greek olive oil
Instructions
Shell the shrimp and save the shells. Refrigerate the shrimp until ready to use.

Heat 3 tablespoons olive oil in a large pot and fry the shells in the oil for about 5 minutes, over medium-high heat. Add half the onion, leek, and fennel and cook until wilted and glistening, about 10 minutes over medium-low heat, covered.

Stir in a third of the chopped garlic and turn with the other vegetables for about a minute. Add the wine and ouzo, and raise the heat to cook off the alcohol. Add 2 quarts water. Bring to a boil, reduce heat to a simmer and cook the stock for a half hour. Strain through a fine-mesh sieve and set the stock aside. You can make the shrimp stock up to 3 days beforehand and store covered in the fridge.

In a clean pot, heat 3 more tablespoons olive oil. Wilt remaining half of the onions, leeks, and fennel in the oil, over medium heat. Season with a little salt and pepper. Add the ginger and a third more of the garlic.

Stir in the chopped broccoli, reserving 8 small florets for garnish. Stir to coat in the olive oil. Stir in the chopped shrimp and turn in the oil until the flesh turns white. Add the drained shrimp stock. Bring to a boil and reduce heat to a simmer until the broccoli is tender, about 15 minutes. Remove from heat.

Puree the soup with an immersion blender and strain, if desired, through a fine-mesh sieve to give it a velvety texture. Place back in the pot and reheat. Adjust seasoning with salt, pepper, and lemon juice.

Heat 2 tablespoons olive oil over high heat in a large, heavy skillet and sauté the broccoli florets, remaining pieces of shrimp and remaining garlic for a few minutes, until the shrimp is bright pink and the broccoli al dente. Season with salt while sautéing. Remove and set aside.

Serve the soup hot, with a broccoli floret and shrimp piece in the center, and drizzled with a little olive oil.
Love soup? Check out my online class "Comfort in a Soup Bowl!" 
Love vegetables? Want to learn more great plant-based Mediterranean dishes? Enroll in my online  class "Baked Vegetable Classics!"