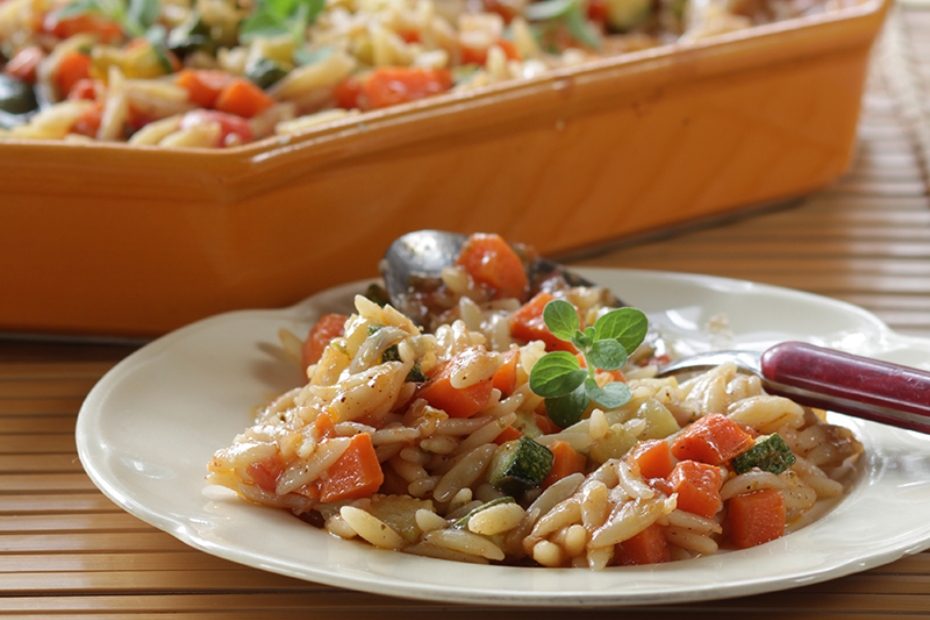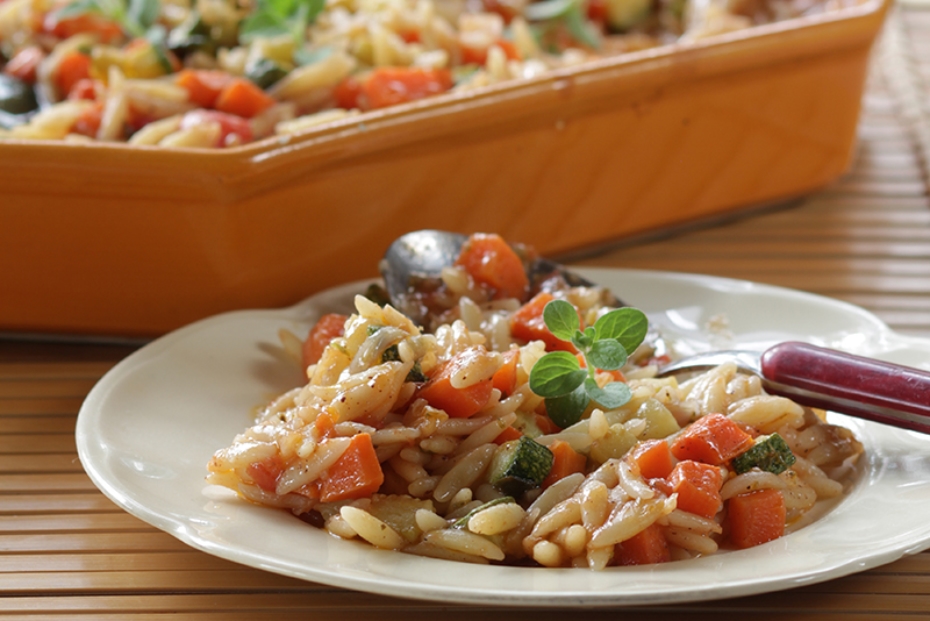 Baked Vegetable Orzo Casserole - Yiouvetsi
---
There are a gazillion versions of pasta with vegetables. Here's a Greek classic, yiouvetsi, brimming with vibrant vegetables and luscious with Greek olive oil. You can find the Greek olive oil and herbs you need for this dish on my Amazon store,
here.
Ingredients
1/2

cup

plus 3 tablespoons extra virgin Greek olive oil

2

large red onions

finely chopped

½

teaspoon

cinnamon powder

4

large carrots

peeled and diced

1

lb.

/ 450 g orzo or Greek kritharaki

3

cups

chopped

canned or fresh plum tomatoes

2

bay leaves

3

sprigs fresh or dried oregano

1 ½

lbs./ 750 g zucchini

diced

2

tablespoons

balsamic vinegar

Grated Greek kefalotyri cheese

parmesan, or other hard cheese
Instructions
Heat 2 tablespoons olive oil in a large skillet and sauté the onions for 10 minutes over medium heat, until soft. Add the cinnamon, stir, and gently cook the onions for another 3-4 minutes, until lightly colored. Remove and set aside the onions. Wipe the skillet dry.

Heat 2 tablespoons more of olive oil in the same skillet over low heat and cook the carrots for 15 minutes, until softened but al dente. Stir occasionally.

Preheat the oven to 375F/190C.

Bring 6 cups of salted water to a rolling boil and cook the orzo for about 5 minutes, until al dente.

Transfer the orzo and cooking liquid to a large baking pan. Mix in the onions, carrots, tomatoes, 2 tablespoons of olive oil, bay leaves, and oregano. Season with salt and pepper. Bake, covered, for 20-25 minutes.

In the meantime, heat two more tablespoons of olive oil in the skillet and sauté the zucchini. Add the garlic and stir. Add this mixture to the orzo. Add a little hot water to the baking pan if necessary, to keep the pasta from drying out. Continue baking the orzo for another 40 minutes to one hour, or until almost all the liquid has been absorbed. Remove, stir in remaining olive oil, and serve, garnished, of desired, with grated cheese.
Love vegetables? Want to learn more great plant-based Mediterranean dishes? Enroll in my online  class "Baked Vegetable Classics!"