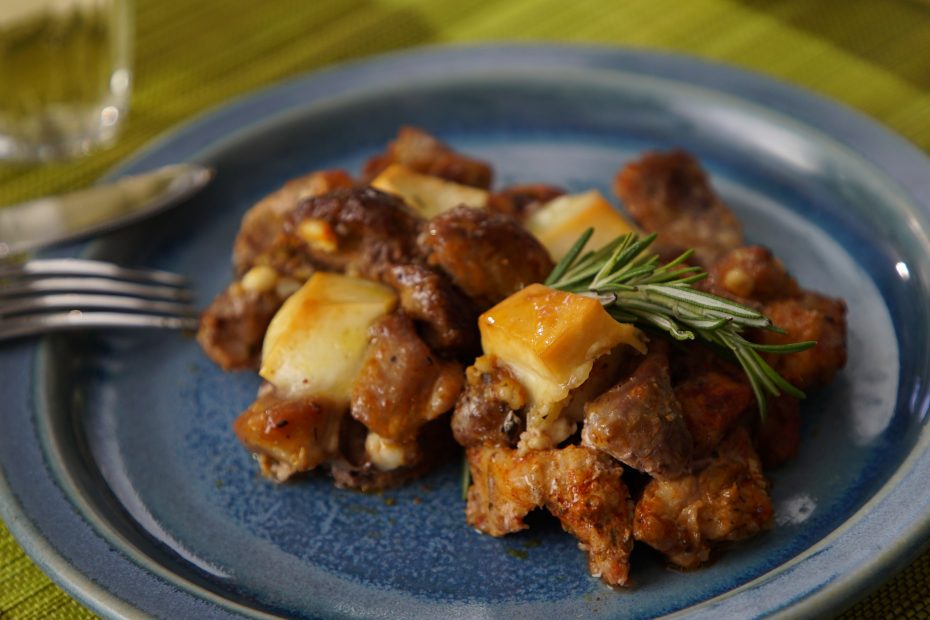 Pork Exohiko
---
This delicious dish is a Greek classic, but my version has a few little twists. It's a lovely recipe for a dinner party and the element of surprise -- opening the package -- is like bringing your guests a little gift. Kaly Orexi! To find some of the artisinal Greek products you'll need to make this, visit my online shop
here
, where you'll discover a host of lovingly curated Greek ingredients.
Ingredients
2

pounds

/ 1 kilo boneless shoulder of pork

cut into 2-inch / 5-cm cubes

2

tablespoons

Greek or Dijon mustard

Grated zest of 1 lemon

preferably organic

2

tablespoons/30 ml fresh strained lemon juice

4

tablespoons/45 ml white wine

Hot paprika to taste

optional

8

fresh rosemary sprigs

3 - 4 inches / 7.5 - 10-cm each

1

leek

trimmed, washed well and cut into thin rings

1

celery stalk

trimmed and coarsely chopped or diced

12 1-

inch

/2.5-cm cubes of Greek kefalotyri or kefalograviera cheese
Instructions
Rinse and pat dry the pork.

In a medium size metal bowl, whisk together the mustard, lemon juice, wine, and olive oil. Toss the pork pieces in this mixture. Let stand, covered and chilled, for 1 hour.

Cut 4 pieces of parchment paper large enough to hold the pork pieces. Set aside. Using a mortar and pestle, grind together the garlic and sage leaves. Preheat the oven to 350F/180C.

Using a slotted spoon, transfer the pork to a bowl and pat dry. (Save the marinade for drizzling over the pork before you close up the parchment packets.) Season generously with salt and pepper and toss in the garlic-sage mixture. Place equal portions of pork pieces inside each of the pieces of parchment. Sprinkle judiciously with the hot paprika, if using. Sprinkle with the lemon zest. Place 2 rosemary sprigs over the meat. Divide up the leeks and celery and spoon them evenly over the pork. Add the cubes of cheese to the package. Drizzle in a little of the marinade.

Fold the long sides of the parchment over the pork and then bring the two ends together, rolling at the edges, to close the parcel. Secure closed with kitchen string and place on a lightly oiled baking pan. Sprinkle a little water over the parcels. Bake the parcels for 1 hour and 45 minutes, until the pork is tender. During cooking, sprinkle more water in the pan and over the parcels, to keep the meat moist.

Remove from oven and serve. Open the parcels carefully because the steam that escapes is very hot.