Greek cooking has plenty of great artichoke-heavy dishes, and in regions like the Aegean islands, Crete, and the Peloponnese, you're almost certain to come across them anywhere you grab a table. There are purple and green globe artichoke varieties that are local, small artichokes, and wild thorny artichokes known for their tender hearts. Even better, artichokes are incredibly healthy: they're low in fat, high in fiber, and packed with vitamins, nutrients, and antioxidants; they also reduce bad cholesterol, help to regulate blood pressure, and improve liver health.
Artichokes are one of the most ancient and beloved vegetables in the Eastern Mediterranean, and Greeks have been eating them forever, or at least since discovering and embracing their ancestor, the wild cardoon. There are several artichoke varieties grown in Greece, mostly in the Peloponnese and Crete – and on my island of Ikaria, there's even a thorny wild version!
You might be amazed at all the ways to enjoy artichokes. Poached, grilled, baked, fried, boiled, braised, stuffed – even eaten raw – there are no bad ways to enjoy artichokes! Scroll on for 8 of my favorite Greek artichoke recipes.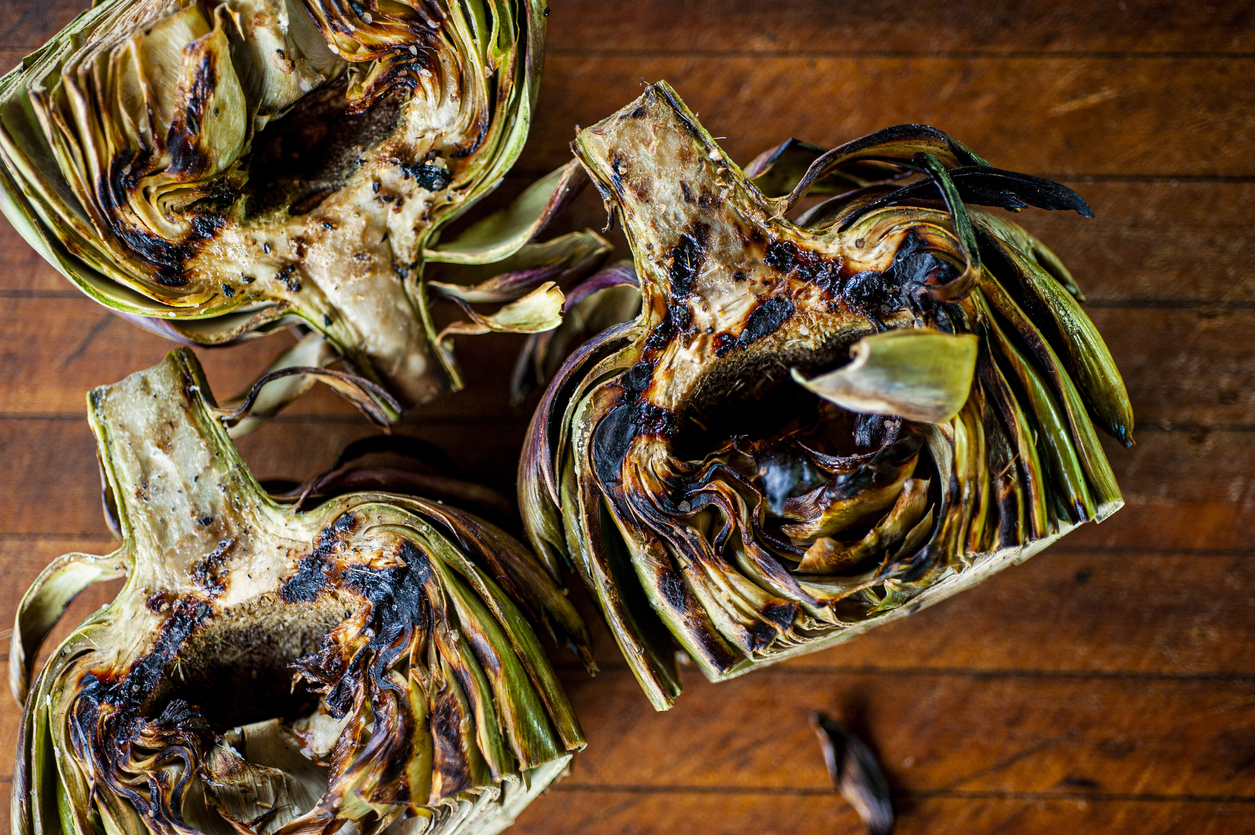 Want to go super simple with your artichoke recipe? It doesn't get more easy peasy than this grilled artichoke recipe, which has only 4 ingredients! One of the important parts is learning how to clean the artichoke: Before you start, fill a medium sized bowl with cold water and squeeze a lemon into it. Remove the toughest upper part of each artichoke with a serrated knife, cutting away at least one inch. Hold each artichoke round side down and trim away the tough outer leaves with the serrated knife, leaving the most tender, inner ones intact. Cut away all but a ½ inch of the stems. Cut the artichokes in half lengthwise so that the choke is exposed. Work fast to remove the choke with a spoon. Drop the artichoke into the acidulated water, grill, and you're good to go!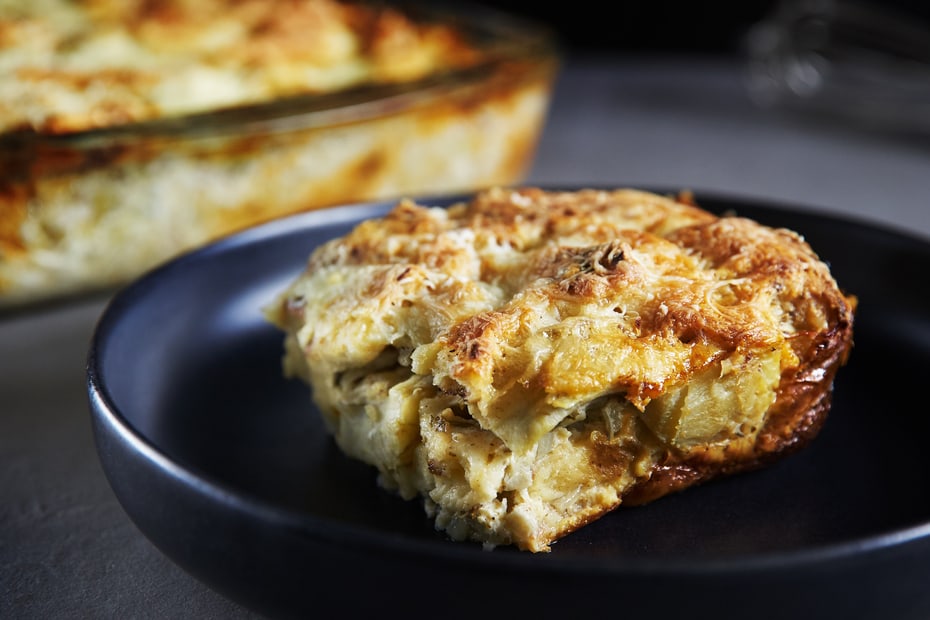 Artichoke bread pudding is really more like a "casserole," making it a homey and delicious recipe. It hails from the Cyclades and specifically Tinos, and it attests to the creative ways in which Greek cooking evolved, using both local and everyday ingredients to create delicious, regional specialties – in fact, artichokes are one of Tinos' most prized local cultivations. Can't find them fresh? Don't worry – this one works with frozen artichokes too!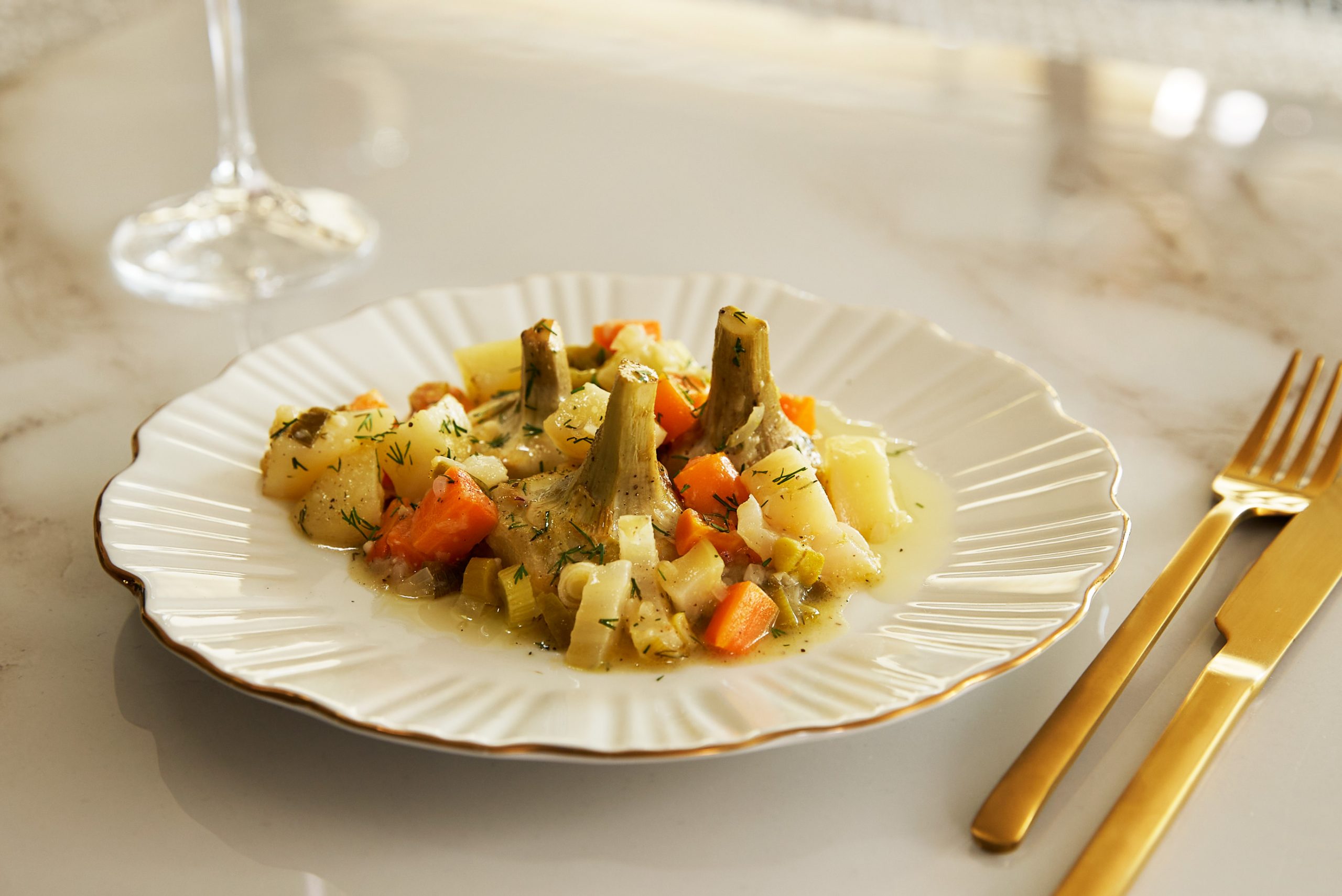 This artichoke dish is a classic Greek recipe that belongs in the canons of "astiki" or bourgeois cuisine, a great dish that is both healthy and elegant. In this time, it also served as a chance for the home cook to show off their skills (it was almost always the lady of the house). It's one of the great recipes of the Greek kitchen, and now it finds its place among the roster of great recipes from My Greek Table!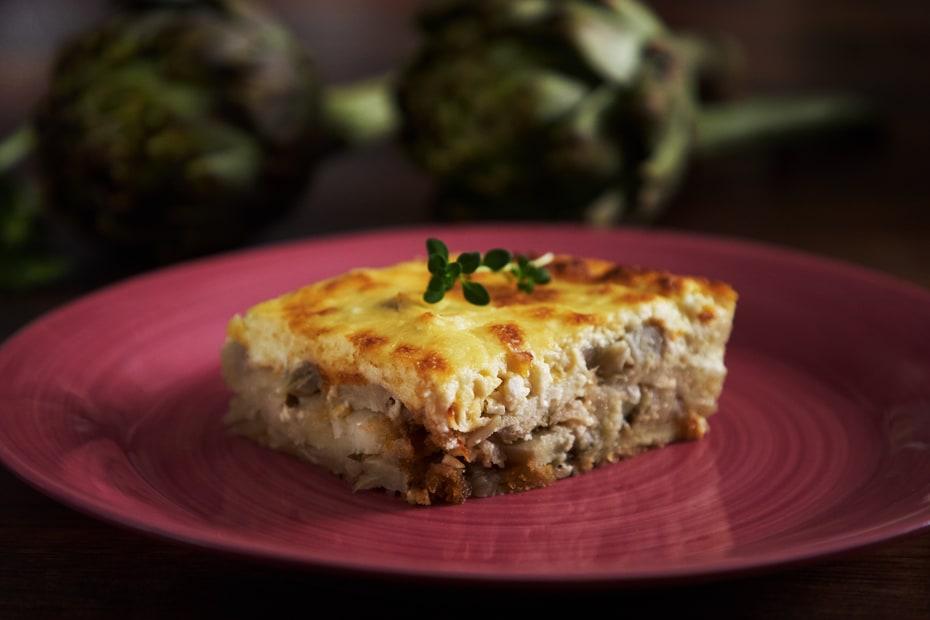 Artichoke moussaka is one of several variations on the moussaka theme in the Greek country kitchen – it's essentially another version of an artichoke casserole, one that you're sure to love. Classic moussaka has ground meat, but this version is a delicious, meatless rendition, made sweet by the copious amount of caramelized onions that are layered in the pan. It also originated from My Greek Table season 2!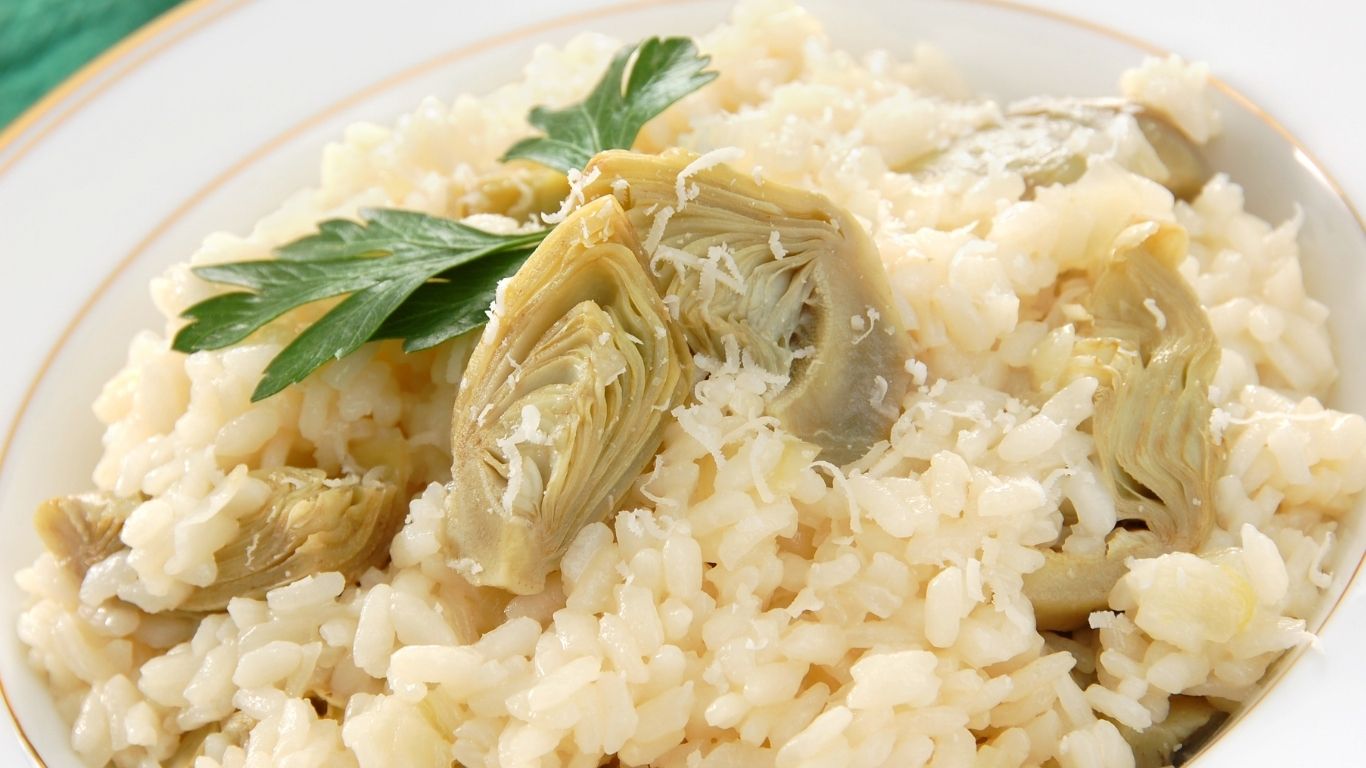 Here's a wonderful and easy dish for a delicious spring Sunday lunch or dinner! It pairs artichokes and Greek feta cheese, a perfect combination – and when added into a creamy risotto, there's truly nothing better or more warming.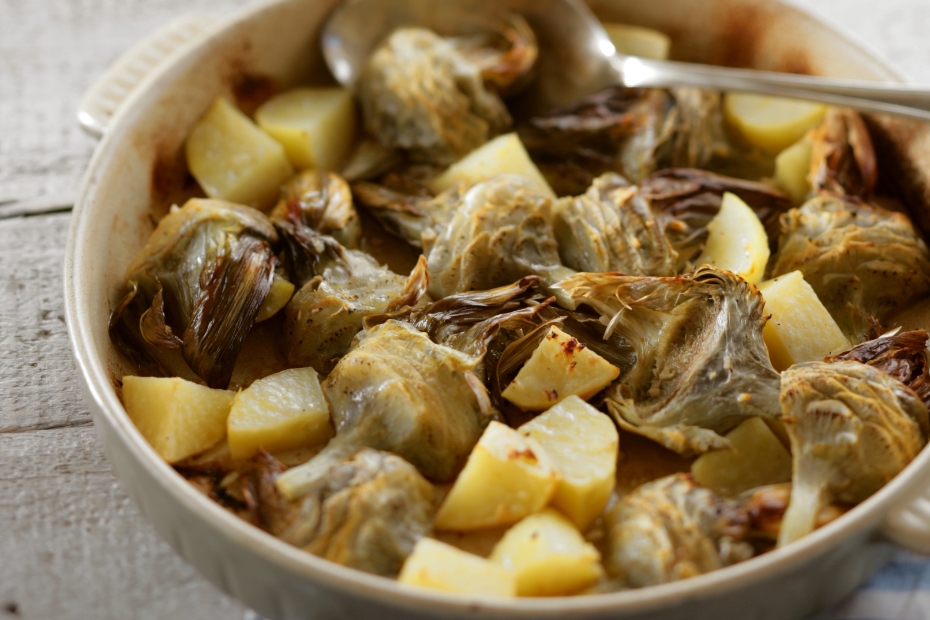 Perfect as a vegetarian main course, perfect for Meatless Mondays! This dish hails from the island of Milos, but similar dishes are made all over Greece. This hearty and healthy vegan stew also calls for great olive oil – Greek, of course. It's a classic Greek recipe you're sure to love.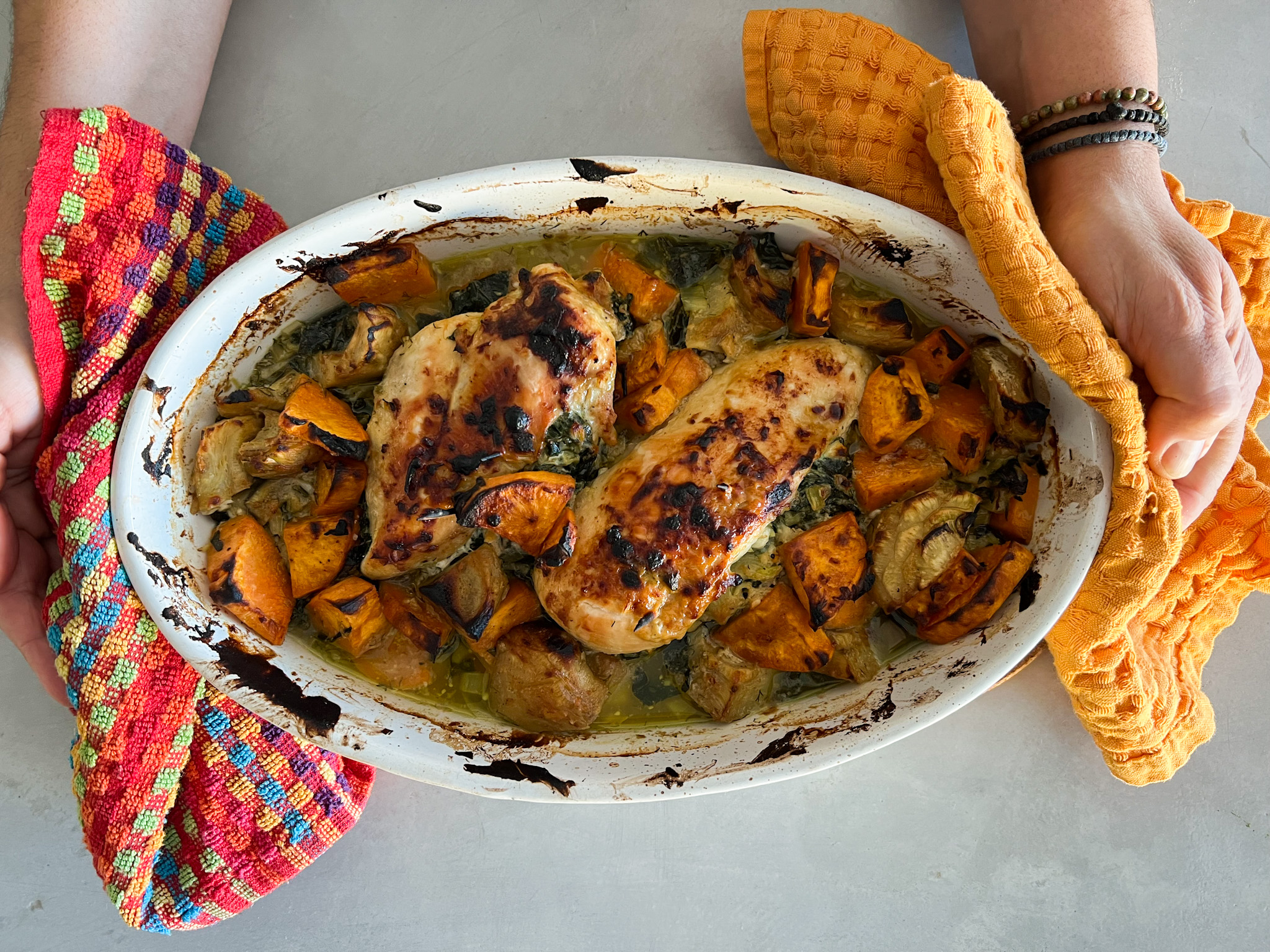 Here's a modern take on a classic Greek recipe! This Greek recipe for chicken breasts stuffed with spinach, artichokes and Greek feta was born by accident in my kitchen when a few friends popped over unexpectedly. I had all these basic Greek diet ingredients in my fridge and freezer and put together a quick but yummy meal. Just make sure to use Greek feta!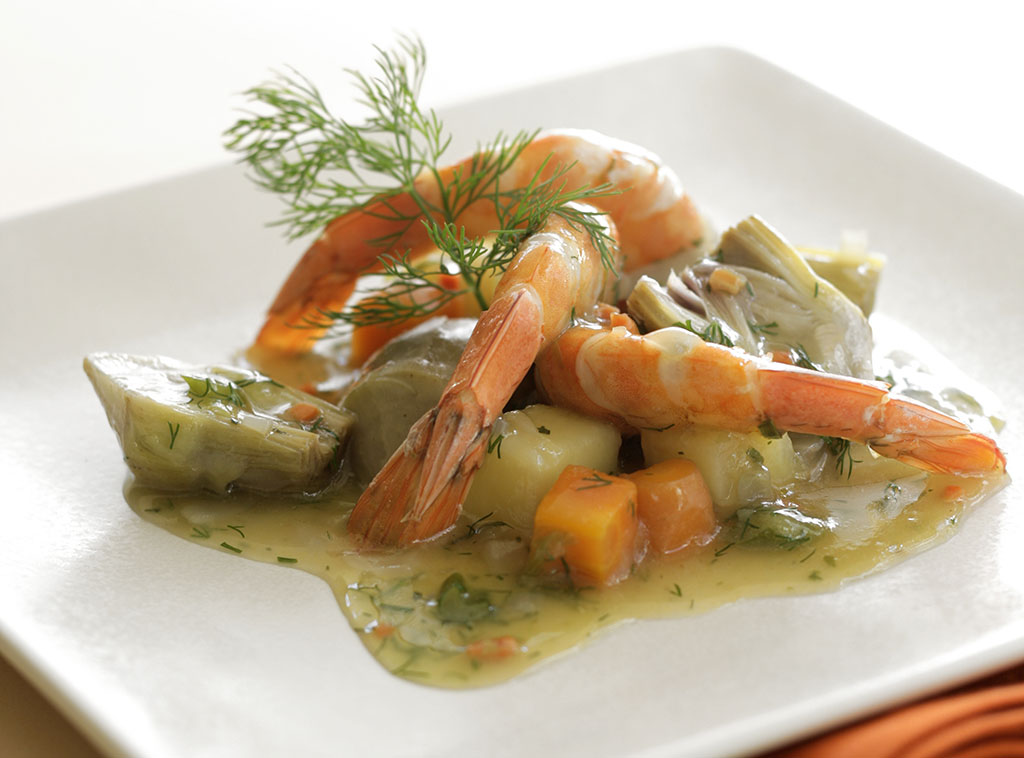 Want another twist on a classic Greek artichoke recipe? Try pairing them with seafood! One of the great classics of Greek urban cuisine, artichokes a la polita, or "of Contantinople," is braised here with carrots, potatoes and, yes, shrimp! The flavors together are wonderful, and the addition of Greek saffron, or krokos kozanis, takes it to the next level.