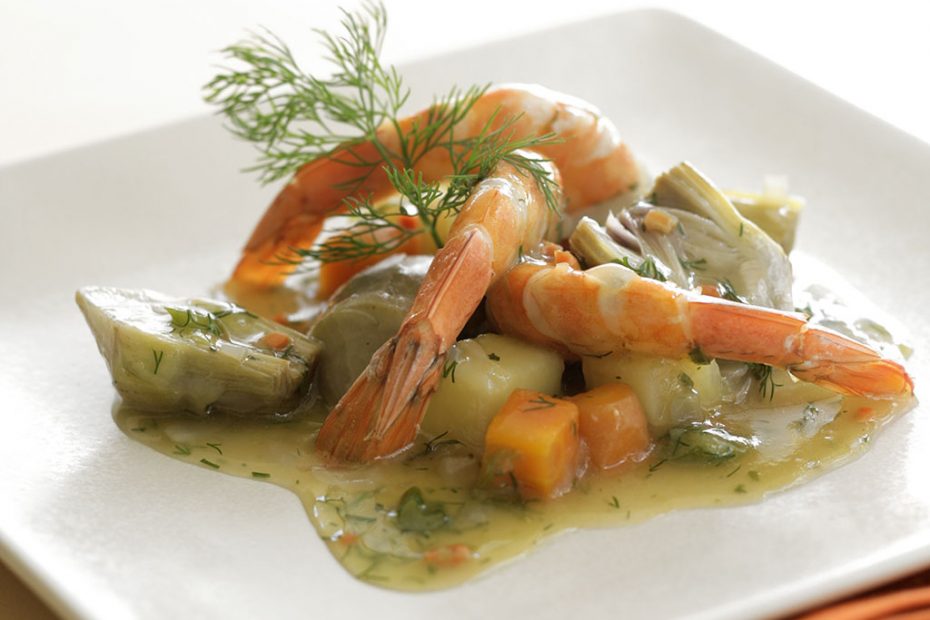 Artichokes Braised a la Polita with Shrimp & Greek Saffron
---
One of the great classics of Greek urban cuisine, artichokes a la polita, or "of Contantinople," braised with carrots, potatoes and, here, shrimp.
Ingredients
8

artichokes

cleaned (hearts only)

Juice of 1 lemon

1

lemon

cut in half

1

large red onion

finely chopped

1

large carrot

coarsely chopped

2

medium leeks

trimmed and coarsely chopped

2

teaspoons

all-purpose flour

1

medium potato

peeled, halved across the width and cut into cubes

½

cup

dry white wine

½ -1

quart/1/2 – 1 liter fish stock or water

2

tablespoons

fresh

strained lemon juice

2

tablespoons

chopped fresh dill

½

teaspoon

saffron threads

diluted in 2 tablespoons warm water

16

large shrimp

shelled, cleaned but with tails on
Instructions
Clean the artichokes: Remove their coarse outer leaves. Take a serrated knife and cut the artichoke tops off, leaving a base of about 1 ½ (4 cm) inches. Place the artichokes on their side and, using the serrated knife, remove any remaining leaves. Take a teaspoon and scrape out the purple fuzzy choke. Trim the stem, removing the tough outer part and a bit off the top so that about 2 inches (5 cm) of stem are left. The final cleaned artichoke should look like an inverted old-fashioned champagne glass. Rub immediately with a cut lemon and place in acidulated water.

Heat olive oil in a wide, shallow skillet and sauté the onion until slightly wilted. Add and sauté the carrot, then the leeks. Sprinkle with flour and stir for 2 to 3 minutes. Add potatoes and toss to coat in the oil. Remove the artichokes with a slotted spoon and carefully place them, cut-side down, in the pot. Pour in the wine. Bring to a boil and add ½ quart/liter of stock, lemon juice, and dill. Season with salt and pepper. Pour in the saffron and stir gently. Cover the pot and cook until the potatoes and artichokes are tender, about 20 to 25 minutes, and the pan juices slightly thick.

Before serving, heat 1-2 tablespoons olive oil in a nonstick skillet, season with salt and sauté the shrimp until bright pink, about 2 to 3 minutes over high heat, stirring. Add the shrimp to the artichokes and cook all together for about 2 to 3 more minutes.

To serve: Using a slotted spoon, transfer 2 artichokes to each plate together with a large spoonful of vegetables. Place 2 shrimps on top of each artichoke. Drizzle a generous amount of pan juices on top and serve.
Love vegetables? Want to learn more great plant-based Mediterranean dishes? Enroll in my online  class "Baked Vegetable Classics!"