Did you know that corn recipes have been part of the Greek table for several hundred years? Admittedly, this is nothing compared to the vegetable's long history in the US, but it is notable considering the role these recipes play in the Greek diet as a whole!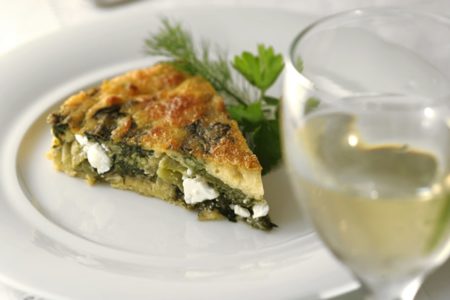 It was probably introduced and disseminated by the Ottoman Turks, who may have encountered it first in Africa. The Turkish word for corn, misir, is the same as the Turkish name for Egypt. Greeks call corn kalamboki, after the Albanian word kalambok; they also call it arapositi, or "Arab wheat," again implying a North African-Arab connection.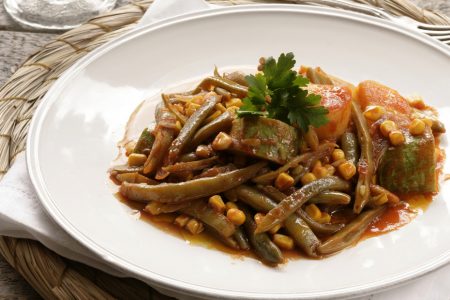 But somehow, this ingredient has spread all over the streets of Greek cities, roasted over coals and sold as a street food. And fresh corn can be found in salads and, most notably, stews, like the mageirio on my native Blue Zone Greek island of Ikaria. It is thrown in with a medley of string beans, tomatoes, potatoes, and onions. And Greek-style boiled corn on the cob, drizzled with extra virgin olive oil and coarse sea salt, is a perfect food, at least to this palate.
Cornmeal and flour also appear in the Greek kitchen to make them more filling or to sprinkle on top of greens, resulting in some serious crunch. There are many such pies, mostly made in Northern greece. One of my favorites is the aradopita, with sorrel. Ground corn is also the stuff of bread-like pies, usually enriched with milk, eggs, and greens or zucchini and sometimes served with a dollop of thick Greek yogurt.
This vegetable comes with a whole host of benefits too: it's packed with vitamin C, as well as the eye-healthy carotenoids lutein and zeaxanthin. And whether you boil, steam, roast, or grill corn, it's always delicious!
Below, I've included 5 Easy Greek Diet Corn Recipes so you can make the most of this classic summer vegetable on your dinner table.
Grain salad with tomatoes, corn, and tuna
If you're craving a corn salad with just a touch more heft, give it a grain base, like whole wheat kernels or spelt grains. It will instantly take your summery salad into main-course territory. And the combination of the corn's slight sweetness and mild meatiness of the tuna form a perfect summer salad combination.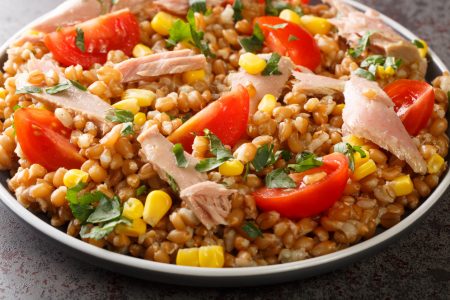 Grilled corn on the cob with Kalamata olive butter
I love a classic corn on the cob! It's summer, from start to finish. Grilling it, then slathering it in butter and enjoying it with your hands, butter streaming down your arms – it just doesn't get better than that. It'll also pair well with all your favorite summer dishes, from spicy biftekia to potato salad.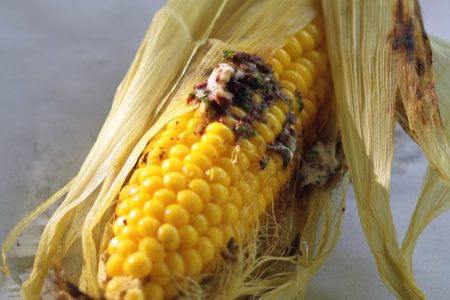 Grilled corn & potato Greek salad with purslane & cherry tomatoes
This is one of my favorite salads for summer. It's colorful, filling, and super healthy, bringing together fresh herbs, ripe summer tomatoes, eggs, potatoes, and corn hot off the grill. If you want to add some cheese, I recommend a little sprinkle of Greek feta on top.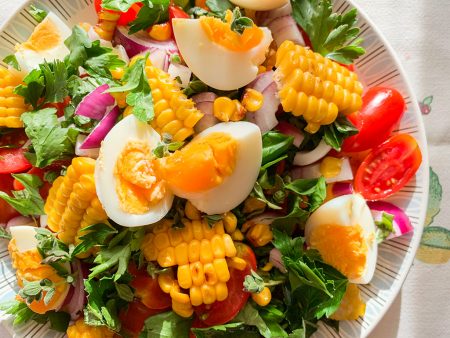 Tomatoes stuffed with rice, corn, peas, and herbs
Is there anything better than a stuffed summer tomato? It's why this recipe is so good, and made even better with the addition of corn. It goes right into your rice mixture as it's cooking, and for this recipe, you can use either fresh or frozen corn. Of course, fresh corn is more flavorful, but frozen is faster to cook, and definitely less expensive.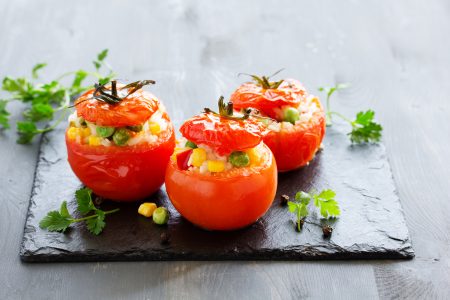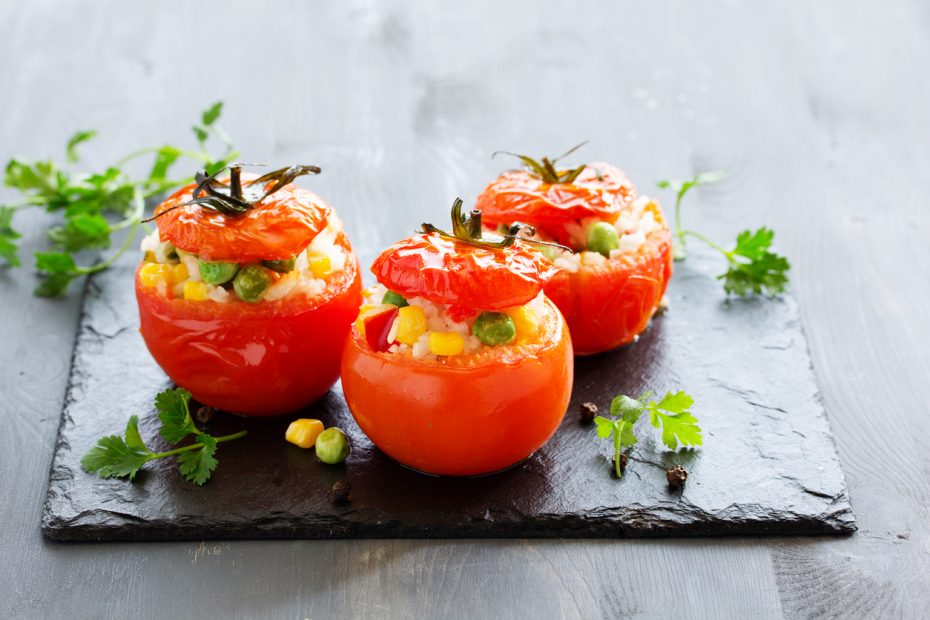 Green beans and tomatoes, with fresh corn-feta polenta
I'll admit, polenta is not the most Greek recipe, but it was inspired by a classic Greek summer vegetable stew. On the Blue Zone Aegean island of Ikaria, this vegetarian recipe is called mageirio, and elsewhere in Greece, it is known as tourlou. I've taken the basic ingredients of this classic dish – green beans, tomatoes, onions, garlic and corn – and transformed them into something lighter and more elegant!