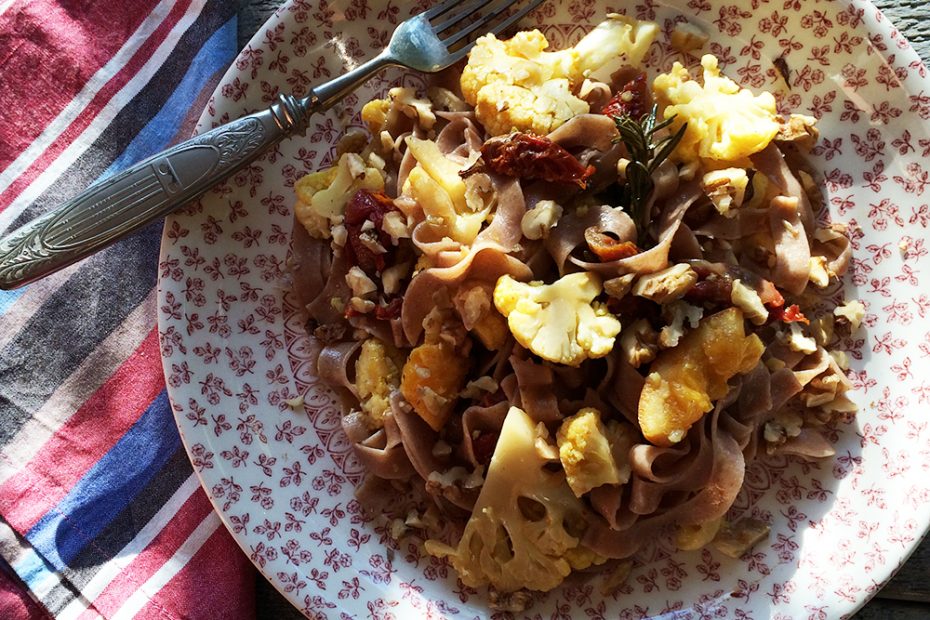 Whole Wheat Pasta with Cauliflower, Oranges, Walnuts, and Rosemary
---
I love to take misunderstood and underappreciated veggies like cauliflower and turn them into something delicious. This recipe is a great example! For a lovingly curated array of Greek ingredients to pair with this recipe, check out my online store
here
.
Ingredients
1

large head of cauliflower

trimmed

1

medium orange

preferably organic, with rind, washed well

3

tablespoons

Greek extra virgin olive oil

an more, if desired

2

large red onions

coarsely chopped

2

large garlic cloves

finely chopped

6

sun-dried tomatoes in olive oil

chopped

2

sprigs fresh rosemary

1/2

teaspoon

ground cumin

or more, to taste

1/2

teaspoon

ground turmeric

or more, to taste

1/2

teaspoon

curry powder

or more, to taste

1

pound

/ 1/2 kilo whole wheat pasta

preferably tagliatelle or noodles

4

tablespoons

ground walnuts
Instructions
Cut the cauliflower in half from the crown to the base. Place each half stem side down and cut in half again. Slice the cauliflower into thin pieces that should look like a cross-section of florets. Wash well and drain.

Cut the orange in quarters lengthwise and cut each quarter into small wedges, about 1/4-inch/50mm thick.

Heat the olive oil in a large deep skillet over medium heat and cook the onion, stirring, until wilted. Stir in the garlic. Add the cauliflower pieces and toss to coat in the oil. Season with salt and pepper and stir in the orange pieces, sun-dried tomato pieces, and spices. Add the rosemary. Add about 1/2 a cup of water to the pan. Place the lid over the pan and cook the cauliflower until it is soft but still al dente, about 20 - 25 minutes.

While the cauliflower is cooking, bring a large pot of water to a rolling boil and season generously with salt. Add the pasta and boil until al dente. Drain.

Toss the pasta with the cauliflower in the frying pan and serve, garnished with walnuts and a little extra olive oil, if desired.
Love vegetables? Want to learn more great plant-based Mediterranean dishes? Enroll in my online  class "Baked Vegetable Classics!"