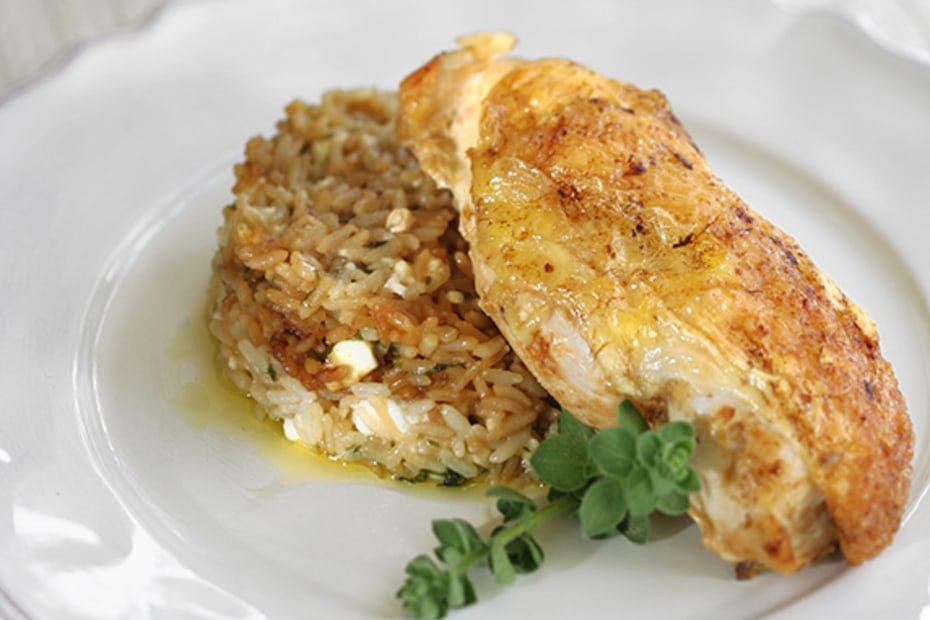 Whole Chicken Baked with Rice and Feta
---
In the cooking of northern Greece, baked rice dishes appear in several places and make for a regional specialty, since in few other places around the country are rice dishes prepared in the oven. This dish, called rithanathema in Greek, possibly traces its etymology to the Greek word for bird, ornitha, and that for food, edesma. It is a lovely Sunday main course.
Ingredients
1

medium- size chicken

1-1 ½ kilos (2 ½ - 3 lbs.), with gizzards

6

cups

water

Salt

to taste

1

cup

2 sticks butter

2

cups

finely chopped red onion

1 ½

cups

long grain rice

preferably basmati

Freshly ground black pepper to taste

1

cup

chopped

fresh, flat-leaf parsley

½

kilo northern Greek feta cheese crumbled

2

tsp.

dried Greek oregano
Instructions
Remove the gizzards and neck from the chicken, rinse everything and pat dry. Set the chicken aside. Place the gizzards and the neck in a large pot with the water and a little salt. Bring to a boil, reduce the heat to medium-low, skimming the foam off the surface of the pot, and cook them for 45 minutes. Remove from the heat and strain. Discard the gizzards and neck and reserve the broth. Preheat the oven to 175ο C / 350ο F.

Heat 3 tablespoons of the butter in a large heavy skillet over medium-low heat and cook the onions, stirring until wilted. In the meantime, rinse the rice with cold water and drain in a colander. When the onions are softened, add the rice to the skillet and cook, stirring, for about 5 minutes. Season lightly with salt and pepper. Add the parsley and stir another minute or so. Remove from the heat.

Toss the warm rice mixture with half the crumbled feta.

Mix the remaining feta with one tablespoon of the oregano and a little black pepper. Stuff the chicken with this mixture and secure closed with several toothpicks. Place the chicken on a rack in a large roasting pan. Season the chicken with salt, black pepper, and the remaining teaspoon of oregano. Spoon the rice mixture into the pan, spreading it evenly. Pour in four cups of the broth. Dot both the chicken and rice with the remaining butter, and bake until the chicken is tender and browned and the rice cooked, about 1 ¼ hours. During cooking, add more broth to the rice if necessary to keep it moist.

Remove from the oven, let rest for 5 minutes, carve and serve immediately.
Love chicken? Check out my online class "Wing It! – Great Mediterranean Chicken!"