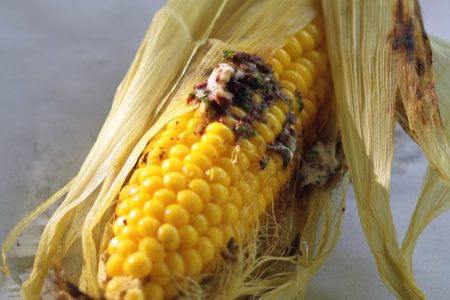 Yogurt, octopus, lamb, olives, oregano. These foods "belong" to the Greek kitchen in the world's eye. Not so corn.
Yet this American staple has been part of the Greek table for several hundred years, most likely introduced and disseminated by the Ottoman Turks, who may have encountered it first in Africa. The Turkish word for corn, misir, is the same as the Turkish name for Egypt. Greeks call corn kalamboki, after the Albanian word kalambok; they also call it arapositi, or "Arab wheat," again implying a North African-Arab connection. In Crete, they simply call it xenikostaro, which means "foreign wheat."
Somewhere along the way, "foreign wheat" was embraced by Greek cooks and transformed into myriad dishes. Many, if not all, of them are great for the Thanksgiving table, perfect examples of melting pot cuisine with a distinctive, healthy Greek touch.
Fresh corn is the street food of Greek cities, roasted over coals and hawked, together with chestnuts, by itinerant merchants from carts on every other corner. Fresh corn is also a much-anticipated addition to country vegetable stews. On my native island, Ikaria, we make a dish called mageirio, which is a medley of string beans, tomatoes, potatoes, onions and fresh corn on the cob. Greek-style boiled corn on the cob, drizzled with extra virgin olive oil and coarse sea salt is perfect food, at least to this palate.
Corn, Dried, Ground and Very Greek
But it is corn in all its other forms, dried and as a meal or flour, that has found the most uses in the Greek kitchen. For generations, dried corn kernels were the stuff with which to fill dolmades (grape leaves). As my late aunt on the island of Ikaria in the northeastern Aegean taught me,  the kernels were cheaper than once-luxurious rice, which is now the prevalent filling. Greeks who hailed from the Caucasus and settled mainly in Macedonia and Thrace, in the north, still use dried corn kernels, which they call korkota. Merchants sell these tiny amber beads in the neighborhood farmers' markets of Thessaloniki. In their regional cooking traditions, dried corn kernels are tossed into vegetable and other soups, to make them more filling.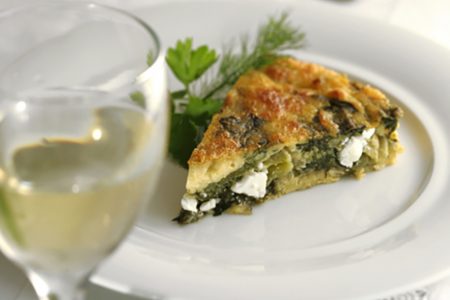 Among the once itinerant shepherd communities of northern Greece, especially in Epirus, Macedonia and Thessaly, corn is an important staple. Most of the corn in Greece is actually grown up north, in the regions of Xanthi, Serres, Ioannina, and Larissa. Local cooks have learned to use cornmeal as, among other things, a replacement for laborious homemade phyllo. They sprinkle corn meal on the bottom and over the top of greens pies (nettles, spinach, chard, and sorrel are regional favorites). The cornmeal absorbs all the liquid in the greens, which are often raw when making these dishes,  or is set with the addition of milk poured over the surface of the pie. What results is a delicious savory pie with a thin, crunchy, golden, no-fuss crust.
The mainland region of Roumeli is home to one of the oldest and most unusual dishes with cornmeal: a cabbage and onion soup thickened into porridge with the help of fine yellow ground corn.
Ground corn is also the stuff of bread-like pies, usually enriched with milk, eggs, and greens or zucchini and sometimes served with a dollop of thick Greek yogurt.
One of my favorite dishes with cornmeal is the pan-Greek bobota, basically a cake studded with raisins and flavored with orange zest and warm spices such as cinnamon and cloves. A quick version of this is an orange-flavored, raisin-studded cornmeal pancake or fritter from Corfu. It is called tsaleti and is drizzled with either honey or petimezi.
By far, though, the most eloquent cornmeal dessert is an old recipe from Naoussa, in central Macedonia, one of the major wine producing regions of Greece. Here a sweetened cornmeal cream is served with one of the most unusual spoon sweets (whole fruit, vegetable or nut preserves): silver-dollar sized pumpkin chunks that have been put up in the grape must molasses of the local Xynomavro grape. It is divine, the kind of food devils and angels alike can embrace with gusto.