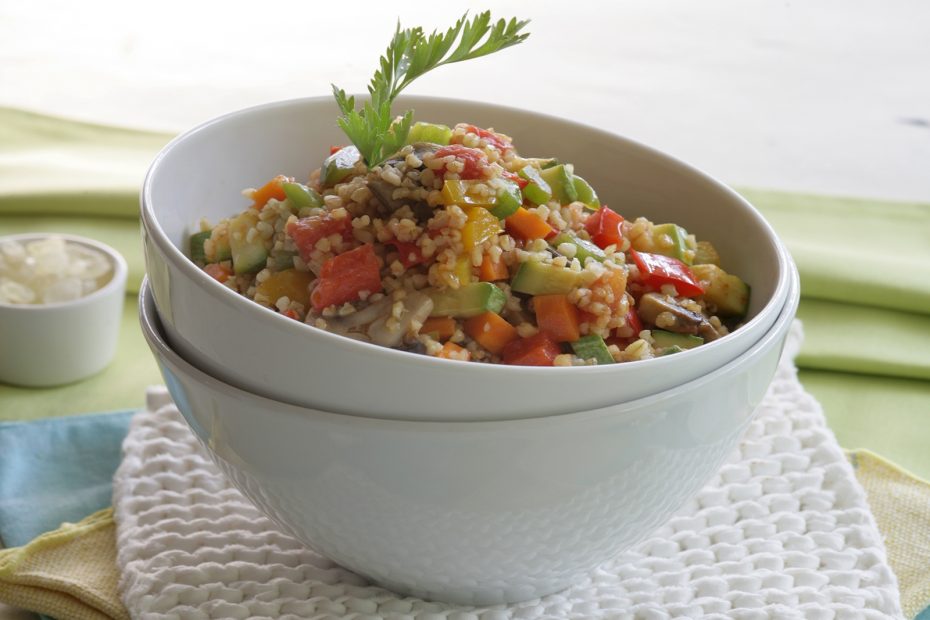 Vegetable Taboule with Mastiha and Mint
---
Bulgur wheat is one of the easiest, healthiest, and most ancient foods, an integral part of the Greek-Mediterranean diet for eons. Here's a great recipe for taboule, the popular bulgur salad, made with sautéed vegetables, lemon zest, mint and Chios Mastiha. To buy the Greek olive oil and other ingredients needed for this recipe
click here
.
Ingredients
1

cup

coarse bulgur

1

cup

water

4

tablespoons

extra virgin Greek olive oil

2

scallions

trimmed and coarsely chopped

1

large red bell pepper

trimmed and diced

1

medium zucchini

trimmed and diced

8

firm button medium-size mushrooms

trimmed and sliced

2

garlic cloves

minced

½

cup

chopped fresh mint

Grated zest of 1 lemon

2

large Mastiha crystals

1

teaspoon

salt

Freshly ground black pepper to taste
Instructions
Place the bulgur in a medium bowl and add the water. Cover with a kitchen towel and let the bulgur stand in the water until it absorbs all of it. You can do this in the morning, before heading to work.

Heat 2 tablespoons olive oil in a medium frying pan and cook the scallions and pepper until tender, about 10 minutes over medium heat, stirring.

While the scallions and pepper are cooking, grind the mastiha crystals and salt together in a mortar with a pestle.

Stir the zucchini and mushrooms into the frying pan with the scallions and pepper, season lightly with salt and pepper, and cook until tender but al dente, stirring occasionally. Stir in the garlic and cook for a minute to soften. Remove and set aside.

Toss the soaked bulgur, sautéed vegetables, mastiha salt, chopped mint and lemon zest together. Season to taste with additional salt and pepper and stir in the remaining olive oil. Serve at room temperature or chilled.
Notes
Learn more about mastiha, one of the most versatile and amazingly therapeutic Greek spices.