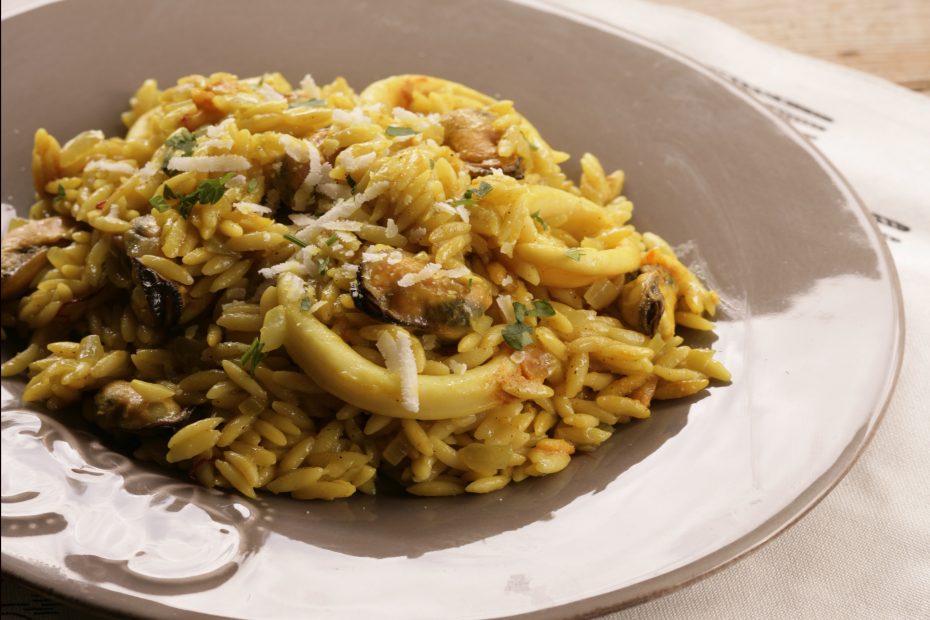 Greek Orzo Risotto with Seafood, Kritharoto
---
Kritharoto is a new name in the Greek culinary lexicon, a hybrid borrowed from Italian risotto and Greek kritharaki, the name for orzo. This dish essentially is a variation on the great northern Greek classic mussel and seafood pilaf. To find some of the artisinal Greek products you'll need to make this, visit my online shop
here
, where you'll discover a host of lovingly curated Greek ingredients.
Ingredients
4

medium squid

preferably fresh

2

lb/910 g mussels

1/2

cup/120 ml dry white wine

1

whole garlic clove

peeled, plus 2 garlic cloves, minced

1/3

cup/80 ml extra-virgin Greek olive oil

1

large red onion

finely chopped

4 1/2

oz/130 g orzo

3

cups/720 ml hot fish broth or water

1/2

tsp

saffron threads dissolved in 2 tbsp warm water

2

medium zucchini

cut into 1/2-in/12-mm dice

1

tbsp

unsalted butter

3 to 4

tbsp

grated kefalotyrior any other hard

yellow sheep's milk cheese
Instructions
If you're using fresh squid and it has not been cleaned, wash and clean it. Hold the squid in one hand and with the other, pull out the head and viscera. Using your index finger or a long teaspoon, remove and discard the gelatinous viscera inside the squid's cavity, on the bottom. Rinse well inside and out and set aside. Cut the head of the squid just below the eye to remove the tentacles. Do not include the eyes, which can be bitter. Pull the quill out of the body. Chop the tentacles. Cut the body crosswise into 1/4-in/6-mm rings. Set aside.

Wash the mussels very well, trimming off their beards and scrubbing their shells to get rid of any grit. Rinse well under cold water.

In a large, wide pot, combine the wine, mussels, and whole garlic clove. Cover and bring to a boil. Steam the mussels over high heat until their shells open. Remove from the heat and drain, reserving the mussel broth. Strain the broth through a fine-mesh sieve lined with cheesecloth/muslin and set aside. Discard any mussels that have not opened. Remove the mussel meat from the shells and set aside, covered.

In a clearn large, wide pot, heat 3 tbsp of the olive oil over medium heat. Cook the onion, stirring, for about 10 to 12 minutes, until soft. Add the chopped garlic and stir. Add the orzo and stir to coat in the oil and brown very slightly. Pour in the mussel broth. Add the fish broth and bring to a boil. Add the saffron and season with salt and pepper. Reduce the heat and simmer while the orzo cooks for 15 minutes.

Five minutes before the orzo is ready, heat the remaining 2 tbsp olive oil in a medium frying pan over high heat and sauté the zucchini for a few minutes, until al dente. Add the squid and continue cooking for another 2 minutes. Season with salt and pepper.

Transfer the zucchini and squid mixture to the pot with the orzo. Toss gently and cook for 3 to 4 minutes to blend the flavors. Just before removing from heat, stir in the butter and grated cheese. Serve with the warm mussels.