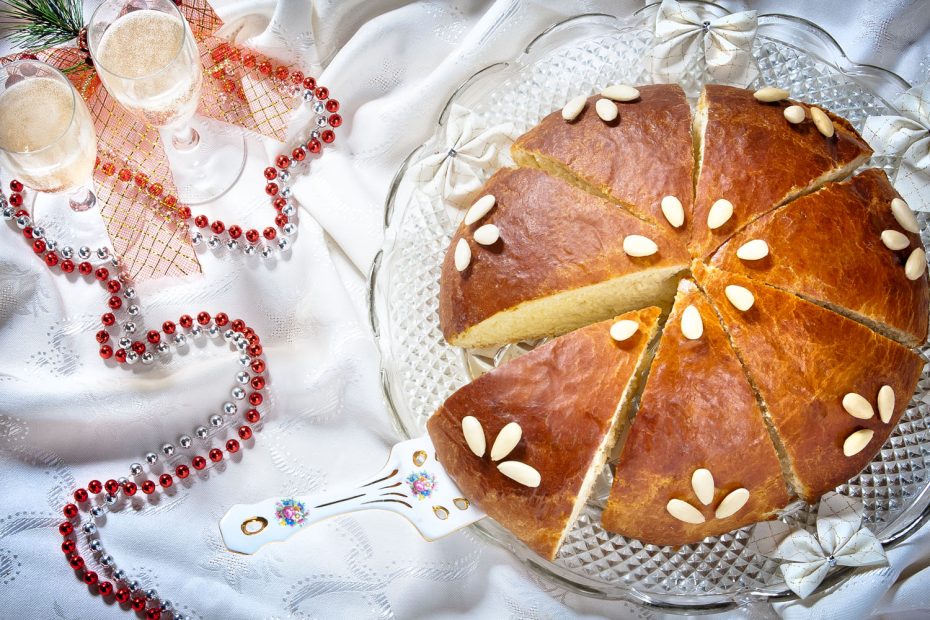 Vasilopita: Lucky Greek New Year Bread
---
Vasilopita is a must-have for any Greek New Year's celebration. It also makes the world's BEST French toast, not to mention bread pudding.
Ingredients
2

tsp

mahlepi*

½

cup

of water

1 1/2

cups

plus 1tsp. sugar

1

tsp

mastic crystals**

2

cups

/ 440 ml milk

2

packets active dry yeast

2 ¼

lbs/1.25 kilos

8 – 10 cups all-purpose flour

1

tsp

salt

Grated zest of 1 lemon

Grated zest of 1 orange

8

oz/225 g unsalted butter

chilled

8

large eggs

2 ½

oz/75 g blanched

chopped or slivered almonds

1

egg

beaten with a little water for brushing the top

3

or 4 coins

wrapped in aluminum foil
Instructions
Bring the mahlepi and water to a boil in a small pot. Remove from heat, set aside to cool. Strain, reserve the water and discard the boiled seeds.

Using a mortar and pestle, pound the mastic crystals with 1 teaspoon of sugar. Set aside until ready to use.

Heat the milk gently, just to warm. Pour into a large glass bowl. Mix in the yeast, 1 cup of flour, and 2 tablespoons of sugar. Cover with plastic wrap and let stand in a warm place for 1 hour, to proof. It will become spongy and rise.

In a large bowl, sift together 7 cups of flour, the salt, and the remaining sugar. Add the lemon and orange zest. Add the mastic mixture.

Cut the butter into small pieces and add to the flour mixture, mixing with your finger tips or with a pastry blender, until the mixture is mealy. Make a well in the center, and pour in the yeast mixture, the mahlepi water, and the eggs, lightly beaten. Knead the dough, adding a little more flour as you go, until a solid, soft but smooth mass has formed. You may also mix the flour and liquids in an electric mixer with a dough hook attachment.

Shape the dough into a large ball and place in a large, clean buttered bowl. Cover with plastic wrap and leave to rise, about 2 hours, or until doubled in bulk.

Punch the dough back down to its original size, place back in a buttered bowl and let rise a second time, covered with plastic wrap.

Preheat the oven to 375F / 190C. Separate the dough into three or four balls. Remove a fistful of dough so you can make dough ropes and write out the year on the surface of each bread. Shape each ball into a round loaf. Insert a coin inside the dough, from the bottom, and place on an oiled or buttered baking sheet or in a round bread or cake pan. Let rise, covered with a kitchen towel.

Roll out dough ropes with the fistful of dough you've reserved and with the strands write out the numbers 2015 for the surface of each bread. Brush the surface of each bread with the egg wash, place the dough numbers on top, brush them, too. Sprinkle the surface of the eggs with some blanched almonds and bake for about 40 to 50 minutes, or until the bread is set and golden. It should sound hollow when tapped on the bottom.

Alternatively, you can skip the dough rope date and write out the date with blanched almonds.

10. Remove the vasilopitas to racks and let cool.
Love savory pies and phyllo specialties? Sign up for my online class "Fearless Phyllo – Homemade!" to learn the secrets of making great, easy pies at home! 
Notes
*Mastic or mastiha is an aromatic crystal resin that Greeks use to flavor all sorts of things, from olive oil to bread and cakes. You can find it online at the MastihaShop.
**Mahlepi is the flavorful kernel of a specific cherry variety. You can find it in specialty spice shops and at Greek food stores across the world.
Happy New Year!