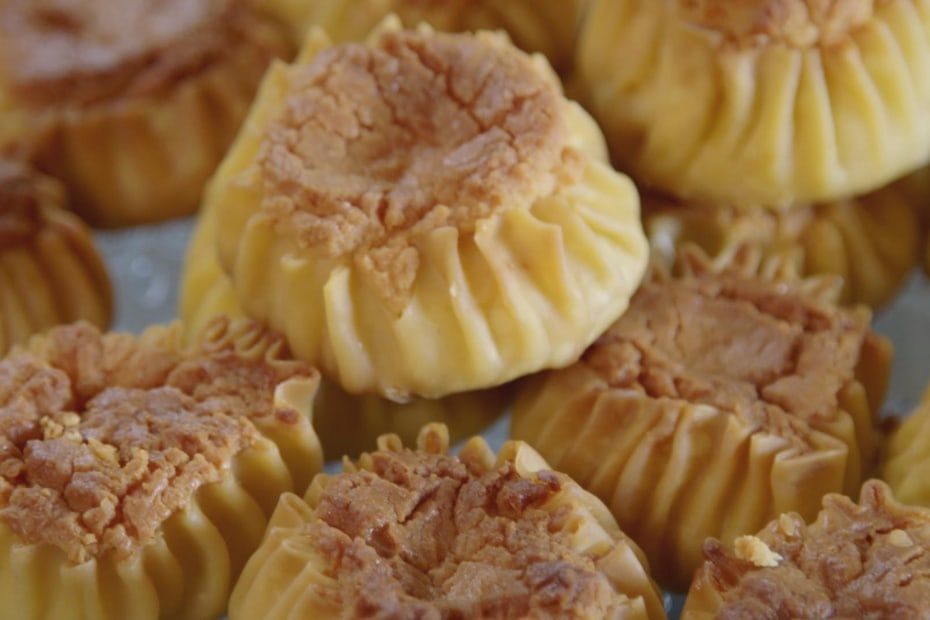 Tsimbites - Pinched Cheese Cakes
---
Tsimbites means pinched in Greek, as in the pinched pastry that decoratively cloaks these delicious sweet Greek cheesecakes from the Cycladic island of Tinos. They are one of the most unique Greek recipes in the Aegean islands.
Ingredients
For the phyllo pastry:

1

pound

/ ½ kilo

(about 4 cups) all-purpose flour

1

Tbsp

olive oil

1

egg

1 ½ - 2

cups

fresh

strained orange juice

Filling:

1

pound/ ½ kilo of Tinos Petroma cheese

(see Note)

Grated zest of 1 orange

1

teaspoon

Cinnamon

½

teaspoon

vanilla powder or vanilla extract

Pinch

of ground cloves

¼

teaspoon

Mastiha crystals

pounded in a small mortar with 1 teaspoon of sugar

250

g

(1 cup) sugar

2 - 3

eggs

as needed

1-2

tbsp.

Sugar for sprinkling on top
Instructions
Make phyllo
Place the flour, olive oil and egg, slightly beaten, in a large mixing bowl. Work the mixture by hand until it becomes mealy. Drizzle in the orange juice in half-cup increments and work the dough, kneading, until it becomes smooth and firm. Set aside covered with plastic wrap for a half hour, or up to 1 day, refrigerated .
Make the filling
Place the cheese, orange zest , cinnamon, vanilla, clove, mastiha, and sugar in a bowl. Add the first egg and mix it into the filling with a fork. The filling should be dense enough to keep its shape when formed into a little ball in the palm of your hands. Add the second egg and work it in. If the filling is still very dense, add the third egg, only if needed.

Preheat the oven to 180C/360F.

Pinch off an orange-size piece of dough from the mass. Flatten it with your hands and start passing it through a pasta maker, starting from the widest setting and working down to setting #4, forming a long strip that is silky but sturdy and thin. Place this on a floured work surface and using a glass or cookie cutter, cut 4-inch circles out of the strip. Place the first one in the palm of your hand or on a flat work surface, and place a spoonful of the cheese mixture in the center. Bring the sides of the pastry up around the cheese filling and pinch and pleat as you go to shape little muffin-like pieces with pleated sides. Repeat the rolling and shaping with remaining pastry and filling.

Place the tsimbites on a parchment-lined baking sheet (or sheets) and sprinkle the tops with a little sugar. Bake for about 45 minutes to an hour, until golden and set. Remove, cool, and serve.
Love savory pies and phyllo specialties? Sign up for my online class "Fearless Phyllo – Homemade!" to learn the secrets of making great, easy pies at home! 
Notes
Petroma is a soft, tangy cow's milk cheese unique to the islands of Tinos and Andros. You can substitute it with a combination of ½ pound crumbled Greek feta, ¼ pound well-drained ricotta and ¼ pound cream cheese, mixed all together.