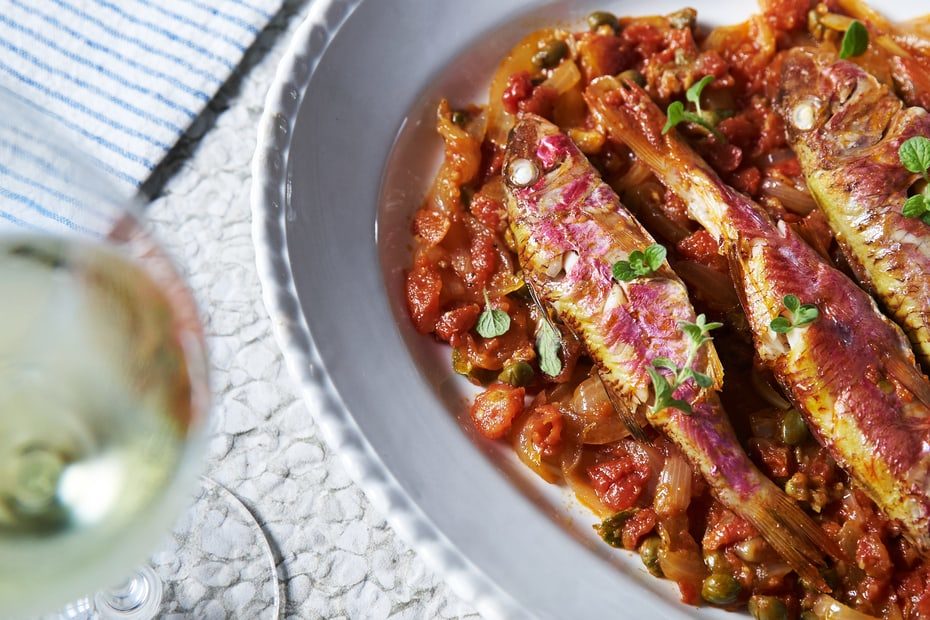 Barbounia Me Kapari - Red Mullet w/Capers & Tomatoes
---
Many popular Greek recipes for fish call for the beloved red mullet, aka barbouni in Greek. This easy Greek island fish recipe is from the Cyclades, and is enjoyed in Tinos, Andros and other places throughout the area.
Ingredients
2

pounds

/ 1 kilo red mullet

cleaned, gutted, and heads left on

½

cup

extra virgin olive oil

2

large onions halved and thinly sliced

2

cups

firm

ripe tomatoes, grated, or good-quality canned, chopped tomatoes, with juice

1

bay leaf

1

cup

small Greek capers

rinsed and drained

Fresh oregano for garnish - optional
Instructions
Lightly salt the fish and set aside, covered in the refrigerator until ready to use.

Heat the olive oil in a large skillet and sauté the onions over medium heat, stirring, until translucent, about 7 minutes. Add the garlic and stir for a minute. Add the tomatoes and bay leaf, bring to a boil, reduce heat to medium-low, and simmer for 10 minutes. Add the drained capers and simmer for a minute.

Add the fish, season with salt and pepper, cover and simmer until the fish is cooked through but still tender, about 15 to 20 minutes. Serve hot.