It's been warm in Athens and today, Sunday, June 8th, and it's a holiday weekend. I decided to listen to my instincts: relax, don't cook too much, but make something light and nutritious. My easy Greek summer lunch menu has three lovely dishes on it: Classic taboule (bulgur wheat with tomatoes, cucumbers, scallions, and mint), a really hearty fresh cranberry bean salad, and, finally, a light tuna salad with a Greek yogurt dressing.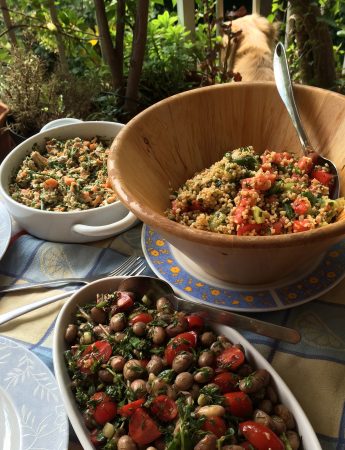 Every dish has a little twist, of course. I like to add grated lemon zest and a pinch of cinnamon to the taboule, taking a bit of inspiration from Aphrodite's island, Cyprus, where taboule is almost always seasoned with lemon juice and cinnamon. I used fresh mint and a little parsley in the herb mix, too.
I bought the cranberry beans fresh yesterday at the Psychico farmers' market. I shelled them and got about three cups of beans (from a kilo / 2.2 pounds unshelled), and cooked them by blanching first then draining and replenishing the water. That's what the bean lady told me to do, so that they have better, lighter color when cooked — the first blanching water turned a kind of mauve. I embellished them with a ton of good things: two garlic cloves, fresh cilantro, fresh grape tomatoes, purslane (a miracle weed that is a tremendous source of omega 3 fatty acids and antioxidants), dill, fresh fennel fronds, scallions, mint, and parsley. The dressing was a simple vinaigrette made with Greek extra virgin olive oil and a little balsamic vinegar.
The best part of today's lunch, though, was a simple tuna salad with ersatz mayo, well, ersatz because it was really Greek yogurt, which is a lot lighter and better for you. I used two cans of tuna packed in water, mixed it with two chopped carrots, two chopped scallions, parsley and dill, then I made a dressing with 1/2 cup of strained Greek yogurt (2% fat), 3 tablespoons of Greek EVOO, 1 teaspoon of Greek thyme honey and 2 teaspoons of Dijon mustard.
All these dishes passed the litmus test: my 13-year-old ate everything and asked for seconds!
Then, of course, he treated himself to ice cream…