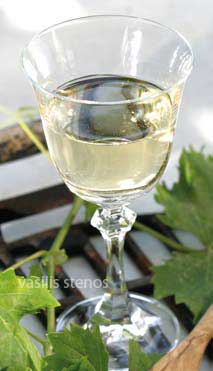 By the 7th century b.C. Rhodes was a noteworthy producer and trader of wines. The island's wines reached every part of the ancient world, so important an export they were. Broken amphorae with the Rhodian indication of origin have been found in many disparate parts of the Mediterranean.
Even under the Ottomans, as trade from agriculture, and especially from wine, dwindled, the island maintained a healthy trade in malmsey wine.
Rhodes has an exceptionally good climate for grape production. It has the longest summer of any Greek island but also the least rain. Constant breezes, moisture and exposition ensure that the grapes are of the highest quality. Most dry wines, either from the ancient, white variety Athiri or from the local red amorgiano variety (called mandilaria in other parts of the Aegean), are from grapes grown on the northern side of the island, particularly on the meltemia-swept northwestern side of Mt. Attaviros, which cuts through the island from north-east to south-west. The athiri and amorgiano variety are arguably the island's most important wine grapes. The Athiri produces white wines with a gentle aroma and a fresh fruity taste; the amorgiano, produces red wines with good body and a spicy lively aroma, but also rosé wines with fruitiness and a light aroma.
Rhodes is also known for its sweet muscats, and sweet wines have been produced here since antiquity. The Greek variety, moschato aspro, as well as the trani variety, which was introduced by the Italians, are both used today, by law, to produce the island's appellation or origin Muscat. The muscats, the athiri and the amorgiano are provide the grapes that produce the island's four recognized appellation of origin (AOC) wines.
There is even a brut sparkling wine made on the island from the athiri grape, which is very popular.