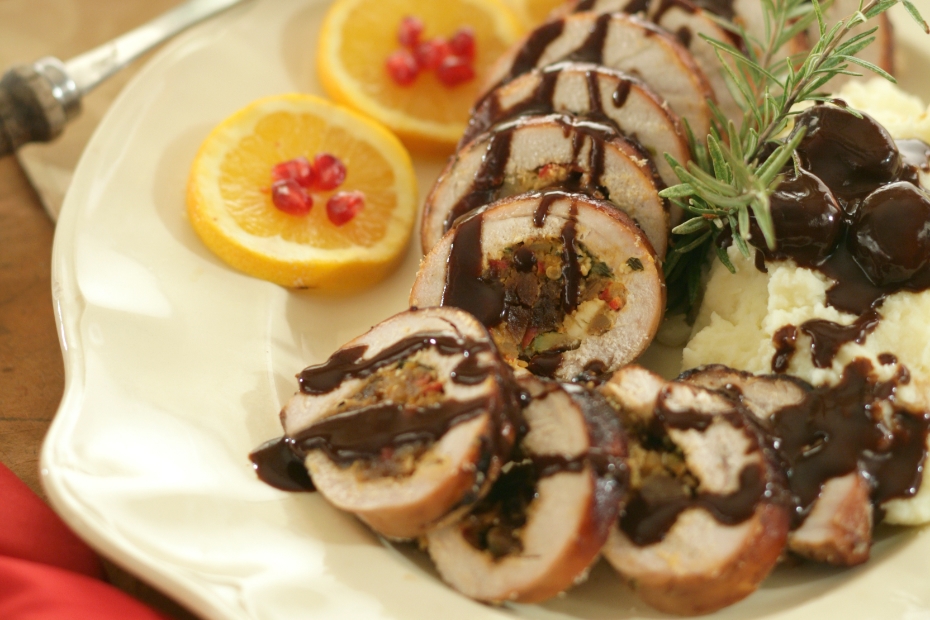 Honey-Orange Glazed Turkey Roulade with Mavrodafni-Chestnut Gravy
---
An Easy Thanksgiving Turkey Dish, with Greek flair!
Ingredients
1

large turkey breast

boneless and skinless, about 2 ½ kilos/5 lbs., butterflied

1/2

cup

Mavrodafni wine

1/2

cup

coarsely chopped mixed dried fruits

figs, raisins, apricots, prunes etc

1/3

cup

Greek extra-virgin olive oil

1

cup

diced celery

1

cup

diced onion

1/2

cup

diced roasted red Florina pepper

1

cup

small

toasted bread cubes or croutons

1

cup

crumbled feta or Kalathaki cheese

1

cup

chicken stock

1

tablespoon

dried thyme

1

tablespoon

chopped Greek mountain tea

faskomilo

1

tablespoon

butter for rubbing

2

cups

Mavrodafni for basting

Salt and pepper

to taste
For roasting pan
1

orange

cut into rings

1

onion

coarsely chopped

2

celery stalks

coarsely chopped
For glaze
2/3

cup

Greek honey

3

tablespoons

Greek or other mustard

Juice of 1/2 orange
For gravy
1

cup

Mavrodafni

1

cup

dry red wine

4-5

thyme sprigs

10

peppercorns

2

bay leaves

15

chestnuts

boiled or roasted and peeled

1

tablespoon

butter

1

tablespoon

flour

Orange slices and pomegranate seeds for garnish.
Instructions
Preheat oven to 375°F/180°C.

Rinse turkey and spread out on a cutting board. Pat dry and season inside and out with salt and pepper. Brush with 1 tablespoon olive oil.

In medium bowl, pour wine over dried fruits and let stand 15 minutes.

In heavy skillet, over medium heat, saute celery, onion and red pepper in 1 tablespoon olive oil for about 5 minutes, to soften.

Place bread cubes in large bowl and pour onion mixture over top. Add wine and fruits. Add stock, herbs and season with salt and pepper. Stir in crumbled feta or Kalathaki cheese. Mix thoroughly.

Spread the filling over the surface of the opened turkey breast and roll up. Using kitchen twine, or large metal skewers, secure the rolled turkey breast closed.

Rub outside of turkey with 1-2 tablespoons olive oil. Pour remaining olive oil in a roasting pan and sprinkle the onions, oranges, and celery in a line across the middle of the pan. Place the roulade on top. Pour in 1 cup Mavrodafni. Roast for about 30 minutes, until the turkey starts to color lightly. Pour in remaining wine, cover the pan with aluminum foil and roast for another 45 minutes, basting every 15 minutes or so and replenishing pan juices with additional wine, if necessary.

Make the glaze: Whisk together the honey, mustard and orange juice and brush this generously all over the surface of the roulade. Bake for another 15 minutes, until deep golden brown. Remove turkey from oven and from pan, and set aside covered with aluminum foil.

Make the gravy: Place pan with all its juices and burnt bits on the stove top and heat over medium flame, scraping up all the bits with a wooden spoon. Add the two wines, bay leaves, thyme, and peppercorns. Bring to a boil, reduce heat and simmer until the juices are reduced by half. Pour through a strainer into a measuring cup, let the fat rise to the top and skim it off with a spoon. Melt the butter in a small saucepan and stir in the flour. Brown it very lightly over medium-low flame. Pour in the reduced pan-juices and cook the gravy until thick, about 5 minutes. Stir in the chestnuts.

Cut roulade into thick rounds, garnish with orange slices and pomegranate seeds. Pour the gravy over the meat and serve, with mashed or roasted potatoes, if desired.
Love chicken? Check out my online class "Wing It! – Great Mediterranean Chicken!"