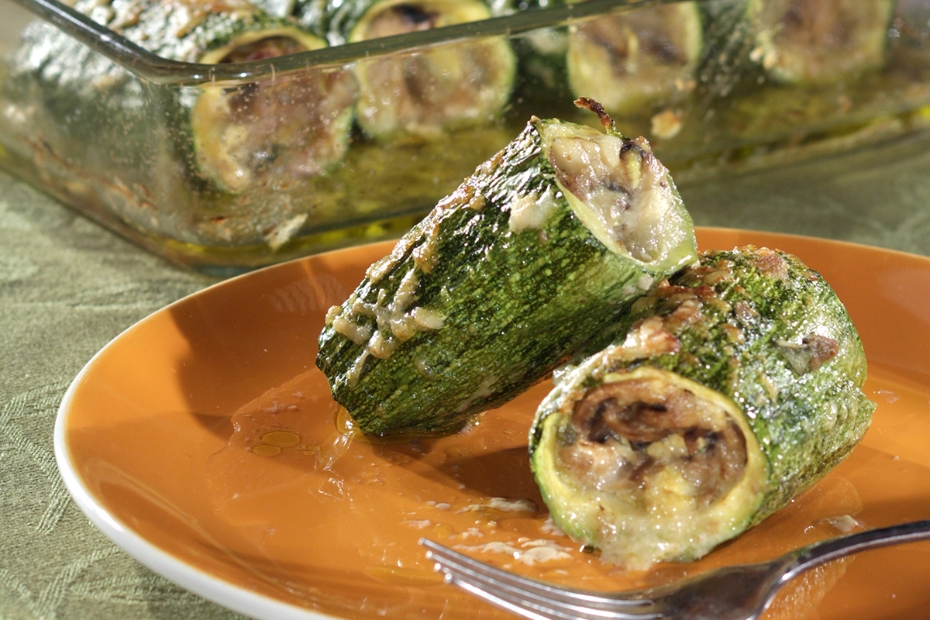 Mushroom-Stuffed Zucchini
---
Here's one of my favorite dishes, an easy, healthy stuffed zucchini recipe inspired by the profusion of mushrooms on Ikaria, where I run a cooking school. Mushrooms are a great replacement for meat in so many dishes because htey have many of the same nutrients with none of the fat or cholesterol. To find a lovingly curated array of Greek ingredients to pair with this recipe, check out my online store
here
.
Ingredients
4

zucchini

about 1/2 pound each

4 1/2

oz.

/ 125 g stale country-style sourdough bread

trimmed and crumbled

1/3

cup

milk

4 1/2

oz.

/ 125 g button mushrooms

stems trimmed, mushrooms finely chopped

3

tablespoons

extra virgin Greek olive oil

2

garlic cloves

finely chopped

1

red onion

finely chopped

3

tablespoons

finely chopped flat-leaf parsley

2

teaspoons

dried Greek oregano or marjoram

1

egg

slightly beaten

1/2

cup

grated Greek kefalotyri or parmesan cheese
Instructions
Preheat the oven to 375F/200C.

Place the bread crumbs and milk in a bowl to soak.

Steam the zucchini, whole, for 6 - 8 minutes, to soften slightly. Remove with a slotted spoon from the steaming basket and let cool. Cut off the stem and root ends carefully and then cut each zucchini in half across the width, not length, to get two cylinders. Using a teaspoon, carefully remove the pulp, leaving a shell about 1/8-inch thick. Chop the pulp and set aside.

Heat the olive oil over medium heat in a large skillet and saute the onions until soft. Add the garlic and cook to soften for about a minute. Add the chopped zucchini pulp and mushrooms and cook until wilted.

Let the mixture cool and mix in the egg. Squeeze the bread to wring out any excess moisture and add it to the mushroom-onion mixture. Season to taste with salt and pepper and mix the herbs in 6 tablespoons of the grated cheese.

Stuff each hollowed out zucchini half with the mixture. Lightly oil an oven-proof glass baking dish large enough to fit all the zucchini pieces snugly and place the stuffed zucchini inside. Sprinkle with the remaining cheese. Bake, covered, for about a half hour. Remove, cool slightly, and serve.
Love vegetables? Want to learn more great plant-based Mediterranean dishes? Enroll in my online  class "Baked Vegetable Classics!" 
Notes
Mushrooms, which replace meat in the filling, are a great source of many of the same nutrients as beef, but with a fraction of the calories and no cholesterol. They are a great source of source of B vitamins, including riboflavin, niacin, and pantothenic acid. The B vitamins provide energy by breaking down proteins, fats and carbohydrates. The Niacin (a B vitamin) in mushrooms aids our digestion and helps our skin acquire a healthy glow and Riboflavin, another B vitamin, helps us maintain healthy red blood cells.