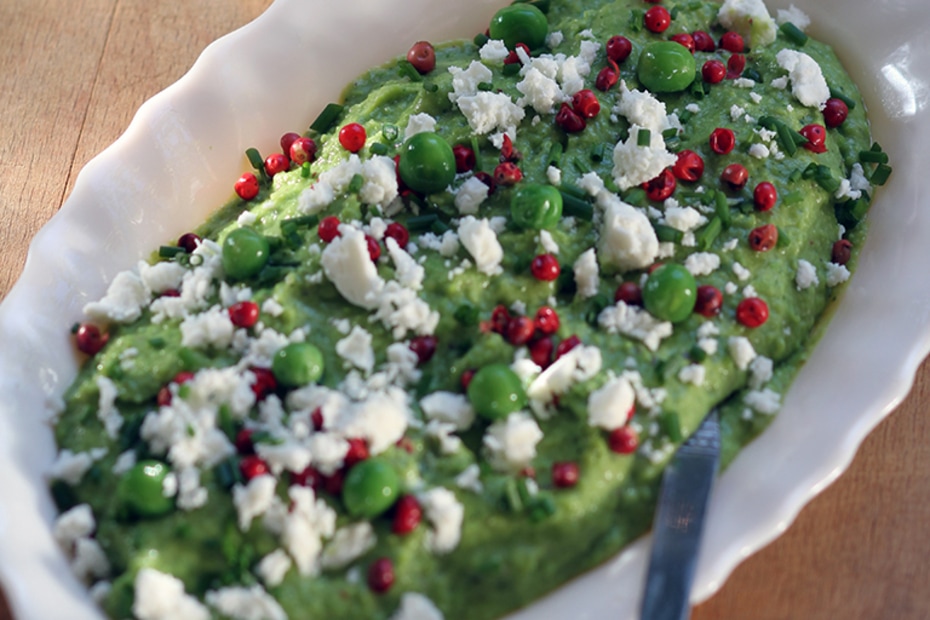 Spring Fava with Fresh Peas
---
The Greek recipe Fava is one of the all-time classic Greek meze plates, most often made with yellow split peas cooked until they disintegrate into a puree then swirled to creamy perfection with extra virgin Greek olive oil and lemon juice. It's a Mediterranean diet standard bearer! There are a few regional fava recipes, for green split pea puree (Lesvos), and broad bean puree, called koukofava in Greek, from Crete. Here's a contemporary idea that calls for using fresh or frozen peas. It is one of the dips that works well as a sandwich spread or spooned over bruschetta and it pairs beautifully with shrimp or grilled or fried seafood.
Ingredients
2

cups

fresh or frozen shelled peas

½

cup

ouzo or 1 star anise

¼

cup

chopped flat-leaf parsley

2

tablespoons

chopped fresh tarragon

½ to 2/3

cup

extra-virgin Greek olive oil

Fresh

strained juice of 1 lemon, or more, as desired

Greek sea salt or Kosher salt

to taste

Freshly ground black pepper

to taste
Garnish:
2

tablespoons

chopped chives or red onion

1

scant teaspoon pink peppercorns

2

tablespoons

crumbled feta

(optional)
Instructions
Place the peas inside a medium saucepan filled with enough water to cover and the ouzo or star anise. Cover, bring to a boil over medium-high heat, reduce heat and simmer until tender, about 3 minutes for fresh peas, 3 to 5 minutes for frozen.

Drain and discard the star anise, if using.

Transfer the hot peas to the bowl of a food processor. Add the parsley and tarragon. Pulse on and off while adding enough of the olive oil and lemon juice in alternating increments to achieve a smooth, silky puree.

Transfer the fava to a serving dish and garnish with either chives or chopped red onion, pink peppercorns, and feta, if using.
Want to learn more easy, healthy Mediterranean diet recipes? Sign up for my online course "Mastering the Mediterranean!"
Notes
Do not salt the water when boiling peas because doing so toughens them up.