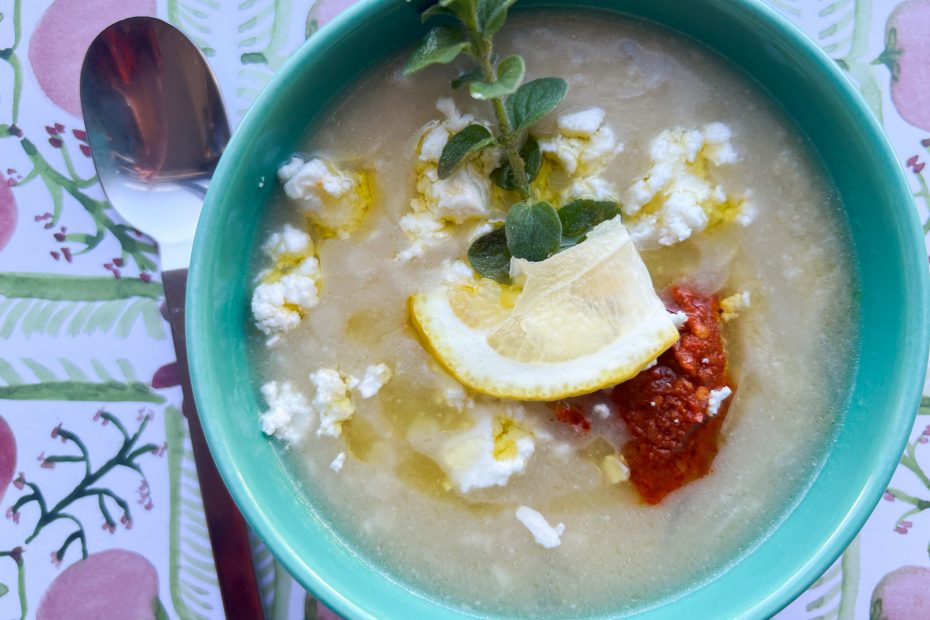 Simple Trahana Soup with Spiced Red Pepper Puree, Greek Feta and Olive Oil
---
The best Mediterranean diet recipes are the oldest, most traditional and easiest ones, and this Greek recipe for trahana is a perfect example. What is trahana, for those of you who may not be familiar with the world's oldest slow fast food? It's a fermented grain product made by cooking wheat or flour with milk, buttermilk, or yogurt (and sometimes with vegetable puree for Lenten versions), breaking up the dense mass into chunks, and letting those dry in the sun before passing them through a sieve to get the characteristic pebbly consistency. Trahana is the stuff of breakfast porridges (farmers' food!) and also a nutritious, dense base for myriad rich and filling winter soups and stuffed vegetables and pies. This easy trahana soup cooks up in just a few minutes and makes for a wonderful midweek option when the mercury dips into bone-chilling territory. You can find the trahana and other ingredients for this recipe in my e-shop.
Instructions
Heat the olive oil in a medium pot over medium heat and add the onion. Cook until soft and lightly golden, about 6 to 7 minutes.

Add the trahana and stir to coat in the oil. Stir in the garlic puree.

Pour in the water or stock and bring the trahana to a boil. Reduce heat to low and cook the trahana until creamy and tender, about 12 to 15 minutes. Season to taste with salt and lemon juice.

Serve hot in individual bowls with a dollop of the red pepper spread and a sprinkling of crumbled feta. Drizzle with more extra virgin Greek olive oil and garnish with fresh oregano sprigs.
Want to learn more about Ikaria Longevity Cooking? Sign up for my online class bundle "Everything Ikaria 101!"
Want to learn more easy, healthy Mediterranean diet recipes? Sign up for my online course "Mastering the Mediterranean!"
Love soup? Check out my online class "Comfort in a Soup Bowl!"