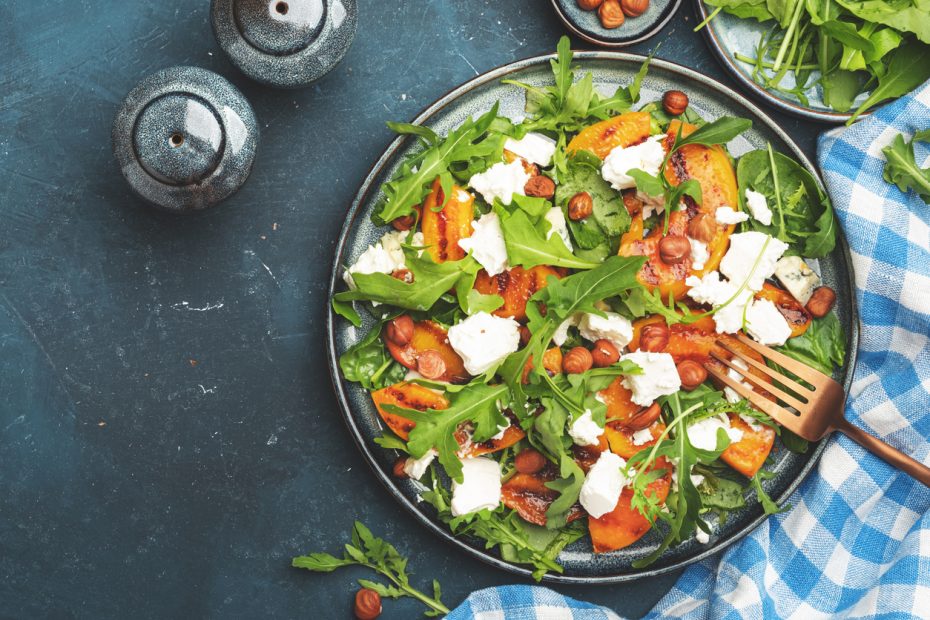 GRILLED PEACH ARUGULA SALAD WITH TOASTED HAZELNUTS AND FETA
---
REPLACING NUTS WITH SEEDS Nuts are such an important and nutritious component of the Mediterranean diet, and, of course, of the way people eat and snack in the Blue Zones. Yes, so many people are now allergic to nuts that consuming them can be problematic. Nuts aren't just nutrition powerhouses; they also provide great texture, crunch and contrast to all sorts of dishes, including, of course, salads. You can find great alternatives to nuts in the use of seeds. Chia seeds, pumpkin and sesame seeds, sunflower and hemp seeds, are among the seeds I like to use as nut replacements or just because they're also tasty in their own right. Flax seeds are a great alternative, too, but to get the full benefit of their nutritional components, you must grind them first.
Ingredients
For the Balsamic Glaze:
1

cup

or 200 g of balsamic vinegar

1

Tbsp.

Greek honey

Sea salt and pepper to taste
For the Salad:
4

ripe

firm peaches

1/2

cup

hazelnuts

2

bunches arugula

stems trimmed

4

oz.

or 120 g Greek Feta cheese

cut in small chunks
Instructions
Make the balsamic glaze: Pour the balsamic vinegar into a small saucepan and simmer over low-to-medium heat reduced by about half and syrupy. Whisk in the honey and set aside.

Slice peaches in quarters and remove the pit. Using a pastry brush, brush the peach wedges with olive oil and season lightly with a little salt and pepper.

Heat a nonstick grill pan over medium-high heat.

Place the peaches cut side down and grill until they turn a golden color and are ribbed with grill marks, about 1 – 2 minutes per side. Remove and set aside. You can also do this on a barbecue, over indirect medium flame.

Wipe the pan clean and add the hazelnuts. Toast them over medium heat, shaking the pan back and forth, until lightly golden, about 2 – 3 minutes. Remove and set aside.

Assemble the salad: Place the arugula on a platter or in a serving bowl, scatter the peaches and hazelnuts on top, and dot with the feta cheese. Toss with 3 – 4 tablespoons of olive oil and a tablespoon or two of the balsamic glaze. Reserve the remaining glaze for another use.