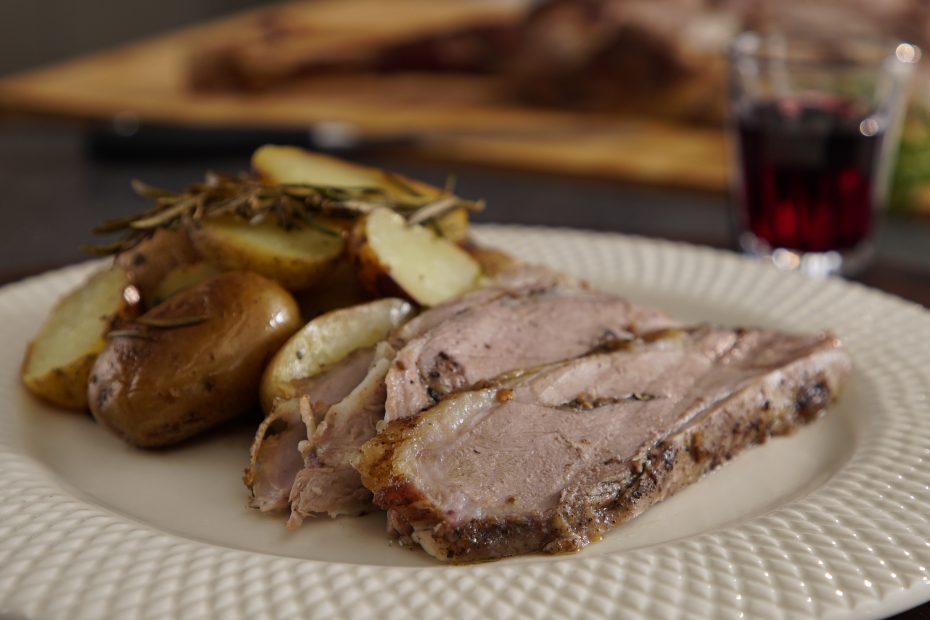 Cheese and Spice Stuffed Leg of Lamb Braised in Red Wine
---
Greeks own lamb! This recipe from Northern Greece has become a family favorite. To find some of the artisinal Greek products you'll need to make this, visit my online shop
, where you'll discover a host of lovingly curated Greek ingredients.
Ingredients
For the Lamb
1

Lamb leg

bone in, about 6 ½ - 7 pounds/ 3 kilos

1 1/2

cups

grated kefalotyri or other sharp

hard, preferably Greek, sheep's milk cheese, such as kefalograviera, ladotyri or hard myzithra (Pecorino and Parmesan also work well) 15 garlic cloves /

4

tablespoons

allspice berries /

6

tablespoons

black peppercorns

divided

3

– 4 tablespoons coarse Greek sea salt

as needed
For the Roasting Pan
6

fresh rosemary sprigs

3

onions

sliced

3

celery stalks

coarsely chopped

1

large fennel bulb

coarsely chopped

6

bay leaves

10

thyme sprigs

10

fresh oregano sprigs

2

cups

Xinomavro wine

or more, as needed
Instructions
Preheat the oven to 450F/232C.

Using a mortar and pestle, pound the garlic, allspice berries, and half the peppercorns with a little salt, in increments if necessary, until the mixture is a damp, chunky paste. Mix together with the grated cheese. Set the mixture aside until ready to use.

Rinse and pat dry the lamb. Using a sharp paring knife, make about 25 incisions on all sides of the lamb. Take a large pinch of the cheese-garlic-spice mixture and stuff it into each of the incisions, as deeply as possible. Continue until the mixture is used up, making additional incisions if necessary.

Rub olive oil over the surface of the lamb leg and season generously with salt and remaining pepper. Place the lamb leg in a large baking pan, and pour over half the wine. Place the pan inside the oven and roast on high heat for about 15 to 20 minutes, turning at least once, to brown on all sides. Remove from oven, and reduce oven temperature to 325F/165C.

Toss the vegetable-herb mixture in a mixing bowl with salt, pepper and remaining olive oil. Spoon the mixture into the pan, under and around the lamb. Pour ½ cup red wine over the lamb. Cover the pan with parchment or wax paper and seal with aluminum foil. Roast the lamb for 2 to 2 ½ hours for medium-rare, or until a meat thermometer inserted into the thickest part of the leg reads 145F. Over the course of roasting the lamb. Every 30 minutes or so, add additional half-cup increments of the wine, poured over the leg. Cover after each addition.

Remove and let the lamb rest for 20-30 minutes before carving.