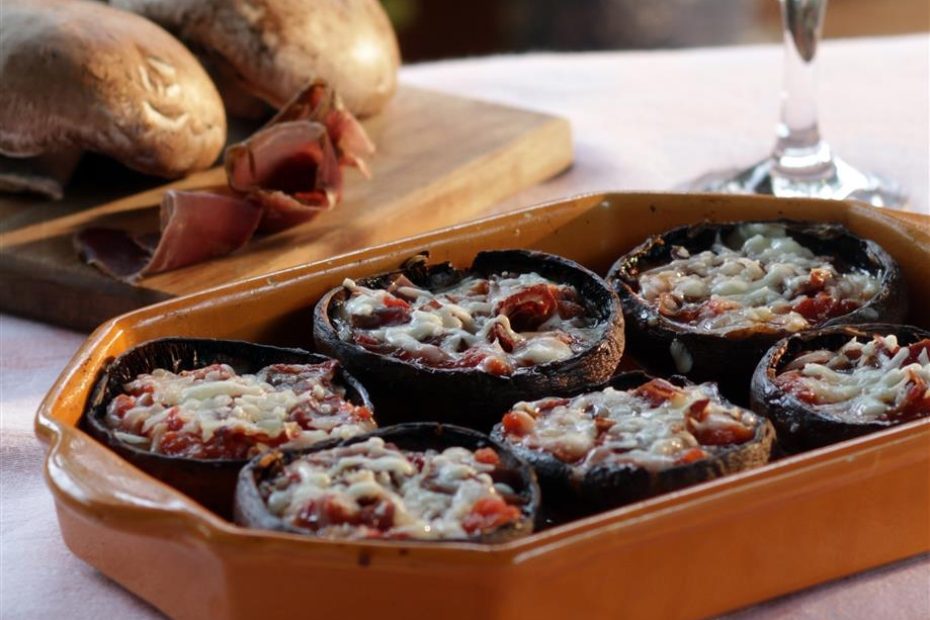 Portobellos Stuffed with Kasseri and Pasturma
---
Here's a meze I remember loving the first time I tasted it in a small meze restaurant near the Modiano market in Thessaloniki. Kasseri cheese and pasturma are a classic combination, most closely associated with a delicious phyllp pie called pita kaisarias, which is a classic of the Greek cooking of Asia Minor. To find some of the artisinal Greek products you'll need to make this, visit my online shop
here
, where you'll discover a host of lovingly curated Greek ingredients.
Ingredients
Home Made Tomato Sauce

1 1/2½

cups/360 ml chopped canned tomatoes

1/2½

teaspoon

Greek dried oregano

1

tablespoon/15 ml extra-virgin Greek olive oil

6

large Portobello mushrooms

4 to -5 inches/10 to -12 cm in diameter

3

tablespoons

grated kefalotyri cheese

3

tablespoons

finely chopped pastourma

1 1/2½

cups/360 ml homemade tomato sauce

see recipe below

1 1/2½

cups

coarsely grated kasseri cheese
Instructions
Make the sauce: Simmer all the sauce ingredients for 20 to 25 minutes, until thick. Set aside until ready to use.

Preheat the oven to 350˚F/180˚C. Slightly oil a shallow pan, big enough to fit one layer of mushrooms.

Remove the stems carefully and discard or reserve for another use. Using a teaspoon, scrape away the fanlike underside of the mushroom caps, careful not to break them.

Brush each side of the mushrooms with 1/2½ teaspoon olive oil and place in a pan, the cap side down. Sprinkle each cap with 1 1/2½ teaspoon of kefalotyri cheese and 1 tablespoon of chopped pasturma. Spread 1/4¼ cup of tomato sauce on top. Season with salt and pepper. Sprinkle each mushroom with 3 tablespoons kasseri cheese and bake until the cheeses melt and the mushrooms are tender, about 15 minutes. Remove and serve immediately.
Notes
You can substitute the pasturma with smoked bacon or prosciutto and the kasseri with any mild sheep's milk cheese.