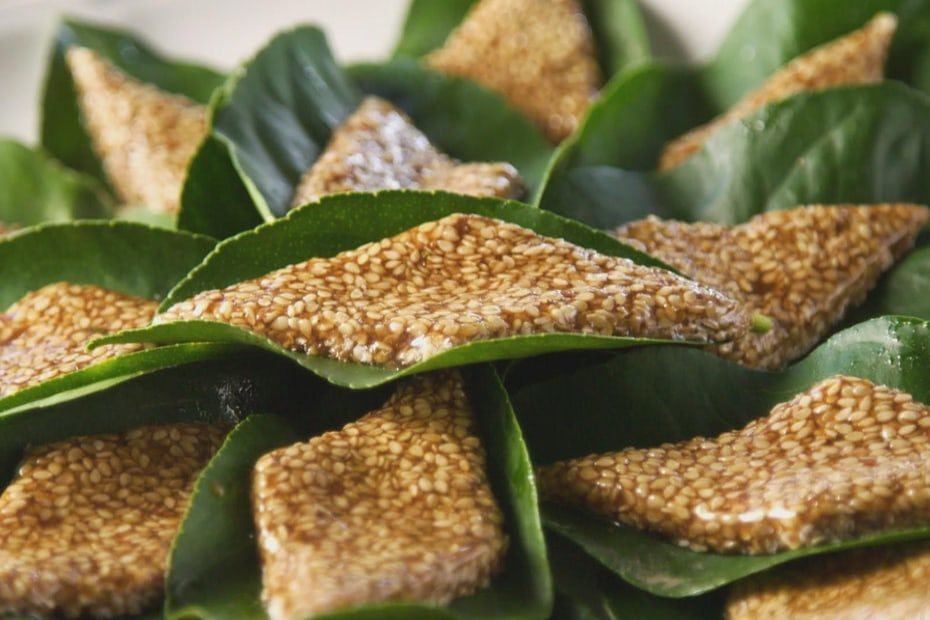 Pasteli - Sesame-Honey Confection
---
This ancient Greek recipe made with sesame seeds and Greek honey is a kind of soft brittle, called pasteli, and is still made throughout the Greek islands, namely in the Cyclades. This recipe is from the Aegean island of Tinos, where it is served as a wedding sweet but also enjoyed throughout the year as a local specialty. Pasteli is one of the most nutritious sweets in the world, filled with minerals and antioxidants. I like to call it the world's first energy bar.
Ingredients
¼

cup

sugar

¾

cup

Greek thyme honey

3

cups

sesame seeds

2

tablespoons

flour

Zest of 1 green or yellow lemon

Lemon leaves or pastry wrappers for serving

optional
Instructions
Heat the sugar and honey in a wide saucepan until the sugar is completely dissolved.

Add the sesame seeds and stir to combine. Add the flour and zest and stir for a few minutes.

Dampen a wooden surface or sheet pan and spread the hot sesame-sugar mixture onto the pan. Using either a roller or a strong spatula, pat down the surface so that the mixture is evenly thick all over. Cut into diamonds and let cool. Serve on fresh lemon leaves or in pastry wrappers.