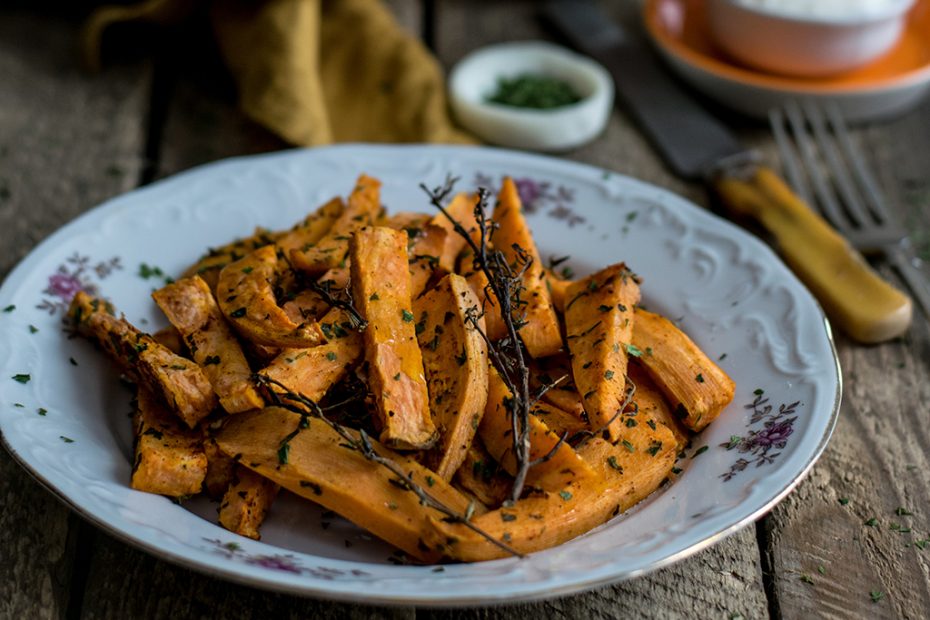 Oven-Fried Sweet Potatoes with Herbs and Olive Oil
---
Highly nutritious sweet potatoes, rich in antioxidants, were a really important longevity food on the Blue Zone Greek island of Ikaria. Indeed, they were once the dessert of choice, simply baked and savored by children who are now well into their 80s and 90s, who probably didn't know way back when that consuming them actually helped raise the vitamin A levels in their blood, thus strengthening vision, immunity and other functions. Taking my cue from my native island's food lore, I love to use them in many different ways. Here, tossed with olive oil and herbs and crisped in the oven, they win out over the most sinful fries any day of the year. I love this Greek recipe, if for no other reason than the fact that it proves that down-and-dirty and delicious can also be healthy. Lesson number one from the Mediterranean diet!
Instructions
Preheat the broiler.

Cut the peeled sweet potatoes in half lengthwise and then into wedges about ½-inch thick. Place in a bowl.

Add the garlic, olive oil, sea salt, herbs and spices. Toss to combine.

Transfer the sweet potato wedges to a large shallow baking pan and place about 6 inches from the heat source. Broil for 15 – 20 minutes, tossing once or twice during the cooking, until they turn crisp and lightly brown. Serve hot.
Want to learn more about Ikaria Longevity Cooking? Sign up for my online class bundle "Everything Ikaria 101!"