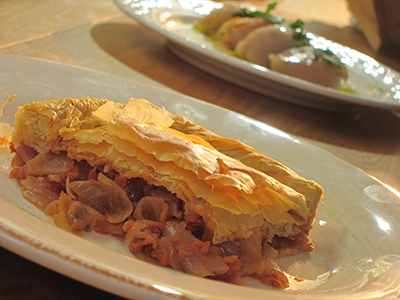 Onion Pie with Tomatoes and Walnuts
---
Everyone loves a good pie. This one is full of healthy vegetables, crispy nuts, and flavored, traditional Greek olive oil! Enjoy!
Ingredients
2/3

cup

extra virgin Greek olive oil

5

large onions

cut into large pieces

4

medium

firm, ripe tomatoes, grated

1 ½

cup

walnuts

coarsely chopped

Commercial phyllo pastry

at room temperature
Instructions
Heat 1/3 cup olive oil in a large saucepan over medium heat and sauté the onions, stirring until wilted and translucent, for about 7-8 minutes.

Add the tomatoes and simmer until all liquids are absorbed. Add salt and pepper and mix in the walnuts.

Preheat oven to 375F / 190 C. Lightly oil an ovenproof dish.

Layer 4-6 phyllo sheets on the bottom of the pan, letting the edges push up the sides of the pan. Lightly brush each sheet with oil. Spread the filling evenly on the sheets, leaving a border of around 2.5 cm. around the pan. Top with 4-5 more phyllo sheets, brushing each with oil as well.

Bake the pie for about 45 minutes, until golden brown. Remove from the oven, let cool inside the pan, and serve.
Love savory pies and phyllo specialties? Sign up for my online class "Fearless Phyllo – Homemade!" to learn the secrets of making great, easy pies at home! 
Love vegetables? Want to learn more great plant-based Mediterranean dishes? Enroll in my online  class "Baked Vegetable Classics!" 
Notes
You can use half of the ingredients and bake the cake in a10-inch / 23-cm round pan.