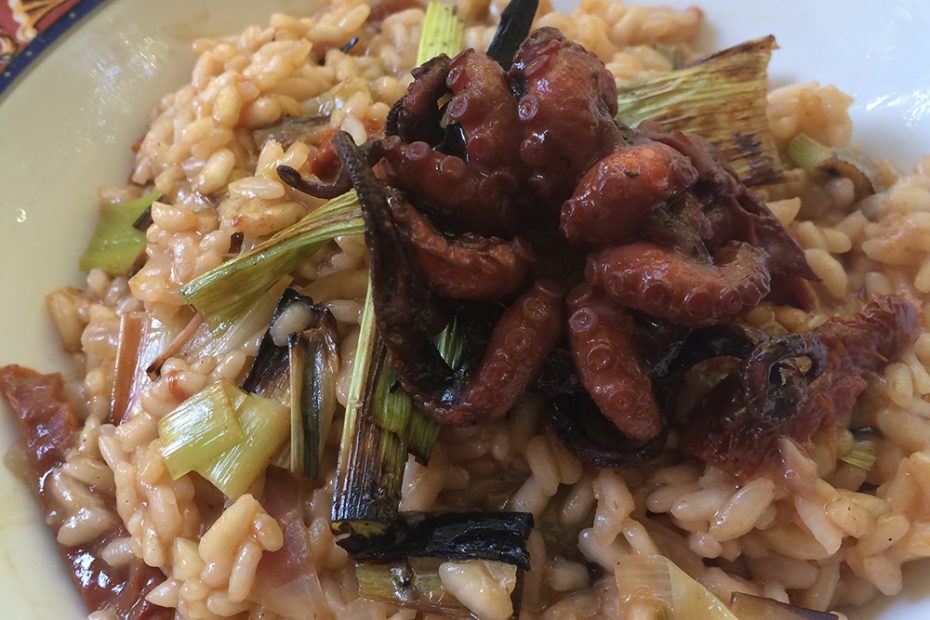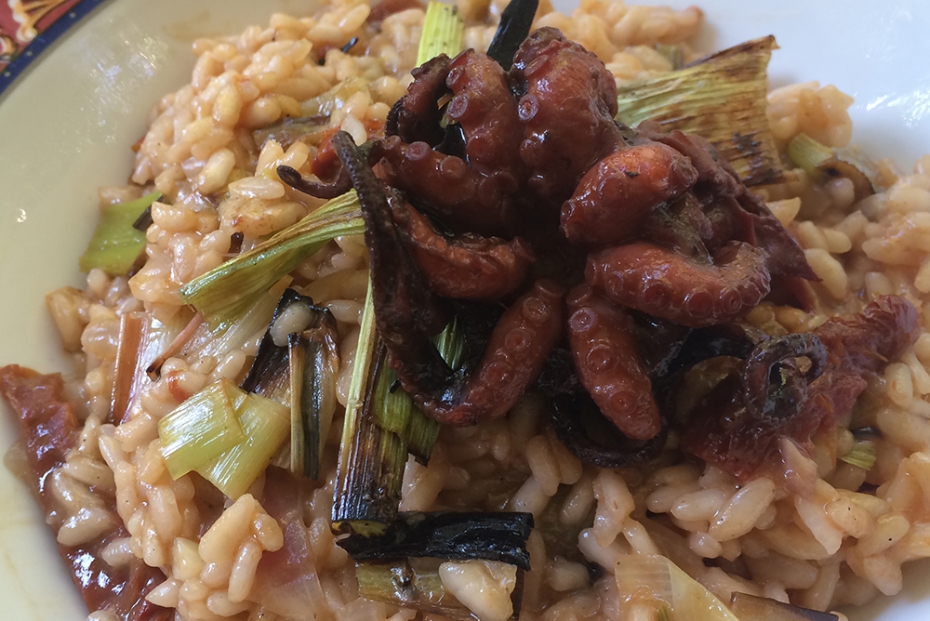 Octopus Risotto
---
Ingredients
1

small octopus or 3 – 4 musk octopi

about 2 pounds / 1 kilo total

2

bay leaves

3-4

fresh thyme sprigs

5-6

whole black peppercorns

1

garlic clove

crushed

½

cup

dry red wine
For the rice
1

large red onion

finely chopped

1

fennel bulb

finely chopped

1

garlic clove

minced

1 ½

cups

Greek glasé rice or Italian arborio

6-8

cups

hot vegetable or fish stock

½

cup

ouzo

½

cup

chopped fennel fronds or dill

Pink peppercorns for garnish
Instructions
Trim the octopus: Cut off the head just above the mouthpiece and discard. Remove the beaklike mouthpiece and cartilage. Cut the octopus into 8 pieces. Place in a medium pot with the bay leaves, thyme, black peppercorns, garlic clove, ½ cup olive oil and red wine. Cover the pot and simmer the octopus until tender but not stringy. This can take anywhere between 35 and 50 minutes, depending on the size and provenance of the octopus. Musk octopus will take less time.

When the octopus is done, remove from the pot and cut into bite-size chunks. Reserve the pot juices.

Heat another quarter cup of olive oil and cook the onion, fennel and garlic until soft, about 10 minutes over medium-low heat. Add the rice and toss to coat in the oil. Add a ladle full of the hot stock and stir. When the rice has absorbed this, add another ladle full. After three ladlesful of stock add the ouzo. Let the alcohol cook off. Keep adding the stock in increments until the rice is cooked but al dente. About 7-8 minutes before removing the rice from the heat, add the octopus pieces and about a half a cup of its pot juices, enough to give the rice a nice pink color. Stir in the chopped fennel or dill fronds. Season to taste with salt and pepper. Serve, garnished with pink peppercorns.