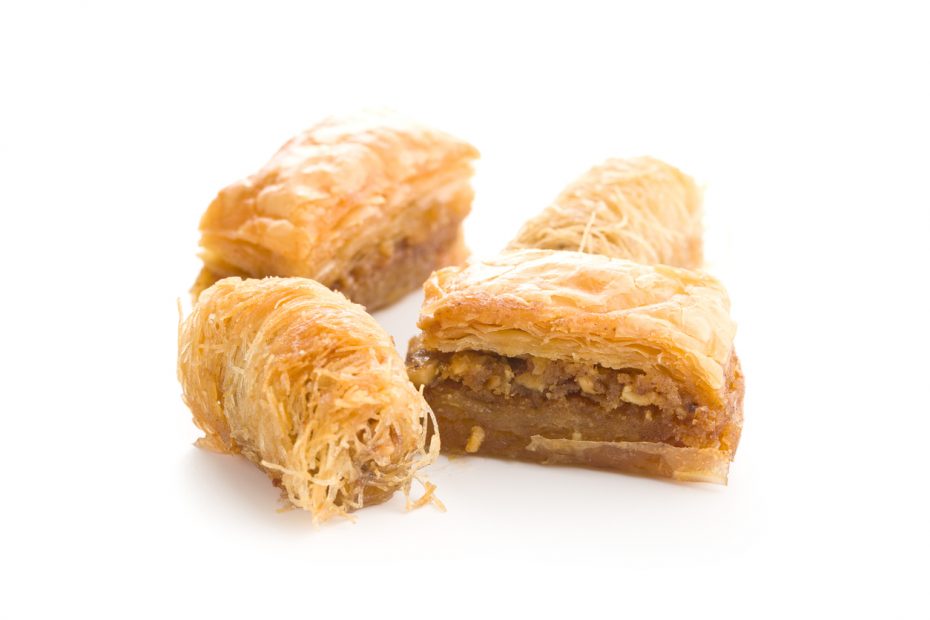 Nut-Stuffed Shredded Wheat Rolls, Ioannina Style / Kataifi Yanniotiko
---
Most people who are familiar with kataifi, the thin-strand pastry, think it is actually shredded wheat or shredded phyllo. In fact, it's made with a batter that is poured through a tiny-holed spout onto a large, hot, circle griddle that spins slowly, thus creating the vermicell-like effect. From what I know, a few places still make this by hand, among them the famed Poseidon Bakery on Ninth Avenue in New York City.
Ingredients
¾

pound/340 g. unsalted butter

½

pound/225 g. blanched almonds or walnuts

coarsely chopped

½

cup

ground rusks

1

tsp.

grated orange rind

1

tsp.

ground cinnamon

2-3

Tbsp.

granulated sugar

1

pound/450 g. kataifi/shredded wheat pastry

½

pound/225 g. thin commercial phyllo pastry

For the Syrup

4

cups

sugar

5

cups/1.2 litres water

2

tsp.

strained fresh lemon juice
Instructions
1. Clarify butter: Place butter in a small saucepan and heat slowly over low heat. Remove pan from heat and cool for 2 to 3 minutes. With a spoon, skim the milky foam from the top of the butter and discard foam. Pour the remaining clarified butter in a bowl and set aside until ready to use.

2. Preheat oven to 350˚F/180˚C. Lightly butter a 9x12x3-inch/22x30x8-cm baking pan.

3. In a medium-size bowl. Stir together nuts, ground rusks, orange rind, cinnamon, and sugar and set aside until ready to use.

4. Unwrap the kataifi pastry and the phyllo and divide each in half. Keep both covered so they will not dry out. Layer half the phyllo pastry, 1 sheet at a time, on bottom of prepared baking pan, brushing each sheet generously with clarified butter. Spread half the kataifi pastry over the phyllo and brush with butter. Spread the nut mixture over the kataifi and dot with butter. Cover nuts with remaining kataifi and brush again with butter. Layer remaining phyllo over kataifi, brushing each layer generously with butter. Tuck the phyllo neatly into the sides of the pan. Pour remaining butter over phyllo. Score lightly – ¾ to 1 inch/1.8 to 2.5 cm deep – at first vertically, then horizontally, to form diamonds. Bake for about 1 hour 10 minutes, or until phyllo is golden brown.

5. To prepare syrup: While the pastry is baking, in a medium-size saucepan, combine sugar and water and bring to a boil. Simmer, uncovered, over low to medium heat for 15 minutes. Add lemon juice and remove pan from heat.

6. When pastry is done, remove baking pan from oven and spoon warm syrup over the pastry. Cool pastry in pan before serving.
Love savory pies and phyllo specialties? Sign up for my online class "Fearless Phyllo – Homemade!" to learn the secrets of making great, easy pies at home!