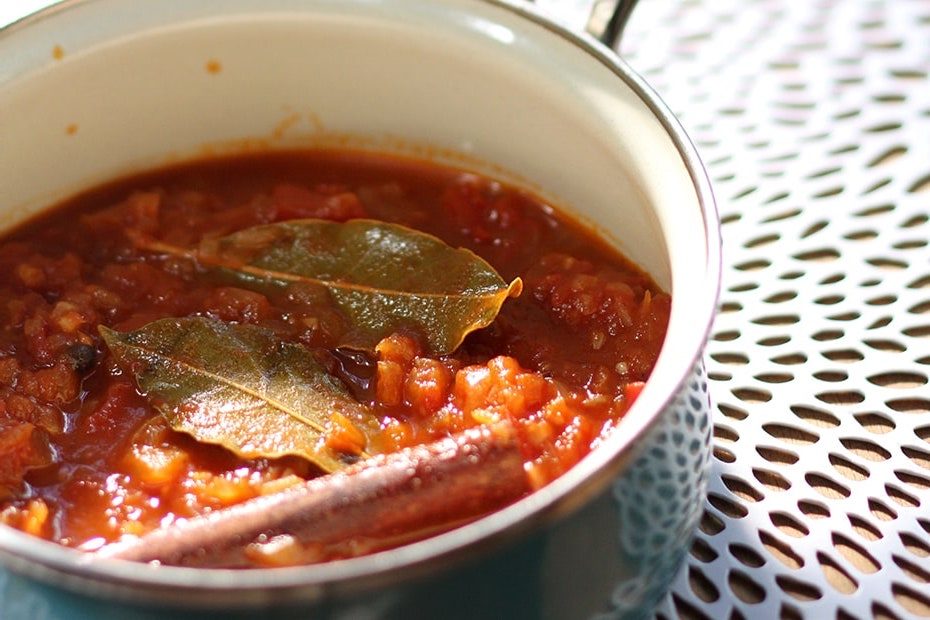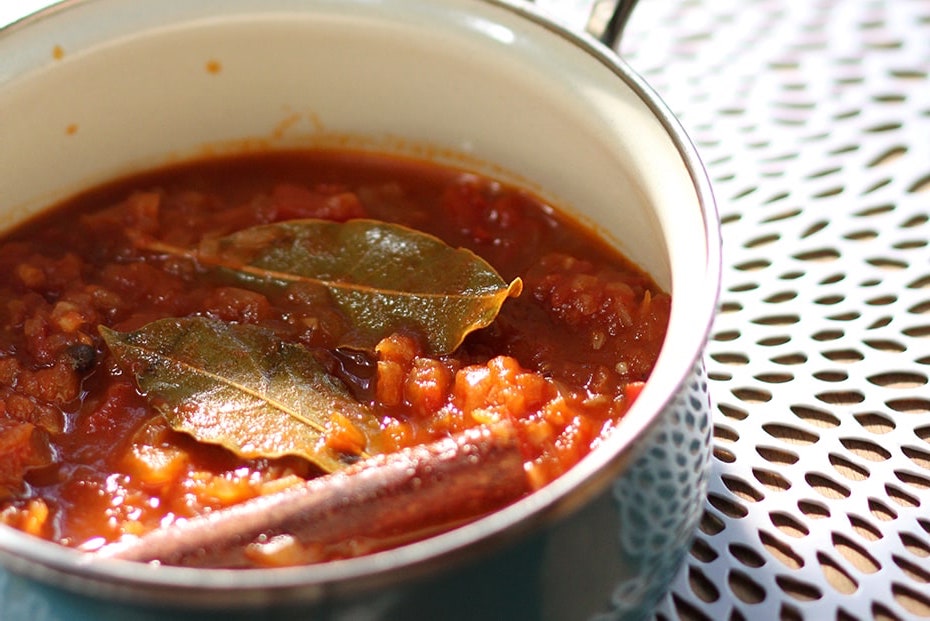 My Secret Classic Cinnamon Tomato Sauce
---
It's been my experience that all cooks have their little secrets, ingredients they embrace often to add that something special (and unidentifiable) to a dish. A few of those little secrets come into play in this classic Greek tomato sauce, seasoned with the trio of cinnamon, allspice, and nutmeg. It's wonderful with pasta and it is also the basic support sauce for ground meat dishes, from moussaka to pastitsio to good old galley cook's spaghetti with kima -- ground meat.
You can find this recipe and many others in my lastest book, My Greek Table – Authentic Flavors and Modern Home Cooking from Ny Kitchen to Yours.
Ingredients
4

tablespoons

extra-virgin Greek olive oil

2

large red onions

finely chopped

4

garlic cloves

minced

1

tablespoon

dried mushroom powder

Pinch

of unsweetened cocoa

8

cups

chopped or pureed fresh or good-quality canned tomatoes

Salt

pepper to taste

2/3

cup

white wine

1

large cinnamon stick

8

allspice berries

½

teaspoon

freshly grated nutmeg

2

bay leaves

1 - 2

tablespoons

petimezi (grape molasseor Greek honey

to taste

1 - 2

tablespoons

balsamic vinegar

to taste
Instructions
Heat the olive oil in a medium saucepan over low heat and cook the onions until wilted and lightly browned, about 12 to 15 minutes. Stir in the garlic and swivel around in the pot a few times to soften. Stir in the mushroom powder and cocoa and cook for a minute or so to release their flavors.

Add the tomatoes, white wine, cinnamon stick, allspice berries, nutmeg and bay leaves. Bring to a simmer and add 2 cups of water. Bring back to a simmer. Season with salt and pepper. Cover and cook over low heat for about 45 minutes to an hour, until the sauce is thick and reduced to about 6 cups. Add additional water during the cooking if needed. Taste the sauce and add petimezi or honey and balsamic to adjust the balance. Add additional salt and pepper to taste. Remove the spices and bay leaves before serving.

To preserve the sauce: In a saucepan filled with water bring 2 – 3 clean jars and their caps to a simmer. Remove with kitchen tongs. Add the hot tomato sauce to the hot jars. Let cool. Screw the lids on loosely. Using tongs with a good grip and a potholder if necessary, place the jars in a saucepan with enough water to come about an inch beneath the lids. Bring to a simmer. Remove carefully with tongs and using a kitchen towel tighten the lids. Turn the jars over to stand on their lids and let cool. Store in a cupboard or refrigerator and refrigerate after opening if you don't use all the sauce.
Want to learn more easy, healthy Mediterranean diet recipes? Sign up for my online course "Mastering the Mediterranean!"
Notes
How to use this sauce:
Serve it over pasta or rice as is, accompanied by grated cheese or Esti Feta Cubes or Esti plain Greek yogurt.
Use it as the base in a ground meat sauce that stands on its own or is used to make pastitsio or moussaka.