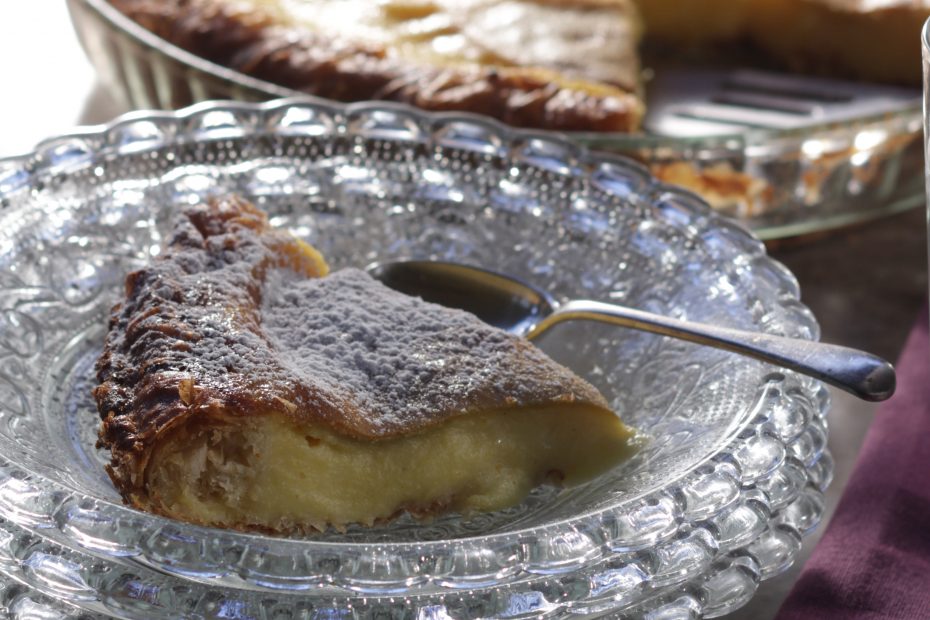 Milk Pie
---
One of the most delectable desserts in Greece! Savor it with a sip of warm Greek wild herb tea and amazing honey, available at my online store
here
.
Ingredients
6

large eggs

1 ½

cups

sugar

1

tsp.

vanilla extract

1

tsp

cinnamon powder

5

cups

milk

1

cup

semolina flour

5

tbsp.

unsalted butter

6

sheets of commercial phyllo

4

– 6 tbsp. confectioner's sugar
Instructions
1. In the bowl of an electric mixer, whisk 4 of the eggs at medium-high speed together with 1 ¼ cups of the sugar, until the mixture is smooth and creamy. Add the vanilla and whisk a few seconds more.

2. Combine the remaining sugar and cinnamon.

3. Butter a large round baking dish, approx. 12 or14 inches in diameter. Preheat the oven to 375F.

4. Warm the milk in a large pot over medium-low flame. As it heats up and begins to scald, add the semolina, pouring in in a very slow stream and whisking vigorously all the while. Continue whisking and slowly add the mixture with the eggs. Whisk over low heat until the mixture is thick and creamy. Remove from heat and add two tablespoons of butter.

5. Melt the remaining butter in a small pot. Layer the first sheet of phyllo in the buttered baking dish, letting the excess hang over the rim of the pan, and brush with some of the melted butter. Continue until all the phyllo sheets and butter are used up. Sprinkle the top sheet with the remaining sugar and cinnamon, which you have set aside.

6. Spread the cream inside the phyllo pastry. Roll the edges of the overhanging phyllo inward to form a decorative rim.

7. Whisk the remaining two eggs and two tablespoons of sugar and pour this over the pie. Bake in the center of the oven for about 50 minutes, or until the filling is set and the phyllo crisp and golden. Remove from oven, cool slightly and serve, sprinkled with confectioner's sugar.
Love savory pies and phyllo specialties? Sign up for my online class "Fearless Phyllo – Homemade!" to learn the secrets of making great, easy pies at home!