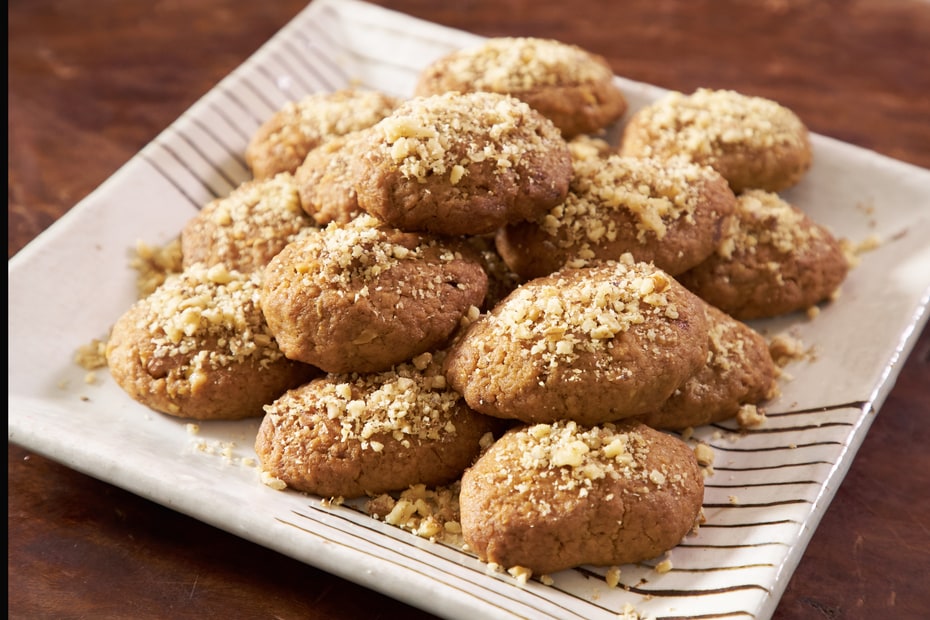 Melomakarona-Nut-and-Honey Christmas Cookies with Olive Oil
---
Olive oil, honey and nuts make these classic melomakarona Greek Christmas cookies one of the healthiest sweets you can enjoy. You can find great Greek honey and olive oil on my online store
here
.
Ingredients
For the Syrup
2

cups

Greek honey

1

cup

sugar

1

cup

water

1

cinnamon stick

Juice and 1 strip of zest from 1 large lemon

1 ½ to 2

cups

170 to 228 g finely ground walnuts for sprinkling

Ground cinnamon for sprinkling
Instructions
Preheat the oven to 350°F/180°C and lightly oil several baking sheets.

In the bowl of an electric mixer outfitted with a whisk, beat the olive oil with 1 cup of sugar at medium-high speed until creamy. Dilute the baking soda in the orange juice. Add the orange juice mixture, and water to the olive oil – sugar mixture. Whisk for 30 seconds. Change the whisk attachment to the paddle attachment and add the flour, in increments of 1 cup, until a soft, malleable dough takes shape. Cover with plastic membrane and let rest for 30 minutes.

Shape the dough into oblong pieces, about 2 inches (5 cm) long and 1 inch (2.5 cm) thick. Using the tines of a fork, prick the tops lightly to form a decorative pattern.

Place in an oiled pan, mounded side up, about 2 inches apart, and bake for about 20 minutes, until lightly browned. Remove from the oven and let cool.

While the melomakarona are cooling, make the syrup: Place all the syrup ingredients in a medium size pot and bring to a boil. Reduce heat and simmer for 5 minutes.

Dip the melomakarona in the hot syrup and place on a platter. Sprinkle with cinnamon and finely ground walnuts and serve.