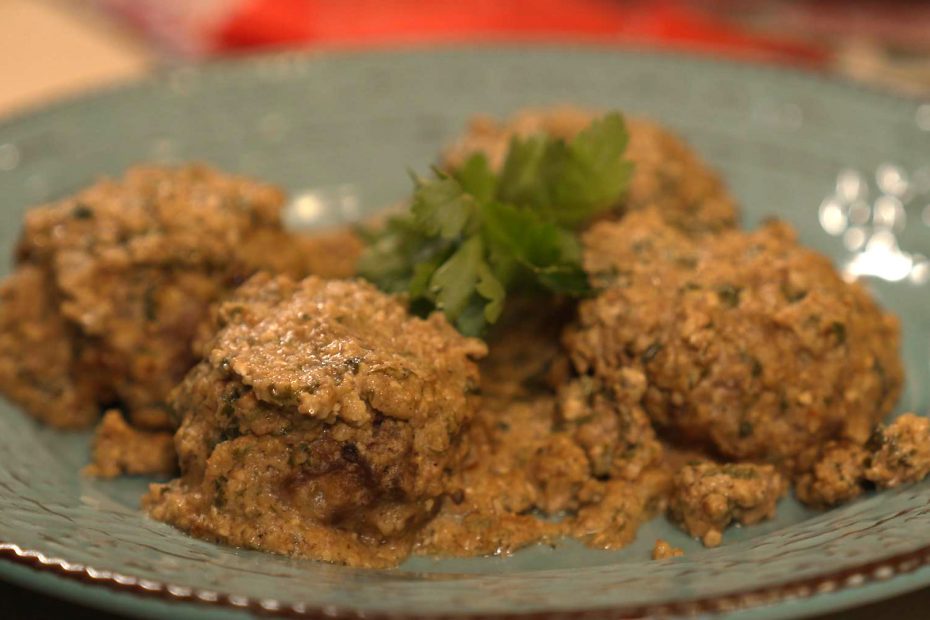 Meatballs With Walnut Sauce
---
Walnuts inform much of the Sephardic cooking of Thessaloniki. This meatball with walnut sauce recipe called Keftes de Nogada is surprisingly simple yet a very delicious and satisfying way to serve one of the world's great comfort foods. It is a classic of Thessaloniki's Sephardic community.
Ingredients
1 ½

pounds

750 g lean ground beef

3

bread slices

1

small onion

finely grated

1

egg

Extra virgin Greek olive oil

as needed

2

cups

of flour, or as needed for dredging the meatballs

3

cups

of water

3

cups

fresh flat-leaf parsley

finely chopped

3

cups

breadcrumbs or grated rusks

1

and ¾ cup

200 g shelled walnuts, coarsely ground

Sea salt and freshly ground pepper
Instructions
Cut away the crusts and soak the bread in water for a few seconds. Squeeze dry and crumble. In a large mixing bowl combine the ground meat, dampened, squeezed breadcrumbs, grated onion, egg and 4 tablespoons of olive oil. Season with sea salt and pepper and knead well.

Shape the meat mixture into balls, about 1 ½ inches in diameter. Spread flour onto a large flat plate, season it lightly with salt and pepper, and lightly dredge the meatballs in the seasoned flour.

Heat 3 inches of olive oil or other oil such as canola or corn oil in a large deep skillet over medium heat and slide the meatballs into the hot oil. Fry them gently, turning once or twice with a spatula or kitchen tongs to brown on all sides.

In a separate pan combine water, parsley, breadcrumbs, walnuts and 1 cup of olive oil and bring to a simmer. Add the meatballs to the walnut-parsley broth and gently stir. Season with salt and pepper.

Let them simmer for a few minutes until the sauce thickens further and is the consistency of loose oatmeal. Serve warm.