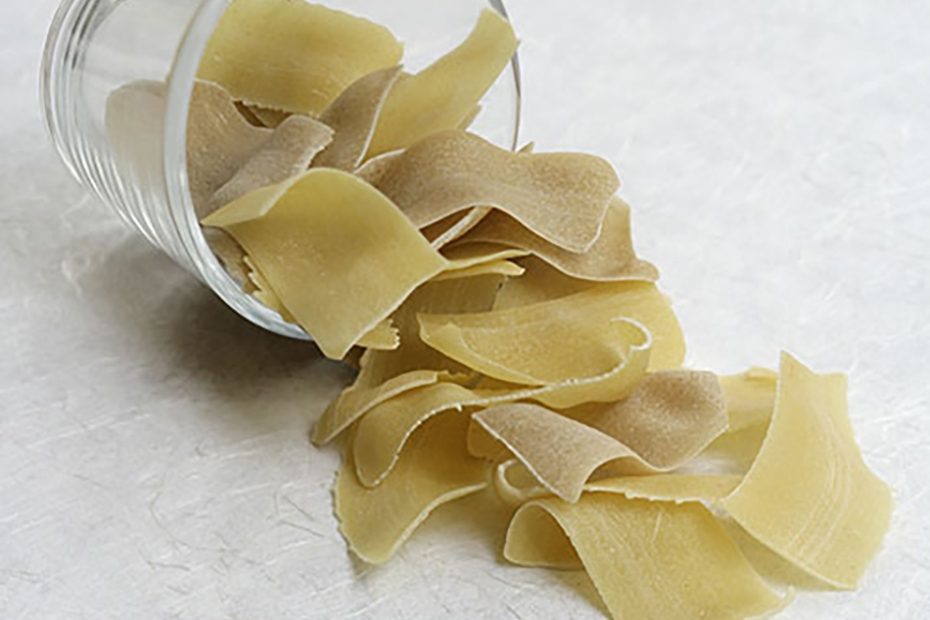 Macedonian Style Braised Chicken with Noodles (Kotopoulo me Petoura)
---
Chicken stews are part of the regional cooking all over Greece. What sets this dish apart is the local pasta it is served with, called petoura, a local pasta from Grevena, in Macedonia. Until a few years ago, petoura, which are either anomalously shaped or wide, slightly curled, relatively short, ribbon-like pieces, were made only at home. Nowadays, they are produced by small workshops and some have gone a step beyond tradition by incorporating regional aromatics like saffron and porcini mushrooms into the pasta dough.You can also substitute papardelle or any wide noodle for traditional petoura. To find the tomatoes, herbs, and olive oil that will make this dish as authentic as can be, go to my online store
here
.
Ingredients
1

whole chicken

about 2 kilos (4 lbs.) cut into serving pieces

1

large onion

finely chopped

1

cup

finely chopped celery stalks and leaves

1

leek

trimmed, washed and finely chopped

2

garlic cloves

finely chopped

1

cup

dry red wine

2

cups

finely chopped fresh or canned tomatoes

½

cup

parsley

finely chopped

1

cinnamon stick

2

bay leaves

100

gr.

kefalotyri

250

gr.

mushroom or safran scented petoura or any flat

wide noodle
Instructions
1. Wash and pat dry the chicken. Season with salt and pepper. In a large, wide pot, over medium-high flame, heat half the olive oil and add the chicken, in batches if necessary. Sear until lightly browned on all sides.

2. Reduce heat to medium, add the onion, celery and leek to the pot and stir. Cover, reduce heat and cook for a minute or two, until the vegetables are wilted. Pour in the wine. As soon as it steams up, add the tomatoes, cinnamon stick, bay leaves, and additional salt and pepper to taste. Add enough water to come about three-quarters of the way up the chicken. Cover the pot and simmer the chicken over medium-low flame for about 40 minutes, or until tender.

3. About 15 minutes before chicken is done, bring a pot of salted water to a rolling boil and cook the petoura. Drain and toss with olive oil. Spoon the petoura onto a large platter, sprinkling cheese between each layer. Place the chicken and sauce on top and serve.
Love chicken? Check out my online class "Wing It! – Great Mediterranean Chicken!"