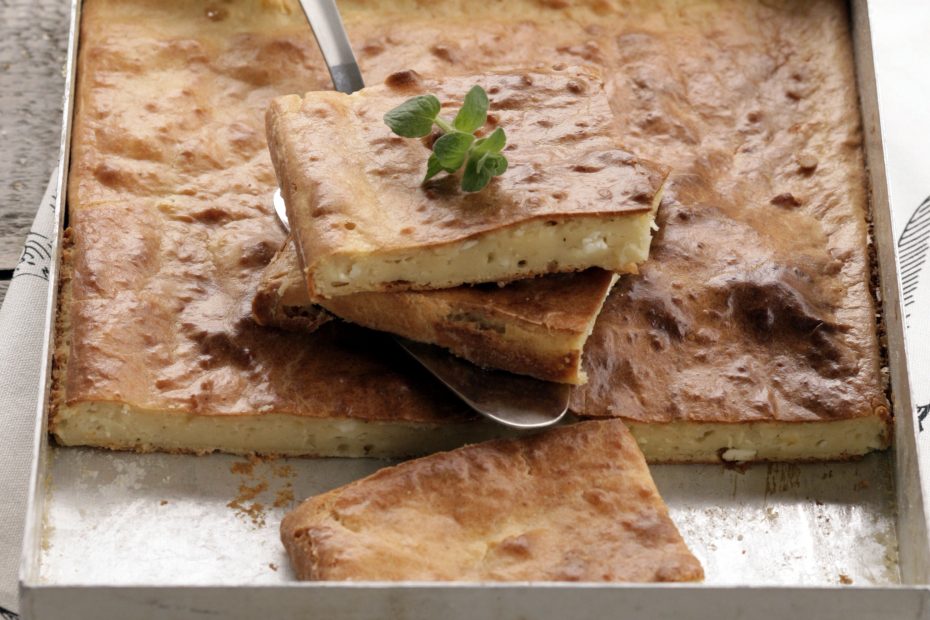 Lazy Pie / Tembelopita Zagoriou
---
"Lazy" Pie from Zagori The notion of a savory pie isn't limited to the Greek pies that call for phyllo pastry. Indeed, there is a whole range of savory pies that are based on a batter. They typically contain cheese. Some also call for zucchini or onions and herbs. Some call for cornmeal instead of wheat flour. To my knowledge, all of these savory batter pies come from the mountainous regions of Northern Greece (Epirus and Macedonia) as well as Thessaly, the great plain of Greece, which is right in the center of the country. They derive from the shepherds' traditional cuisine, in which pies, both with and without phyllo pastry, were and still are a mainstay, easy to transport, easy to keep, perfect food, in other words, for people who still migrate with their flocks. This particular recipe comes from Zagori,a beautiful enclave of stone villages in the Pindus Mountains, Epirus.
Ingredients
2

cups

of strained Greek yogurt.

2

large eggs

lightly beaten

1 ½ 2

cups

of water

2

tbsp.

unsalted butter

melted

2 ½

cups

crumbled feta cheese

2

– 2 ½ cups of flour

all-purposes

¼

cup

of milk

3

tbsp.

extra virgin olive oil
Instructions
Preheat the oven to 325°F/125°c.

In a large bowl, mix the yogurt, eggs and 1 ½ cups of water. Add the melted butter and stir. Add 2 cups of flour. Mix all of the ingredients well and add 1 ½ cup of feta and stir. The mixture should become thick as a batter. Add more flour or water if necessary to achieve proper thickness.

Butter a baking pan approx. 30-45cm. in size Pour the mixture into the pan and spread it evenly with a spatula. In a small bowl, mix the remainder of the feta with the milk and oil and pour the mixture on to the surface of the pie, making sure it goes everywhere. Place on the middle rack in the oven and bake until it's set and golden brown, approximately 1 hour and 10 minutes. Remove the pie from the oven, let it cool slightly and cut.
Love savory pies and phyllo specialties? Sign up for my online class "Fearless Phyllo – Homemade!" to learn the secrets of making great, easy pies at home!