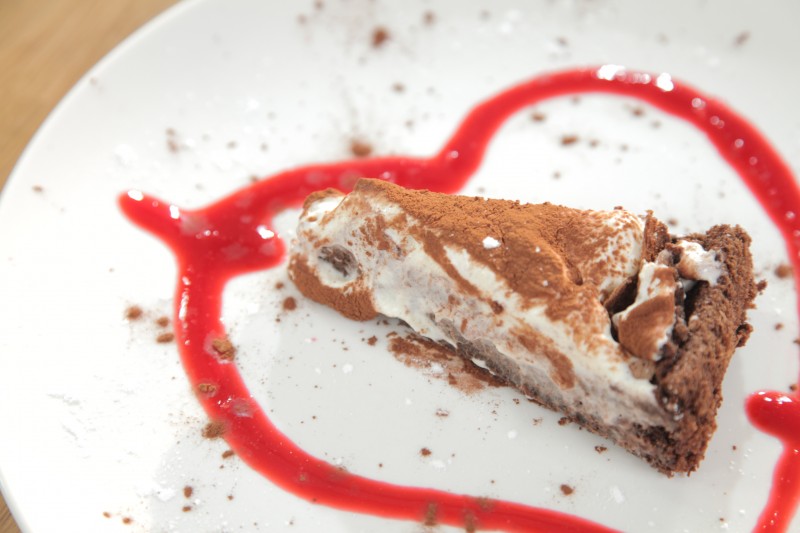 Chocolate-Ouzo Cake
---
Chocolate and ouzo are a match made in heaven.
Ingredients
225

g

7.9oz dark baking chocolate, cut into very small pieces

1/2

cup

butter

1

cup

sugar

6

large eggs

2 whole, 4 separated

2

tbsp.

ouzo

1

tsp.

finely grated orange zest

For Topping

1 1/2

cups

heavy cream

well chilled

3

tbsp.

confectioners' sugar

1

tsp.

vanilla extract

2

tbsp.

cocoa

unsweetened
Instructions
Preheat the oven to 175C (247F). Line the bottom of a 20cm (8 inch) springform pan with wax paper. Do not butter the pan.

Melt the chocolate and butter together in a double boiler. Remove from the heat and set aside.

In a bowl, whisk the 2 whole eggs and the 4 egg yolks with 1/2 cup of the sugar until blended. Whisk in the warm chocolate mixture and then the ouzo and the orange zest.

In another bowl, with an electric mixer, beat the 4 egg whites until foamy. Gradually add the remaining 1/2 cup of sugar and beat until the whites form soft mounds that hold their shape. It's important that the meringue be soft, not stiff.

Using a rubber spatula, stir about 1/4 of the meringue into the chocolate mixture to lighten it, then gently fold in the remaining meringue. Pour the batter into the pan.

Bake until the top of the cake is puffed and cracked and the centre is no longer wobbly, usually 35-40 minutes. Do not over-bake.

Remove and cool the cake in the pan on a wire rack. The cake will sink as it cools, forming a crater with high sides.
Notes
Berry Sauce
500g (17.6oz) frozen raspberries
Place the raspberries in a medium sized saucepan, slowly bring to the boil stirring all the time, allow to boil gently for a couple of minutes, remove from the heat. Sieve the fruit into a bowl reserving the berry puree.
Whipped cream topping
At serving time, whip the cream with the confectioners' sugar and vanilla until stiff. With a spatula, carefully fill the crater of the cake with the whipped cream, pushing it gently into the edges. Dust the top lightly with cocoa powder. Run the tip of the knife around the edges of the cake, carefully remove the sides of the pan and serve with the berry sauce.